Events
Eating Fiesta, Barney-Style
A Guide to Hot Food Booths in Two Mercados
Want to eat your way through Fiesta, Barney-style?
Here are my tips for grazing at Old Spanish Days' two primo booth-lined marketplaces: downtown at El Mercado de la Guerra and El Mercado del Norte at MacKenzie Park, which also has far and away more room for the kids to run around. In my 50-years-plus of Fiesta eating, I've never gotten tired of the spicy stuff, along with corn on the cob, sugary churros, and even the German sausages I always find at Del Norte. The only negative is the problem of eating from a paper plate with one hand and holding a horchata (the sweet traditional Mexican rice drink) in the other. At De la Guerra, I find a spot on the City Hall steps, people-watch, and nibble. At Del Norte, I look for an empty chair at one of the too few tables. Now for the food: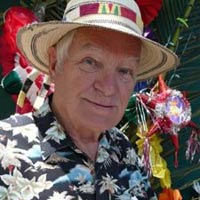 MERCADO DE LA GUERRA: For more than 20 years now, I've been gobbling good old-fashioned beef tacos at the Special Olympics booth. Next door, the Vietnam Veterans of America will be selling corn dogs and chicken nuggets.
For a quarter-century, folks at Semana Nautica, the summer sports festival, have been dispensing chicken burritos and cheese quesadillas, washed down with horchata and two other traditional drinks: jamaica (pronounced ha·my·kah), made from hibiscus blossoms, and fruit-based tamarindo. Casa de la Raza has long been raising money with big, thick tortas, so stuffed with barbecued beef that one is practically a meal in itself. The thirst-quencher here is lemonade.
Ribs? You want ribs? For more than 15 years, the Scottish Rite Masons have filled the plaza with the aroma of barbecued beef and pork ribs, with shrimp cocktail and avocado on the side.
I don't have a favorite, but if I had to choose, it might be the Hispanic Chamber of Commerce booth, where friends like Raul Gil dish out savory pork tacos and birria (shredded beef and goat) tacos. Look, it's Fiesta, so for once in your life, try some goat, with Raul's special hot sauce.
Look for the longest line. It'll probably be near the De la Guerra Street side of the plaza, a booth operated by Old Spanish Days itself. The wait is worth it, for there you'll find carnitas (pork cooked in a copper pot) and carne asada and chicken burritos. I go for the carnitas myself.
Corn? Try the Santa Barbara Dons Riders Bike Club.
MERCADO DEL NORTE: This is a place where you'll find not only traditional Mexico food but German (sausages), Italian (pizzas), Hebrew National brand hot dogs, and mole (pronounced mo·lay). It's sort of a Middle America Fiesta, full of families and kids of all ages.
Now for that mole. It's a traditional spicy chocolate sauce that the YMCA's IV Teen Center will be slathering on chicken. I love, so give it a try. Also on the menu is shrimp cocktail with avocados.
Have I mentioned tamales? Maybe my favorite Mexican dish. I always get them at the Apostolic Assembly church booth, in chicken or pork, along with chicken or cheese enchiladas, horchata or pink lemonade.
Boy Scout Troop 1 will be there hawking corn on the cob and chicken and cheese enchiladas. Pizza? Why not? At the Santa Barbara Christian School Alumni booth, along with chicken nuggets and beef taquitos.
The Santa Barbara City Firefighters Charity Fund is a major presence at Del Norte, this year dishing out cheese quesadillas, guacamole, and chips. And what about good old Santa Barbara tri-tip? The Strive for Youth nonprofit group will be whomping up tri-tip sandwiches, along with chips.
If the Puerto Vallarta Sister City folks don't know how to cook Mexican food, I don't know who would. They'll be selling soft fish tacos and soft chicken tacos and chicken taquitos.
See you there.