Cover Story
The Independent's 2011 Back-to-School Activity Guide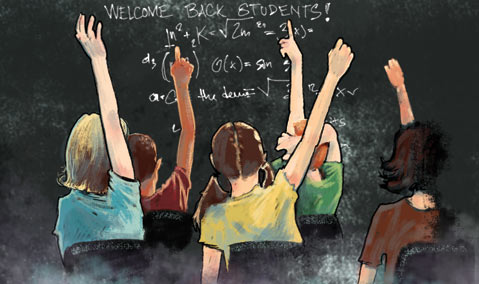 Illustrations by Ben Ciccati
With the first day of school fast approaching, children going back to school may panic at the thought of losing the fun activities and leisure time that are granted by summer. Who would want to miss out on the long days of relaxing at the beach or hanging out in downtown S.B.? But as fall and school approach for students, that doesn't mean all free time need be traded in for study time. The Independent's annual Back-to-School Guide will assure that your kids' precious downtime is happily spent — whether you get them doing arts and crafts in origami class, learning to identify animal tracks while exploring the outdoors, or breaking a sweat in soccer clinics. You will find in the following pages plenty of things for your young ones to do after the last school bell of the day has rung.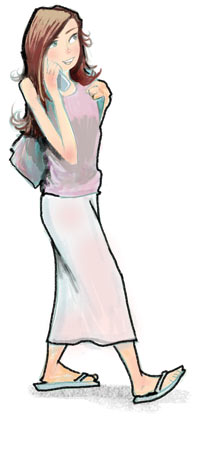 General Programs
Girls Inc. of Greater S.B. After-School Programs
The Girls Inc. organization is dedicated to inspiring all girls to be strong, smart, and bold. Its after-school program, for girls in Kindergarten through age 14, features activities like science, art, dance, cooking, reading, sports, and more.
Full- and part-time schedules, Mon.-Fri., 10am-6pm, throughout the school year. Registration begins Sept. 5. Two locations: 4973 Hollister Ave., Goleta, and 531 E. Ortega St. Full-time (three days or more): $100/week; part-time (two days or more): $60/week; or $35/full day. Call 967-0319 (Goleta Valley Ctr.) or 963-4017 (Santa Barbara Ctr.), or visit girlsincsb.org.
Montecito Family YMCA After-School Program
This after-school program offers opportunities for primary-school–aged children to develop self-awareness, social and physical skills, self-confidence, and new interests, and make new friends. Quality, professional, trained staff members are CPR- and first-aid–certified.
Activities include homework assistance, crafts, games, sports, music, field trips, cooking projects, special guests, swim time in the Y's outdoor pool, thematic curriculum, and more. Note: Staff will walk participating children from Montecito Union School to the Y campus at the end of each school day.
Mon.-Fri., Aug. 25 - June 8, 2012, 3-6pm. Montecito Family YMCA, 591 Santa Rosa Ln. Five-day option, $475/month; four-day option, $450/month; three-day option, $425/month. Grades K-6. Call 969-3288, email yvonne.rubio@ciymca.org, or visit ciymca.org/montecito.
Rainbow School After-School Program
Rainbow School After-School Program offers arts and crafts, special theme days, board games, outdoor activities, and homework time — all in a relaxed and inviting environment.
Mon.-Fri., 1:30-5:30pm (all-day care available during elementary school holidays). 5689 Hollister Ave., Goleta. Grades K-6. $25/day for kindergartners; $20/day for grades K-6. Call 964-4511, or visit rainbowschoolsb.com.
S.B. Family YMCA After-School Care
A licensed after-school care program at two area schools, providing a safe, nurturing environment where primary-school–aged children can receive homework help, meet new friends, improve social skills, and develop character.
Mon.-Fri., 12:15-6:15pm. Meets at Hope Elementary School, 3970 La Colina Rd.; and Monte Vista Elementary School, 730 N. Hope Ave. Monthly fees vary depending on schedule. Grades K-6. Call 687-7720 x266, email andrea.opfer@ciymca.org, or visit ciymca.org.
S.B. Parks and Recreation After-School Program (RAP)
The City of S.B. and S.B. School District have collaborated on this school-principal–endorsed program for more than 20 years. Activities include crafts, clubs, field trips, free sports leagues, and homework assistance.
Thirty-day afternoon sessions. Registration forms due two weeks prior to beginning of session; forms available at Carrillo Recreation Ctr., 100 E. Carrillo St., online at sbparksandrecreation.com, and at all participating school offices. Programs held on public school campuses. Grades 1-6. See Web site for full information, or call 564-5418.
Santa Ynez Family YMCA After-School Program
The Stuart C. Gildred Family YMCA in Santa Ynez runs two after-school enrichment programs: at Santa Ynez and Oak Valley Elementary schools. At each, Y staffers provide a safe, nurturing environment for children. Kids engage in fun activities while strengthening character and developing positive self-esteem.
Santa Ynez Elementary School, Bldg. #27, 3325 Pine St. Aug. 26 - June 10, end of class-6pm. Grades 1-8: five-day option, $285/month; four-day option, $255/month; three-day option, $225/month. Call 686-2037, or email michelle.bradley@ciymca.org.
Oak Valley Elementary School, Rm. 128, 595 Second St., Buellton. Aug. 23 - June 6, 7-8:15am and 1:30-6pm. Before- and after-school care (grades 1-6): five-day option, $395/month; four-day option, $350/month; three-day option, $330/month. (Cost varies for kindergartners and for those only enrolled in the morning or evening option; see Web site for details.) Call 686-2037 x226, or visit ciyma.org.
Preschool, Toddler, and Baby-and-Me Programs
Baby Rock!
Baby Rock! is a rockin' new music program that encourages young children to sing, dance, and play along to a combination of original songs, contemporary music, and classic rock. Using music to provide an interactive learning experience, kids and parents rock out with children's instruments alongside professional musicians and performers, learn a new letter each week, watch puppet shows, enjoy musical storybook time, and more. Class is taught by Samantha Eve, who has over five years' experience teaching music classes to children under age 5.
Sessions for toddlers up to 18 months, and for 18-month- to 4-year-olds. Carrillo Recreation Ctr., 100 E. Carrillo St. $99/$90* per session, or $22/$20 per day drop-in fee. Call 897-2519, or go to sbparksandrecreation.com for full information.
Mommy and Me Ballet
Your budding dancer will get off to a great start in this class led by popular ballet instructor Susan Manchak. Little dancers will explore the basics of ballet in a supportive environment. Participation by a parent or guardian is required in this class; adults will enjoy gentle exercise while introducing their child to the world of dance.
Multiple six-week sessions. $74/$67* per session, or $14/$12 per day drop-in fee. Ages 2-3. Call 451-2304, or see sbparksandrecreation.com for full information.
Tykes Science: Can You Lift a Lion?
Kids: Can you lift a lion? Sure you can. It's simple if you use a simple machine. Roll through a week of discovery in this parent/child class as you experiment with pulleys, wheels, and levers. With the help of instructors, kids will lift lions, race cars, and more.
Thu., Oct. 6 - Nov. 3, 10:15-11am. S.B. Museum of Natural History, 2559 Puesta del Sol Rd. Ages 2-4 (plus an adult). $75/members; $95/nonmembers (cost is for one child/one adult). Call 682-4711, or visit sbnature.org/education/ocs.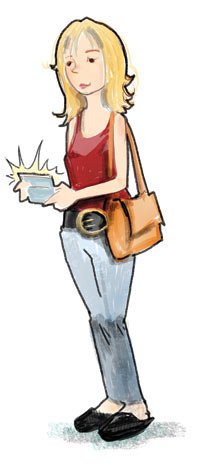 Teens
AHA! (Academy of Healing Arts for Teens)
AHA! offers a variety of after-school activities emphasizing leadership skills and the creative arts. Stipends available for successful completion of the Ally Training (leadership) program. Programs are offered free of charge thanks to sponsorship from the Orfalea Foundation, the Fund for Santa Barbara, and other donors.
Mon.-Fri., 3:30-5pm (some evening programs available). Meets at Unitarian Society (Jefferson Hall), 1535 Santa Barbara St.; Family Therapy Institute of S.B., 111 E. Arrellaga St.; and Carpinteria High School, 4810 Foothill Rd., Carpinteria. Ages 14-19. Contact Heather Cole at 882-2424 x309, or visit ahasb.com.
Franklin Teen Center
The Franklin Teen Center serves both boys and girls in junior high and high school. The facility is a "drop-in" format, which means teens may enter or leave at any time during the designated hours and may choose to engage in different activities throughout the duration of their visit. Daily activities and features include foosball and pool tables, a movie room, a computer lab with free Internet access, arts and crafts, and occasional workshops on résumé writing and job interviewing. The Teen Center also offers special events, tournaments, and activities on the last Monday of each month. Sponsored by the City of S.B.'s Parks and Recreation Department.
Mon.-Fri., 2:30-6:30pm. 1136 Montecito St. Grades 7-12. Call 897-2582, or visit sbparksandrecreation.com.
Isla Vista Teen Center
The IVTC offers a variety of educational, recreational, cultural, and leadership opportunities, like weekly tutoring, homework support, drug and alcohol education groups, leadership and community service programs, quarterly dance nights, and yearly field trips to amusement parks. IVTC houses computers with Internet access, Ping-Pong and pool tables, and a variety of board games, and is located adjacent to a soccer field and basketball courts. Open to I.V. and Goleta students in grades 6-12.
Mon.-Thu., 3:30-8pm; Fri., hours vary, special events. 889 Camino del Sur, Isla Vista. Free membership; fees may apply to special activities. Call
685-9170, or contact program director Luis Ortega at luis.ortega@ciymca.org.
Pedal Power
"Driver's education — on a bicycle!" Sponsored by the S.B. Bicycle Coalition, junior and senior high students will learn bike repair, handling skills, signage rules, and go on fun rides around S.B. Taught by accredited League Cycling instructors, students with appropriately fitting bikes and helmets are asked to bring their own; students who do not have a bike can borrow one for the class session, and earn a refurbished bike from Bici Centro at the end of the course. Upon completion, students will receive a safety certificate from the League of American Bicyclists.
Six-week sessions; classes meet 2:30-4pm. Three locations: Goleta Valley Jr. High: Mon. and Wed., starting Sept. 19; La Colina Jr. High: Wed. and Thu., starting Sept. 21; S.B. Jr. High: Thu. and Fri, starting Sept. 22. (Registration: Aug. 29 - Sept. 15, $20.) Call 699-6301, or visit bicicentro.org/youth.
Art, Dance, Music, and Theater
Art Innovators After-School Art Classes
Art Innovators (AI) offers children in Goleta, Santa Barbara, and Carpinteria a chance to get hands-on with creative art projects. Kids explore the world of fine art through painting, drawing, and sculpting during AI's unique after-school enrichment programs. Art classes are grouped into sessions, with different themes for different ages; each session meets weekly, and students create masterpieces!
Weekly one-hour classes begin Sept. 12. Held at various public elementary schools. $14/class. Grades K-6. Call 964-6435, or visit artinnovatorssb.com.
Big Stage Productions Theater Programs
Last season, Big Stage Productions produced last year's sold-out performance of The Wiz, and now plans to bring Hairspray to the Lobero Theatre stage in January 2012. The company's second season collaborating with S.B. Dance Arts offers a professionally guided performance-based arts conservatory that produces professional musical theater productions for children, and offers classes that will train students in voice, dance, and acting.
Auditions (by appointment): Sun., Aug. 26 and Sept. 11. S.B. Dance Arts, 1 N. Calle César Chávez, #100. Ages 9-20. Call 708-8897, or visit bigstageproductions.org.
Ceramics Parties for Children
A unique party idea where children can celebrate by making a special project with friends. Instructor-led activities; refreshments and decorations to be provided by parents.
Parties must be reserved at least two weeks in advance and require a $25 nonrefundable credit-card deposit. Cost (up to 13 children): $200; $12/extra child (maximum 15 children). Call 897-2519 for full information.
Children's Ballet Classes
At the City of S.B.'s youth ballet classes, young dancers learn basic techniques, like balances, turns, and jumps. Dance combinations allow for individual interpretation and expression Attire: leotard and tights, or leggings and T-shirt, plus ballet slippers.
Six-week sessions. Carrillo Recreation Ctr., 100 E. Carrillo St. $63/$57* per session, or $12/$10* per day drop-in fee. Ages 3-5 and 6-10. Call 451-2304, register online at sbparksandrecreation.com, or sign up at the first class. Please see Web site for more information.
Goleta School of Ballet Dance Lessons
Classical ballet training for boys and girls. Three levels of boys' ballet, seven levels of girls' instruction. Students may perform in The Nutcracker and/or the spring production of Don Quixote.
Fall session begins Mon., Aug. 29. 303 Magnolia Ave., Goleta. Classes start at $46/month. Ages 3-18. Call 328-3823, or visit goletaschoolofballet.com.
Kindermusik with Kathy & Friends
Kindermusik, a world-renowned music and movement program, has been offered in S.B. County for more than 13 years by Kathy & Friends. Instructors use a creative, pressure-free approach to focus more on the process and positive growth of each child, and not just about their performance. This helps prepare your child for success in school, music, and in life. Budding musicians learn to play keyboard, piano, dulcimer, recorder, and ukulele; students are exposed to various types of multicultural music, and all classes incorporate sensory stimulation, creative movement, dance, instrument instruction, vocal development, pretend play, storytelling, and drama.
Ongoing classes meet at locations in Goleta, Santa Barbara, and Carpinteria. Ages 1-9. Call 884-4009, or visit kindermusikwithkathy.com.
Montecito School of Ballet Dance Lessons
The Montecito School of Ballet offers ballet classes after school. Classes start with creative movement and pre-ballet, and progress through levels 1-8 for developing dancers. Students may participate in performances at the Lobero Theatre in December and other shows throughout the year.
Classes run Mon.-Fri., 3:30-7pm, starting Mon., Aug. 29 (additional rehearsals are held on Saturdays).
529 E. Gutierrez St. Ages 4-teen. Fees range from $50/month for one lesson per week to $178/month for five lessons per week. Call 560-0597 or 451-0553.
Origami Classes
Learn origami models that will flip, fly, and fascinate your friends. Children will fold models that will stir the imagination, from traditional favorites to multi-unit action models. Each class explores a new direction in the art, science, and geometry of modern paper engineering. Students also learn to read the international language of origami diagrams and symbols. A curious mind and willing hands are all that is needed for this class.
Six-week session begins in September. Carrillo Recreation Ctr., 100 E. Carrillo St. $66/$60* per session. Ages 8-12. Call 897-2519, or see sbparksandrecreation.com for more information.
Photography Club
Young men and women who care about issues in the S.B. community will use their picture-taking skills to make positive changes. Cosponsored by Girls Inc. and the City of S.B. Parks & Recreation Dept.
Classes offered weekly during the school year at La Colina Junior High (4025 Foothill Rd.), S.B. Junior High (721 E. Cota St.) and Goleta Valley Junior High (6100 Stow Cyn. Rd., Goleta). Grades 7-8. Call 963-4757 x19, or visit girlsincsb.org for scheduling details.
Rockshop Academy
Fostering the next generation of aspiring S.B.-area musicians, the Rockshop Academy offers year-round programs and after-school lessons for all skill levels.
Ongoing programs. 1109 De la Vina St. Monthly rates, based on participation. Ages 12-17. Call 574-0973, or visit rockshopacademy.com.
S.B. Dance Arts
S.B. Dance Arts is now celebrating its 14th year under the direction of Alana Tillim and Steven Lovelace. Learn from Broadway veterans and internationally trained professionals in classes for all levels and ages. Classes include jazz, hip-hop, Broadway, aerial, lyrical, ballet, tap, break dancing, plus classes for tots.
Enrolling now. S.B. Dance Arts, 1 N. Calle César Chávez, #100. Call 966-5299, email alana@sbdancearts.com, or visit sbdancearts.com.
Santa Barbara Children's Chorus
If your child enjoys singing and performing, he or she will love the S.B. Children's Chorus, a community-based, nondenominational music education and performing organization for children. Registration and audition are required for all students.
Registration/audition day: Sat., Aug. 20, 11am-1pm; fall session begins Mon., Aug. 29, 4pm. Meets at Unitarian Society, 1535 Santa Barbara St.
Fall session: $399 (no charge for auditions). Ages 8-14. Call 512-9840, or visit sbchildrenschorus.com.
Young Singers Club
Voice Classes, Choirs, and Private Lessons
Children receive helpful voice training and learn to perform Broadway solos and group numbers with choreography. Final recitals are held at SOhO nightclub and other venues throughout the area.
Class sessions meet on weekday afternoons. 4713 Chandler St. (near San Marcos High). $150-$205 per quarter. Ages 4+. Call 681-6078, or visit youngsingersclub.com.
Youth Acting Program
Students role-play, improvise, and learn mime through theater games and activities, as well as stage direction, etiquette, and professionalism. Led by experienced instructor Brendan Fleming; small class sizes. No memorization required.
Tue., 4:30-5:30pm. Six-week sessions begin in Sept. Carrillo Recreation Ctr., 100 E. Carrillo St. $165/$150* per session. Ages 6-12. Call 897-2519, or see sbparksandrecreation.com for more information.
Sports and Nature
After-School Horse Lessons and Sunday Camps
Harmony Horse Training's after-school programs are a great way for kids to thoroughly get to know about riding and caring for horses in a balanced, fun environment. Both the weekday lessons and Sunday camps afford enrollees plenty of time riding — and spending time around — the horses.
Weekday option: Mon.-Fri., 2:30pm-sunset. Sunday Camp: Every Sun., 9:30am-2:30pm. 1840 San Marcos Dr. Fees are on a sliding scale; call for details. Ages 4-18. Contact Gillian Linberg at 451-9909, email harmonyhorsetraining@gmail.com, or visit harmonyhorsetraining.blogspot.com.
Girls Inc. Gymnastics Program
Offering a variety of age-appropriate classes for girls ages 2-18, including Mommy/Daddy and Me (ages 2-3), Gymminnies for preschoolers, and skill-level classes ranging from beginner to advanced.
Classes offered Mon.-Fri., 3-7pm, beginning Oct. 3. 531 E. Ortega St. $165/quarter plus a $35 membership fee. Contact Gymnastics Administrator Nicole Khalilifar at 963-4492 or email gymnastics@girlsincsb.org.
Ken Ota's Aikido, Ki, and Judo
Aikido: The martial art with class! Learn to roll, protect the brain! Develop confidence, coordination, and respect. After-school classes for children and teens combine one hour of aikido/ki with one hour of judo, for a two-hour class.
Ongoing classes run Tue. and Thu., 4-6pm. 255 Magnolia Ave., Goleta. Ages 7+. Call 967-3103.
Kidz Love Soccer Clinics
Drills for younger players; advanced moves for older players. Kids engage in age-appropriate skill demonstrations, fun games, and instructional scrimmages in a noncompetitive, recreational format.
All classes held Sat. mornings; call for details on times and dates. Dwight Murphy Softball Field, Niños Dr. and Por la Mar St. $98/$89*. Ages 2½-12; classes divided by age groups. Call 564-5422, or register online at sbparksandrecreation.com.
My Gym Children's Fitness Center
My Gym has developed a number of extraordinary programs designed to help children — ranging from infants to preteens — develop physically, cognitively, and emotionally. It offers structured, age-appropriate, weekly classes that incorporate music, dance, relays, games, special rides, gymnastics, sports, and more. Children have loads of fun as they gain strength, balance, coordination, agility, and flexibility while developing social skills, confidence, and self-esteem. Award-winning class programs are complemented by a state-of-the-art facility, extensively trained staff, and excellent student/teacher ratio.
Fall registration event: Fri., Sept. 2, 5-6:30pm. 3888 State St. $74-$76/month includes a weekly class and one free play session per week. Ages 6 weeks - 13 years. Call 563-7336, or visit mygym.com.
Nature Detectives
Part of the Natural History Museum's Early Learners science series, this program aims to explore the science of the world around us. Kids will become naturalists and investigate the worlds of birds, mammals, insects, and more. Hands-on science, hikes, and nature will help train students in the ways of the wild.
Tue., Oct. 4 - Nov. 22, 3:30-5pm. S.B. Museum of Natural History, 2559 Puesta del Sol Rd. $120/members; $152/nonmembers. Ages 4-5. Call 682-4711 x171, or visit sbnature.org/education.
Rhythmic Gymnastics
Both a sport and an entertainment, the City of S.B.'s Rhythmic Gymnastics classes combine elements of gymnastics, dance, and apparatus manipulation (such as ball, rope, hoop, and ribbons). Curriculum consists of an introduction to basic body movements and floor acrobatics, and classes will emphasize strength, balance, coordination, and flexibility.
Six-week sessions begin in Sept. Carrillo Ballroom, 100 E. Carrillo St. Ages 6-9. Call 564-5495, or go to sbparksandrecreation.com for more information.
S.B. Family YMCA Youth Flag Football
This coed eight-person league will consist of one practice per week and nine games. Games will be played at various sites and all practices will be held at the S.B. Family YMCA.
Practices begin Sept. 12; Saturday games and weekly practices run Sept. 24 - Nov. 19. S.B. Family YMCA, 36 Hitchcock Wy. $89/members; $115/nonmembers. Two divisions: grades 2-3 and grades 4-6.
Call 687-7720 x261, or email aaron.martinez@ciymca.org.
S.B. Family YMCA Youth Soccer League
This coed program will provide young players with an opportunity to enjoy soccer in a positive and fun learning environment. The season will feature clinics, scrimmages, and games.
Sat., Sept. 10 - Nov. 12. Pre-K: 9-9:45am; kindergarten: 10-10:45am; grades 1-2: 11am-noon; grades 3-4: 12:15-1:30pm. S.B. Family YMCA, 36 Hitchcock Wy. $89/members; $115/nonmembers. Call 687-7720 x261, or email aaron.martinez@ciymca.org.
Tennis Classes
Instruction levels range from beginning classes that focus on basic eye-hand coordination and stroke production, to advanced classes that improve footwork skills for consistency and stamina. All classes are taught by experienced USPTA-certified instructors. Cosponsored by the City of S.B.'s Parks & Recreation Department.
Ages 4-18: year-round classes divided into four-week sessions; ages 7-14: Sat. drop-in clinics, 10am-noon. Municipal Tennis Courts,
1414 Park Pl. $51/$46* per four-week session; $7/Sat. clinic drop-in fee (first class free). Call 564-5573, email cacarpenter@santabarbaraca.gov, or see sbparksandrecreation.com for more information.
Wilderness Youth Project After-School Programs
WYP weekly after-school programs allow kids to explore the creeks, beaches, and trails of S.B. to discover all things that thrive there. Kids look under the rocks, hide among the ferns, and climb the mighty oaks; they sneak up on gophers and learn to recognize common tracks in the mud. WYP's mentoring philosophy uses core routines that inspire a connection with nature. Through the course of a season, children grow in agility, confidence, self-awareness, and social skills.
Two seven-week sessions from Sept. 5 - Dec. 16. Meets at Tucker's Grove Park, 805 San Antonio Creek Rd. $220-$345/session, based on a sliding scale. Ages 3-16. Call 964-8096, or visit wyp.org.
Youth Martial Arts
Martial arts give children the mental and physical skills needed to succeed in everything they do in life. Martial Arts Family Fitness's youth program is challenging, rewarding, and fun while encouraging each student to thrive at his or her personal best. Dynamic and experienced instructors are special role models that will empower your child with the skills to be a champion in life.
Ongoing classes. 122 E. Gutierrez St. Ages 3-13. Call 963-6233, or visit kickboxers.com.
Tutoring
California Learning Center Tutoring Services
For more than 27 years, California Learning Center (CLC) has helped thousands of students learn to read, write, calculate, and organize themselves to reach their potential inside and outside of the classroom. More importantly, CLC has helped children develop a love of learning and confidence that they carry throughout their lives. Affordable tutoring instruction available for all grades and academic levels in reading, writing, math, study skills, test prep, homework help, and much more.
Multiple programs available Mon.-Thu., 2:30-6:30pm. 350 S. Hope Ave., Ste. A-104. Call 563-1579, or visit clcsb.com.
Dubin Learning Center
Back to School Preparation and After-School Instruction
An individualized program optimizes learning and confidence. Individual instruction maximizes progress. A wide range of methodology, materials, games, and computer activities address the needs of students with abilities ranging from gifted to underachievers, and those with processing difficulties (dyslexia, ADD, Asperger's).
Schedule varies according to individual needs; options include daily sessions, as well as 2-3 classes per week. 112 W. Cota St. $65-$85/hour. Grades K-12, and college students. Call 962-7122, or visit dubinlearningcenter.com.
Endowment for Youth Committee's Science, Mathematics, Engineering, and Technology Program
The program works with junior high students to provide an education experience that takes the learning out of the classroom and into "real life." Students explore the world of natural sciences, as well as the founding principles that apply. Mathematics, engineering, physics, and chemistry are incorporated into the lesson plans, experiments, and field trips.
Call for scheduling info. 1136 E. Montecito St., #2. Free. Grades 6-8. Call 730-3347, email Otha Cole at ocole@eyc4kids.org, or visit eyc4kids.org.
Gateway Educational Services Academic Programs
Instructors provide students with the essential support needed for a successful academic year. Services include academic assessment, improvement of study and organization skills, assistance with school assignments and projects, and help with reading, language arts, math, history, science, and writing.
Multiple programs available Mon.-Fri., 12:30-6:30pm. The Education Gateway, 4850-C Hollister Ave. Grades K-12. Call 895-1153, or visit gatewaycamps.com.
Tina Hansen McEnroe & Paul V. McEnroe Reading and Language Arts Clinic
Hosted by the Gevirtz Graduate School of Education at UCSB, this program offers university- and research-based literacy and reading assessments and interventions. It provides a positive tutoring environment and continuity of learning experiences that nurture students to become lifelong readers while helping develop their skills.
Tue. and Thu. afternoons, beginning in Oct. Gevirtz building, corner of Ocean and El Colegio rds.). $1,800/10-week session, based on a sliding scale; scholarships available. Grades 1-3. Call 893-7905, or visit education.ucsb.edu/reading-clinic.
Winter-Break Camps
Great Escape Winter Drop-in Program
Trained and certified staff will work with your child on a variety of activities, including holiday games, crafts, and walking field trips. This program offers the flexibility for your child to come and go according to your needs during the holidays.
Mon.-Fri., Dec. 19-23, 7:30am-5:30pm. $215; preregistration requested. Grades 1-6. Call 564-5418, or see sbparksandrecreation.com for full information.
Holiday Lego Workshop
Parents drop off their future engineer, complete last-minute holiday shopping, then return to view their engineering maniac's fabulous creations and enjoy holiday goodies.
1-4pm. MacKenzie Adult Bldg., State St. and Las Positas Rd. $50. For ages 5-12. Call 564-5495, or see sbparksandrecreation.com for more information.
SK8 School
Kids will learn to fly like the pros at the City of S.B.'s popular SK8 School winter class, directed by Steve Fancher. Students get exclusive access to Skater's Point during clinic time. Classes are divided by skill level; helmet, knee pads, and elbow pads are required.
Mon.-Fri., Dec. 19-23, 8:30-11:30am. Skater's Point, Cabrillo Blvd. and Garden St. $148/$135*. Ages 4-11. Call 564-5495, or see sbparksandrecreation.com for up-to-date information.