Arts & Entertainment
Katy Perry at the Santa Barbara Bowl
S.B.'s Pop Princess Returns Home for a Two-Night Gala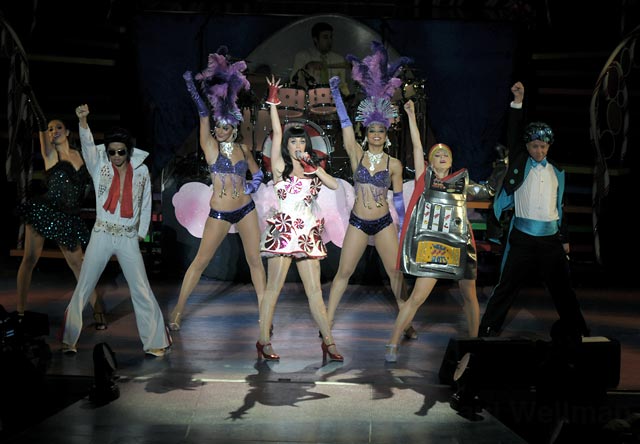 Most breathing Santa Barbarans already knew this would be a show of shows. So walking into the Bowl for Katy Perry's homecoming end-of-tour gala, you had to feel a little sorry for Oh Land, the Danish technopop act opening in front of Perry's lavish pink curtains—which we all knew hid something to make extravagance seem tame. Yet the slinking, blonde presence of Nanna Fabricius, a coquettish hybrid of Björk and Metric, held up admirably during a spirited set of seven pulsing, danceable songs. Undefeated, she gave way to the cheering crowd's true purpose, which, following a brief interlude of T-shirt cannons, came true. As the curtain rose on a psychedelic Candy Land, replete with dancers, cloud-rimmed video screens showing us Perry's fantasy life, acrobats, naughty mimes, a hot band, Oompa-Loompa backup singers, and, finally, a lollipop-bedecked Perry arose, proclaiming "I'm home!" to the roaring crowd.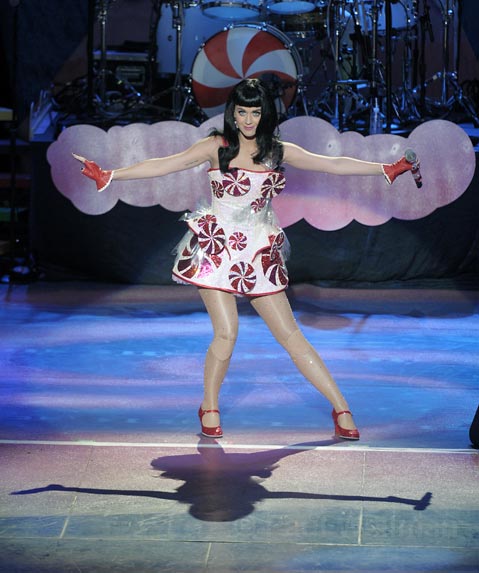 And she made it seem true, from opener "Teenage Dream" to the 21 other numbers in Perry's never-boring, two-hour-long party spectacle of music, all drawn from her growing rock-meets-show-tune hit factory. But equally fun to watch was the enraptured all-ages crowd, ranging from smitten little boys to look-alike young adults (some parents included). It was obvious why: Perry's insistent pop is mixed with something kind of nice—sugar and sex show, all delivered with a look of unsure wonder. She seems still surprised at her own brash creativity.
To be sure, a lot of it was irresistible kitsch. "Waking Up in Vegas" featured showgirl casino imagery and a cheesy Elvis clone. "Peacock," with its obvious hand-to-mouth simulated dance moves, brought the show to Lady Gaga-esque levels of risqué. But she rocked it, too: "Circle the Drain" was compelling, as was "Firework." During "Hot N Cold," Perry changed costumes nine times, once miraculously in front of our eyes with only thrown confetti obscuring her. And it was often transcendental camp. She performed some of "Pearl" from on high aboard two linked women on trapezes. Minutes later, her stage extension suddenly began rising, and the Goleta-born diva dressed in spangled gospel attire belted it from 20 feet above. There were cirque trappings galore: lasers and smoke, bubbles and giant beach balls; "Not Like the Movies," a song about the tender traps of idealized love, was set among projected cartoons, as she sat on a swing, the stage rivaling the set of a Bollywood musical.
Occasionally, the show seemed a bit padded—particularly during an odd interlude Perry called Katy-oke, where she acoustically performed songs by Rihanna and Willow Smith, among others. It's a niggling complaint though. Perry is obviously the real deal; no one there left Saturday's show doubting her voice, charisma, or show-person-ship. And she made it real, drawing fans onstage and doing hilarious shout-outs to high schools good and bad, plugging the Wildcat Lounge and La Super-Rica for good measure. She made the Bowl feel titanic and intimately personal. And if that's not a feat, I don't know what is.