Briefs
Man Sentenced to Two Years for Hit-and-Run Spree
Third DUI Arrest; Caused Injury Accident at End of Police Pursuit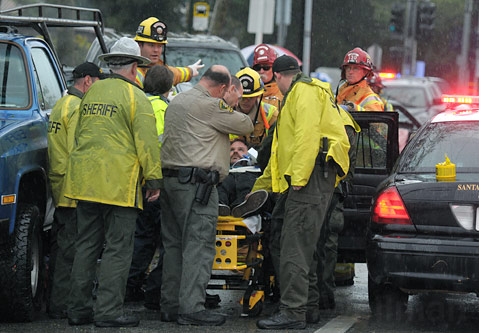 Judge Clifford Anderson sentenced Todd Kadell to serve two years in prison Tuesday for his March 20 spree of hit-and-runs that resulted in a six-car pileup in Carpinteria and put two people in the hospital.
Kadell's trail of destruction began at the Bacara Resort in Goleta and continued onto southbound Highway 101. As authorities pursued him, speeds reached 85 mph in the rain until Kadell crashed at the intersection of Carpinteria Avenue and Santa Ynez Avenue.
Kadell, 39, was under the influence of methamphetamines at the time and has two prior DUIs. Kadell's father, Bill, said in court that his son has a history of mental illness which resulted in drug and alcohol abuse.
Senior Deputy District Attorney Arnie Tolks read off the injuries sustained by the family of four in a car Kadell hit. They included back and neck pains, a lacerated spleen, and a dislocated shoulder. He added that it was amazing that no one was killed during the chain of events.
Tolks told the court he was happy with the efforts Kadell had made to clean himself up since the incident, but it didn't change the fact that this was his third DUI arrest.
Judge Anderson concurred when reading his decision, explaining that he was glad Kadell was seeking help for his addictions, but the concern was it had "taken this to reach that epiphany." He added that there were several instances where "more serious injuries could have taken place."
Kadell and his father both took time to make statements. Bill Kadell said he and his wife wanted to apologize for the burden his son had caused and the accidents that happened that day. He added that his son would never intentionally hurt someone.
While tearing up, Todd Kadell said he was sorry for what he did and that he never intended to hurt anyone. He added that he had not seen his parents in more than a year and would take advantage of every opportunity granted to him.
Kadell pleaded no contest to three counts: felony DUI, felony evading arrest, and felony leaving the scene of a hit-and-run. Three misdemeanors for property damage and hit-and-runs were dropped. An additional felony hit-and-run that resulted in less severe injuries was also dropped.
His sentences will run concurrently, with two years for the DUI the longest. He had already been credited with 224 days served. Additionally, Kadell was ordered to pay restitution to all victims and his driver's license was suspended for three years.