Sports
Soccer Stars
UCSB Unveiled Its 2011 Team in an Exhibition Victory over Westmont College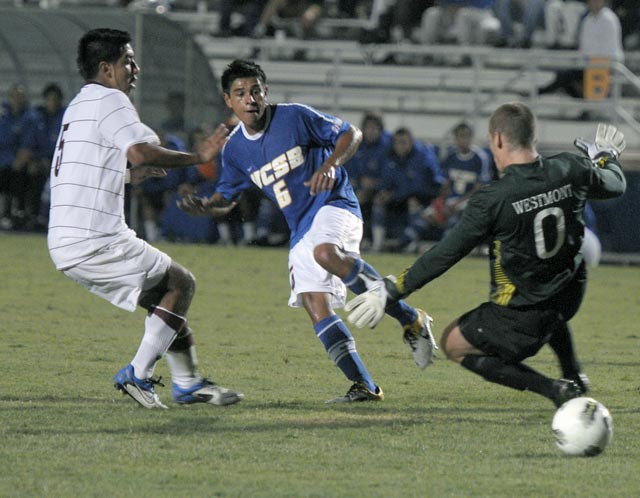 It was inevitable that last week's announcement of sanctions against UCSB soccer coach Tim Vom Steeg and several players would spark a new round of captious comments deploring their behavior after a difficult loss to UC Berkeley in the NCAA championships nine months ago. Good sportsmanship is the highest ideal of athletic competition, and the Gauchos, who angrily confronted the referee—while Vom Steeg harshly criticized the NCAA's administration of soccer during a post-match press conference—exposed themselves to public scorn.
But there was a lot of love surrounding Gaucho soccer last Saturday night when UCSB unveiled its 2011 team in a 6-1 exhibition victory over Westmont College. A substantial crowd of 3,074 at Harder Stadium, mostly fans and families from the community, watched the Gauchos move the ball crisply around the field and create many scoring opportunities.
Six different Gauchos scored goals: junior forward Sam Garza, who has been listed as a candidate for the Hermann Trophy, college soccer's top individual honor; David Opoku, a rangy forward from Ghana who almost ripped the back of the net after one-touching a point-blank shot; Santa Barbara native Christian Vazquez, making his debut for the Gauchos after transfering from UCLA; inspirational Waid Ibrahim, who is determined to play one more year with a pacemaker implanted in his chest; Luis Silva, the skilled midfielder who hit a 22-yard rocket into the net; and Michael Nonni, a reenergized forward overcoming a sophomore slump. The barrage wiped out the supply of tortillas that the fans traditionally fling from the stands when the Gauchos score a goal.
Westmont averted a shutout when freshman Dan Johnsen scored off a rebound. For the most part, Warriors coach David Wolf could only praise UCSB's effort. "This is a cruel game," said Wolf, no stranger himself to tough defeats. "You can get hurt in different ways. One way is to get the mess beaten out of you. Tonight [UCSB] whipped us in that good, old-fashioned way."
Sitting out the exhibition with a slight injury was UCSB junior Machael David. He is the most severely punished of the players charged with misconduct at Berkeley, incurring a three-game suspension at the start of the regular season for touching the referee, and another suspension of three games in the postseason, should the Gauchos go that far.
"I learned my lesson, and I am moving ahead," David said. "I am living every moment. My spirit is high." Fifi Baiden, a sophomore, did a capable job Saturday in David's defensive midfield position. "Fifi is going to do well," David said. "The team is still strong."
The NCAA also penalized UCSB by rescinding the travel allowances it paid for David and two other Gauchos who confronted the referee. Vom Steeg's penalty was a public reprimand and a $600 fine.
The people who count stood by the coach and the team. Athletics director Mark Massari called Vom Steeg "the best coach in the nation, leading championship-driven student-athletes who want nothing more than to serve as role models on and off the pitch." UCSB's top boss, Chancellor Henry Yang, and his wife, Dilling, attended Saturday's match in support of the Gauchos.
Vom Steeg is extremely competitive and outspoken to a fault. He is hardly alone when it comes to complaining about bad officiating. Former women's basketball coach Mark French, the paragon of the UCSB coaching staff, once was ejected from a game at Stanford when he repeatedly railed at an official for ignoring alleged fouls by the Cardinals. French issued a statement of apology after the game. Vom Steeg's mistake was to amplify his criticism during a press conference.
"A lot of things were wrong that afternoon," Vom Steeg said of the 2-1 overtime loss at Cal that shattered UCSB's hopes of reaching the 2010 College Cup at Harder Stadium. "Our reaction was one of those. We acknowledge our part in it. We will act better in the future. You won't hear me criticizing officials after a game. But nobody can keep me from trying to improve college soccer. Everything that happens on the field should be decided by the players. That's what I'm fighting for."
The Gauchos watched Akron, Louisville, North Carolina, and Michigan fight for the College Cup on their field last December. "We had the talent to be there; we even had the talent to win it," Garza said. "That just adds fuel to the fire this year."
One of the best things that came out of it was an upgrading of the stadium facilities, including a new scoreboard with a video screen that showed replays of the goals Saturday. The Gaucho men open the regular season Saturday night, August 27, against Seattle. On October 5, Akron's Zips will return to the scene of their first NCAA championship to face UCSB in a nationally televised game—a chance for the Gauchos to make a resounding statement on the pitch.