News
DUI Case Against Peter Lance Could Be Collapsing
Handwriting Expert Finds Pre-Checked Boxes on Blood Test Waiver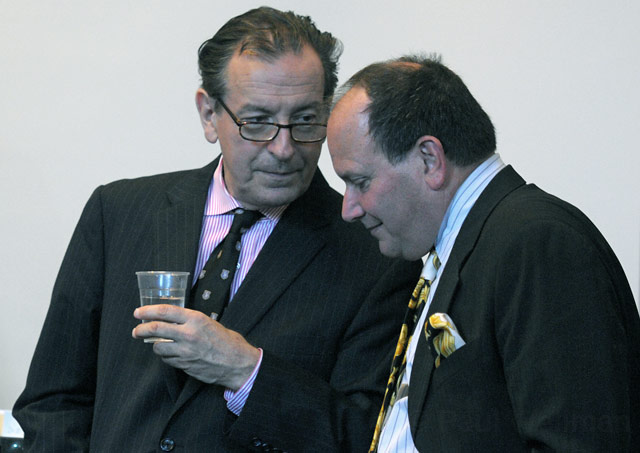 In a revelation that could potentially devastate the District Attorney's DUI case against Peter Lance, handwriting expert James Blanco submitted a declaration to the court Wednesday alleging that Officer Kasi Beutel conducted at least one arrest using a prefilled form.
According to Blanco — who was hired by Lance to analyze documents in preparation for a possible trial — the presence of checkmarks and handwritings printed in toner ink on the Trombetta blood test waiver that Beutel used in her December 2009 DUI arrest of John Page "strongly suggests that the officer went into the field on duty armed with a document that would met certain criteria to guarantee a successful DUI arrest."
For Lance — a freelance journalist who has written a now 13-part series in the Santa Barbara News-Press accusing his arresting officer of various forms of misconduct — this latest allegation against Beutel has "vindicated the entire series."
"This is the essence of a dirty DUI cop framing innocent people," said Lance, who compared Beutel's alleged use of prefilled forms to "something that would happen in the old Soviet Union."
Blanco's declaration comes just days after the revelation of a police office error placed the case against Lance on thin ice. On August 4, the Santa Barbara Police Department admitted to accidentally shredding six original Trombetta waivers — including the one Beutel used to arrest Lance this past New Year's Day — that Lance's attorney Daryl Genis had requested as early as February. According to Genis, the now-shredded waivers might have contained palm prints or fingerprints consistent with forgery, which would have been crucial evidence in proving Lance's contention that Beutel forged his signature on the document. Denied of his evidence, Genis filed a motion on August 5 to dismiss the case, which Judge Brian Hill will weigh next Wednesday.
Another Santa Barbara DUI defense attorney, William Makler — who defended several of the Beutel arrestees who came forward in Lance's series to accuse Beutel of forging their signatures on their Trombetta forms — said he thinks the Beutel's alleged use of prefilled forms could be the deciding factor if Hill decides to dismiss the case. "It could very well be the straw that breaks the camel's back," Makler said. "It leaves us wondering whether she had other prefilled forms."
Using infrared testing, Blanco identified a number of preprinted sections on the form, including pre-checked boxes indicating that the arrestee exhibited equal pupil size and was not diabetic or under the care of a doctor or dentist. Blanco also located several handwritten words that had been previously photocopied onto the form, including a description of the lighting ("spot"), weather ("cool"), and surface ("flat") at the location of the arrest.
Although Blanco acknowledged that it would be acceptable for an officer to use a form containing a preprinted name and badge number, he wrote that he could think of no "good-faith reason" to explain why so many sections of the form would be filled out ahead of time and then used in making a DUI arrest. "The boxes that had been pre-checked did not allow for alternative answers to the questions posed even in the face of the obvious fact that there is no way for the officer to know ahead of time what answers the arrestee might give," Blanco wrote in a draft of his declaration posted on his Web site. He also reasserted his previous statement that the Trombetta waivers bearing the signatures of Lance, Page, and three additional Beutel DUI arrestees had been forged.
Makler said he thinks that while Beutel may be able to minimize the damage caused by the revelation of the prefilled forms, "there really isn't a good way of explaining it."
"She could say that the she had seen a lot of commonality among her DUI alcohol arrests and would grab this prefilled form when she suspected that this individual would fulfill these categories," Makler mused, adding that he was unsure whether Beutel could make such an explanation sound genuine.
In anticipation of next Wednesday's pretrial hearing on Genis's motion to dismiss the case, Joseph Merydith — a handwriting expert for the California Department of Justice — will review Blanco's findings by analyzing the original document. According to Genis, Merydith told both the prosecution and the defense in a conference call Wednesday that Blanco's analysis appeared definitive.
Although Genis said he has complete faith in his handwriting expert, Blanco's career has not been without controversy. Blanco was expelled from the American Academy of Forensic Science in 2008 following an investigation stemming from an ethics complaint filed against him in 2006. In 2009, Blanco sued the academy and later reached a settlement stipulating that he would agree to resign from the organization in exchange for a formal retraction of his expulsion. Genis dismissed the controversy, saying his expert was expelled only due to "baseless allegations" filed by a competitor.
Prosecuting Deputy District Attorney Sanford Horowitz declined a request for comment on the basis that the case is still pending. The District Attorney's Office, the Police Department, and Beutel's lawyer did not return a request for comment in time for the publication of this article.