Food & Drink
Food Truck Explosion
Sample the Best of Santa Barbara's Roving Restaurants on September 4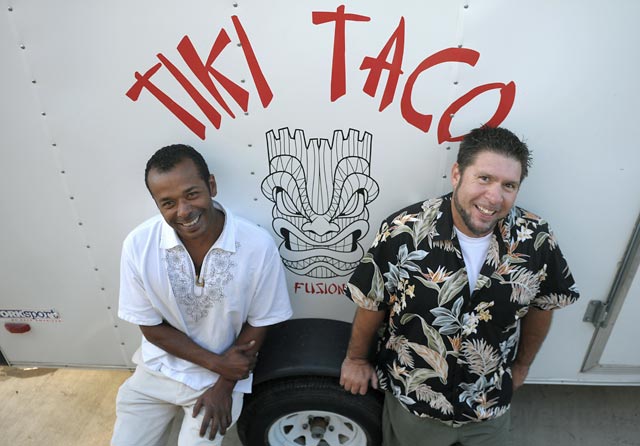 As you may have heard over the combustion engine rumble, food trucks are the future of eating, yes, even here in sometimes slow-to-adapt Santa Barbara. If you want to get a sampling of the scene in one fell swoop, head over to the old site of Be Bop Burgers (111 State Street) for the latest Santa Barbara Food Truck Festival on Sunday, September 4, noon-4 p.m. (Ever-evolving info on the Santa Barbara Food Truck Facebook page, of course.) This event features not only food but live bands, led by high school sensations False Puppet, a recent hit at Nite Moves and the last Food Truck Fest.
As for the trucks, look for the following:
Burger Bus: The name says it all, well, sort of, as it leaves out the yam fries and fried pickle chips that should make any muncher happy. The "old-timer" in the area food truck scene, they've been pleasing people with burgers made from local food suppliers and growers: That's 100 percent grass-fed, free-range, hormone-free beef.
Green & Tasty: Green and Tasty gives backpacks on wheels a whole new meaning in the school parking lot. Rolling onto campus is a mobile lunchbox with vibrant jalapeño graphics and healthy eats for students. Serving lunch at EF School at 1421 Chapala Street from noon to 2 p.m. daily, the well-intentioned food truck also offers catering services for all types of events. The diverse menu is broken up between à la carte options and a general menu with balanced, green, and protein-packed dishes. An oozing Nutella crêpe can follow a colorful plate of mac and cheese with broccoli from the à la carte menu. On the general menu you'll find items from marinara pasta to a filling veggie enchilada casserole. Taking the kitchen to the streets, fans can follow special events throughout the city on Twitter @greenandtasty..
Lickety Split's: Assuming it's a warm Labor Day weekend (don't giggle), the lines might be longest at this truck, which offers delicious frozen yogurt and iced coffee. The menu is short and literally sweet, but we all have that tooth that needs pleasing, don't we? And the "Yo-Witch," a yogurt and cookie sandwich, could be a decadent lunch.
O Street Truck: These folks swept The Indy's Sizzling Summer BBQ Contest, so get that BBQ pork banh mi sandwich for yourself and find out why.
Tiki Taco: They call it exotic fusion cuisine, and you'll call it plenty tasty, from tacos, wraps, and skewers to voodoo veggies. Never mind that voodoo isn't Polynesian — we're talking fusion here!