Film & TV
The Toasts of Telluride and Toronto
A Report from the Continent's Two Most Important Film Festivals
The jolt of seeing something daring, something new, watching an artist's uncompromising vision come to fruition — that's one of life's most exciting experiences, and a main reason why I go to film festivals. These jolts are rare, but when they arrive, they're worth the wait.
Being one of the first people to see Steve McQueen's latest directorial work, Shame, gave me one of those exhilarating moments at the Telluride Film Festival during this past Labor Day weekend. Starring Michael Fassbender in one of the best performances this year as a sex addict trying to keep his and his damaged sister's lives from derailing, Shame is unbending, raw, offensive, and thrilling. Not for the timid, the film goes the distance, recalling Midnight Cowboy and American Gigolo and taking you deep down the rabbit hole. Though Shame was the definite highlight of both Telluride and Toronto International Film Festival, it was just a slice of the amazing crop of films unveiled.
Alexander Payne's The Descendants, his long-awaited follow-up to Sideways, was another critical success and an audience favorite. Based on the novel of the same name and starring George Clooney in a career-best performance, The Descendants deals with a family coping with their mother's impending death. Funny, heartbreaking, and incisive, this movie will be on everybody's Top Ten of 2011.
Another darling was Michel Hazanavicius's The Artist, a silent film about the advent of the talkies. It's a film lover's banquet — absolutely delicious and beautifully crafted by someone who's passionately in love with film. Swept up in the sheer joy of it all, I found myself crying uncontrollably for the last half-hour. In channeling Douglas Fairbanks Jr., Jean Dujardin should be nominated for Best Actor.
The biggest surprise for me was Moneyball, the most intelligent sports movie I've ever seen. Director Bennett Miller (Capote) gets Brad Pitt to deliver his best in creating a sports movie like you've never seen before, one that recalls the intelligence of last year's The Social Network, which is not surprising since Aaron Sorkin worked on both scripts.
Other master filmmakers brought their new works to both festivals, including Finnish auteur Aki Kaurismaki, who proved himself in top form with Le Havre, a droll and bittersweet take on Europe's immigration issue in which a shoe-shiner tries to save a child in the French port city. David Cronenberg's A Dangerous Method, starring Viggo Mortensen, Keira Knightley, and Fassbender (again!), is about the relationship between Carl Jung and Freud and proved to be a fascinating, puzzling, and intriguing drama, just like the veteran helmer's past works.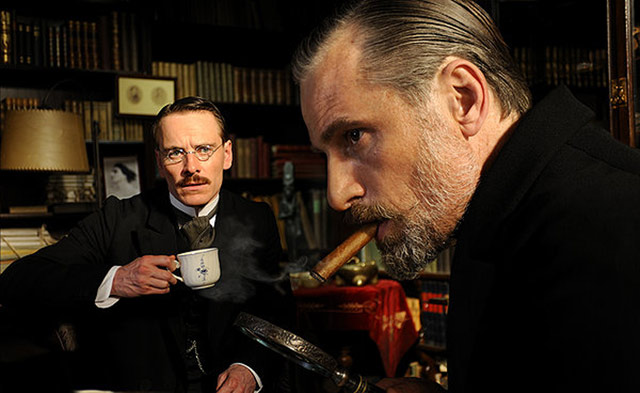 Also premiering at Telluride was Glenn Close's long gestating labor of love, Albert Nobbs. Close played this same character, a woman disguising herself as a butler in Victorian England, on stage in the early 1980s, and this film will reward her an Oscar nomination for determination alone.
Clooney was also busy unspooling his latest directorial effort in The Ides of March, a timely political thriller starring Ryan Gosling, Philip Seymour Hoffman, and Clooney himself. Based on the play Farragut North, the film is aptly made, savvy and thought-provoking in dealing with a corrupt political campaign.
The hands-down best foreign film was Iran's A Separation, written and directed by Asghar Farhadi. It's a complex, painful, and fascinating drama in which a woman leaves her husband and causes explosive results that expose a network of personal, religious, and political bureaucracies and complicated relationships involving sex and class. Farhadi's visual composition is stunning. Clearly influenced by Western filmmaking, A Separation will undoubtedly become a dinner-table conversation staple when it reaches our movie houses.
I enjoyed Mexico's Miss Bala, tightly directed by Gerardo Naranjo. This claustrophobic and frightening thriller involves a young woman whose dream to win a beauty pageant catches her in the middle of a struggle between organized crime and the police. As the beauty in a bestial male-dominated world, Stephanie Sigman in the lead role is terrific.
Other films were not as well received. Oscar nominee Fernando Meirelles's 360 didn't impress, and, despite Tilda Swinton's amazing performance in We Need to Talk About Kevin, the film gets dragged down by its director Lynne Ramsay's overindulgent use of symbolism. But these were minor complaints. The hills of Telluride and the streets of Toronto were alive with the flickering of amazing films. Great things are coming for film lovers — just you wait!