News
Taking Sides in Otter Showdown
Endangered-Species Advocates and Fishermen to Square Off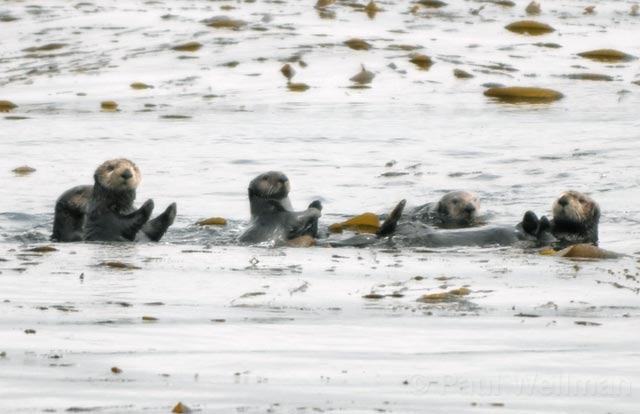 For the decades of fighting that's gone on between those who hope to see the endangered southern sea otter return to its historic territory along the California coast and the fishermen who fear the voracious eaters will cut into their catch, there's actually one big thing they agree on: The U.S. Fish and Wildlife Service's 24-year-old translocation program, which sought to establish a population of otters on San Nicolas Island by physically moving any of the furry marine mammals that ventured south of Point Conception, was never a good idea.
"Putting a line across the water and asking a marine mammal to not swim across it is dumb," said Steve Shimek of The Otter Project, whose lawsuit with Santa Barbara's Environmental Defense Center against Fish and Wildlife resulted in the recent decision by the service to move toward ending the program. A series of hearings has been set to accept public comments on that proposal this past Tuesday in Ventura, and then in a stop at the Santa Barbara Museum of Natural History on Tuesday, October 4, 5-8 p.m. (The hearing is preceded by an hour of information, starting at 5 p.m.) "So it's time to correct a mistake," said Shimek, "restore the Channel Islands ecosystem, and move toward a high-productivity and high-diversity system."
Though he bristles at the second part of Shimek's comment, fisherman Steve Rebuck — who served as an abalone consultant on the otter recovery team from 1993 to 2004 and spoke a number of times before Congress on the matter — wholeheartedly agrees with the first. "We opposed the translocation before and after it started," he explained, but he's also very much against what Fish and Wildlife is proposing by ending the program: expanding the Endangered Species Act protections for otters into waters south of Point Conception as well as for the few translocated ones that remain on San Nicolas Island. That, he believes, would decimate the shellfish industry, which is a major part of the fishing economy of the Santa Barbara Channel.
"Most shellfish fisheries will be lost with sea otter. They are just better at fishing shellfish than humans are," said Rebuck. "Humans have size limits, seasons, in some cases limits on sex, area closures, quotas, etc. Sea otters do not. They forage around the clock with no size limits, no harvest limits, no area limits." Otters eat so much that they are already starving themselves anyway, claimed Rebuck, asking, "Why should we collapse all of our shellfish fisheries just to have sea otters ultimately starving to death?" And on top of that, otters that are accidentally killed as bycatch in waters south of Point Conception don't pose any problems for fishermen today. But, said Rebuck, "The end of the program could lead to prosecution." Instead, he'd prefer that the species, which he believes has many more individuals than is reported, be delisted, which he says would open different options for management that the Endangered Species Act does not currently offer.
That's not a move that the Fish and Wildlife Service is likely to make, and Shimek believes that Rebuck and other fishermen are making much noise about what's not likely to be a huge change anyway. "Fishing for urchins and lobster tomorrow will be just like it is today," said Shimek. "It will take decades for the otter to completely return. But change toward a less artificial system will slowly happen and some fisheries will be forced to adjust."