Arts & Entertainment
No Fan Is an Island
The Indy Heads to the Treasure Island Music Fest, Saturday and Sunday, October 15-16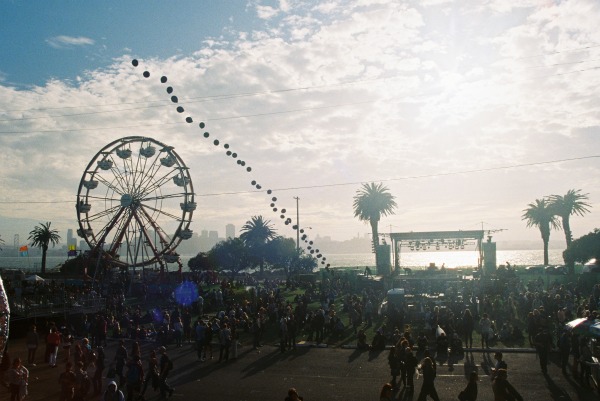 It's been a long and fruitful festival season for us California concertgoers, and officially capping us off is the Treasure Island Music and Arts Festival. This 2011 fifth installment mirrors the on-going love affair between Noise Pop and Another Planet Entertainment, who each year bring out modern music's biggest guns to perhaps the most scenic locale in all of the Bay Area.
Situated romantically on a manmade island between San Francisco and the East Bay, the Treasure Island fest offers an easy-going schedule, panoramic views, convenient transportation, friendly and informed staff, and all the necessities that add up to the least stressful experience any music festival can offer. The lineup invariably provides a look at some of the most influential artists around, while the schedule and two-stage setup ensures that no band will go overlooked (though some might go under-heard at the smaller Tunnel Stage). With the San Francisco skyline as their backdrop, performers and fans alike revel in a naturally beautiful environment that is perfectly conducive to both watching and playing music. When the planets are properly aligned and you've got weather as warm as last weekend's to back it up, it becomes difficult to remember what life is like outside such a paradise.
This year's lineup favored sequencer-savvy indie bands that know how to get the most out of their samples and digital instruments while still retaining the hands-on musicianship and "deejay's intuition" that attunes any good performer to the desires of their crowd. As the exact distinction between such labels becomes increasingly obscure in the state of music, it is forward-thinking festivals like Treasure Island that remind us that, when the sun is shining and the people are happy, the beat don't stop, regardless of who or what is making it.
SHABAZZ PALACES
If there is one thing Treasure Island could use more of, it's good hip-hop. Though festival organizers Noise Pop and Another Planet Entertainment tend to favor a predominantly indie rock lineup, this year's installment offered a leg up for the hip-hoppers out there, beginning rather appropriately with Shabazz Palaces. As live musicianship becomes ever more integrated with digital processing, obscuring the line between musician and deejay, this Seattle-based duo fills a similar niche in the hip-hop world by blending live percussion, sampling, and vocal effects with freestyle rap verses. The result is a stonerific live set that flows freely and rarely, if ever, stops altogether, leaving Shabazz Palaces right at home alongside Saturday's jam-heavier bands like Battles.
BATTLES
Sure enough, when Battles' late-afternoon set arrived, the dudes from Shabazz Palaces were gawking along with the rest of us at the jungle of hardware, effects pedals, and patch cords that intertwined to create the trio's oddly danceable, always-rhythmic post-rock. The most entertaining part about Battles might just be the madness that is their stage setup, which is a blur of colors and machinery that looked even crazier in the confines of the festival's smaller stage. Yet, no piece of gear went overlooked, as sequencing, effects processing, and a combination of digital, acoustic, and electric instruments converged to show off songs from Battles' recent sophomore release, Gloss Drop, as well as familiar tunes from their 2007 debut album, Mirrored. Screwing up the loud-quiet-loud dynamic that has presided over the term 'post-rock' for so long, Battles offered up a solid set of sustained power trio jams, bolstered by the phenomenal double keyboarding skills of founding member Ian Williams. Perhaps the only thing missing was the presence of former vocalist Tyondai Braxton, who left the band amicably in 2010 due to his commitments to solo work and a desire not to tour. Their live show clearly does not suffer from this loss on the instrumental end, but to see such capable musicians playing along to prerecorded vocal tracks is certainly cause for head scratching.
DEATH FROM ABOVE 1979
If there was one act that stuck out of Saturday's line up, it was certainly this fanatically followed dance punk duo from Toronto — though not necessarily in a good way. Reuniting for the first time since their 2006 breakup for a headlining tour of festivals all over the map, Deaf — er, sorry, Death From Above 1979 may have been the most aggressive act of the day, but they certainly were not the sharpest. Perhaps festival fatigue has set in for Jesse Keeler and Sebastien Grainger, who have been making headlining appearances since April of this year. It could have been the mixing at the Tunnel Stage, which definitely did not allow for the precision that their sound requires. Or maybe it's the fact that after all this time they still only have one album and a handful of EPs' worth of material. In any case, Saturday's performance was certainly not the worst these two are capable of, but it was by no means the best — tempos dragged, the bass was muddier than the pits of Glastonbury, and pretty much everybody struggled to hear what the hell was going on. Considering the overwhelmingly positive response that Keeler's DJ side project MSTRKRFT received during their headlining set last year on the island, Keeler may have to wonder if life as a deejay isn't more festival-friendly.
FLYING LOTUS
Despite making records that sound like extra-dimensional alien transmissions, there is something old-fashioned about the way that Flying Lotus takes control of the decks. Perhaps it's the abrupt yet seamless cuts he makes on the faders, or the jovial grin that is perpetually lighting up his face, or maybe it's the way his crowds greet him with a warm familiarity even in temperatures as cold as Saturday night's. In any case, Steven Ellison, the computer music mogul behind the L.A.-based Brainfeeder label, commandeered the Tunnel Stage with all the hallmarks of a deejay who knows his tracks and, more importantly, the people listening to them. "Who's fucked up right now?!" he yelled into the mike, slam-cutting between various beats and songs and mixing in requests from the crowd on the fly, including Tyler the Creator's "Yonkers." Even after FlyLo finished his allotted time and reluctantly closed up his computer, it was clear his crowd wasn't going anywhere. "If anyone knows of an after party, I will play it!" he declared to a throng of devotees who preferred to remain in his presence rather than catch the opening of Cut Copy. Never one to forget his fans, Ellison stuck around to sign all the swag and take other requests, including one from a gentleman who "just wanted FlyLo to smoke his joint," before loading up his backpack and disappearing into the night.