Positively State Street
Ghost Tiger Roars to Life
S.B.'s Newest Musical Export Takes to Muddy Waters Café on Thursday, October 27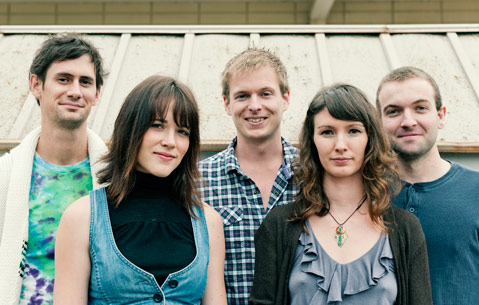 EYE OF THE TIGER: It's only been a few months since Ghost Tiger came to life, but for frontwoman Alixandra Macmillan-Fiedel, it feels like a lifetime. I sat down with the young songstress just over a year ago, when she was fresh off a productive recording stint and ready to take on the world. Armed with new songs and, more importantly, new arrangements, Macmillan-Fiedel has spent the last year playing solo, alongside the now-defunct Cruiseship, and most recently at the helm of Ghost Tiger, her first legit band since high school.
"It's been really fun to see everyone else take the songs and run with them," she enthused over coffee earlier this week. "It's not just about me anymore; it's become more about the collaboration." And the collaboration is a mighty one. Among the Ghost Tiger lineup are some of S.B.'s more versatile young players, including the classically trained Emma Houston (keyboards), SBCC Symphony player and multi-instrumentalist Kevin Evans (bass), Comfort Machine guitarist Chris Norlinger, and drummer Chris Stansell, who moonlights in a marimba outfit in town.
Sonically speaking, the band draws heavily from Macmillan-Fiedel's folk-minded back catalog, but the arrangements are imbued with a slightly more electronic edge. "It's vocal, very harmony driven, but some of the songs are really different. There will be parts with lots of guitars and minimal drums and crazy synths," she explained. "That's kind of the vision: have it be new and organic, lots of singing, with weird other sounds, which a lot of people are doing right now. I think Yeasayer is a good example of that." In this instance, it's Yeasayer as fronted by a young Neko Case.
This Thursday, October 27, at 8 p.m., Ghost Tiger takes to the stage at Muddy Waters Café (508 E. Haley St.) for a show, alongside Buster Blue and Islay Street. And while it may only be the band's second official concert, you can bet these five will soon be making some big waves. "I think we've got something worth spending some time on," Macmillan-Fiedel said. "I'm ready. I want to get out there and play." For info, call 966-9328.
AFTER THE PARTY: And whether you're headed to Muddy or to Deadmau5 at the Bowl, you've got an after party waiting for you on Thursday night at The Savoy (409 State St.). The lower State Street club has been ramping up its live-music offerings in recent months (they'll play host to Portland indie rockers Typhoon next week), and this Thursday they usher in Brooklyn producer-cum-electronic artist Eliot Lipp. A fitting wind-down to any evening, Lipp's latest, How We Do: Moves Made, is jam-packed with slow-burning, super-atmospheric, cosmic jazz musings that are sure to set the vibe in Savoy's swanky lounge space. The 21+ show starts at 9 p.m. Call 957-4111 or visit thesavoysb.com for tickets.
IN CASE YOU MISSED IT: For those of you who've been following along with this year's Downtown Sound battle of the bands, the wait is over. After an action-packed night at SOhO last Thursday, Lompoc psych rockers Saint Anne's Place were crowned the grand champions. (They also took home a veritable carload of prizes, including gear from Ernie Ball, merch from Arbor Collective, and a handful of tentative recording offers.) You can check out next week's annual Santa Barbara Bands issue for our sit-down with them.
VINYL + VINO: And whether you're a record collector, a beer drinker, or just looking for an excuse to go out on a Wednesday, I've got some good news for you. Starting yesterday, Warbler Records & Goods (131 E. De la Guerra St.) will be teaming up with Elsie's Tavern (117 W. De la Guerra St.) for a record-spinning party, to be held every last Wednesday of the month. I call that a match made in heaven. Visit warblerrecords.com for details.