Arts & Entertainment
Deadmau5 at the Santa Barbara Bowl
World-Famous Deejay Closes Down the Summer Concert Season on Thursday, October 27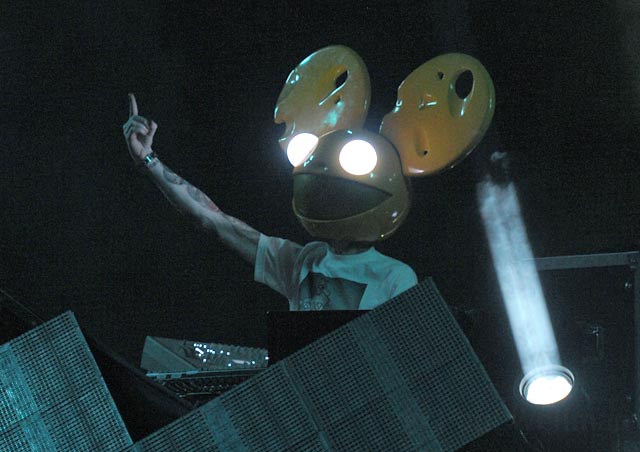 Closing out the 2011 concert series at the Santa Barbara Bowl was an afternoon and into-the-night event of electro, dubstep, and dance music that culminated in an outstanding light and music show by pop-culture icon Deadmau5. Mau5trap Records label mates Le Castle Vania and Feed Me opened last Thursday's show with a mix of gutsy electro and dubstep. As afternoon faded to evening, Feed Me got early-bird Bowl goers, most clad in costume in honor of Halloween, energized with songs like "Muscle Rollers" and "Pixel Cheese." By dark, the Bowl was full, and the pit looked like a sea of undulating glowing mouse ears, all anticipating headliner Deadmau5.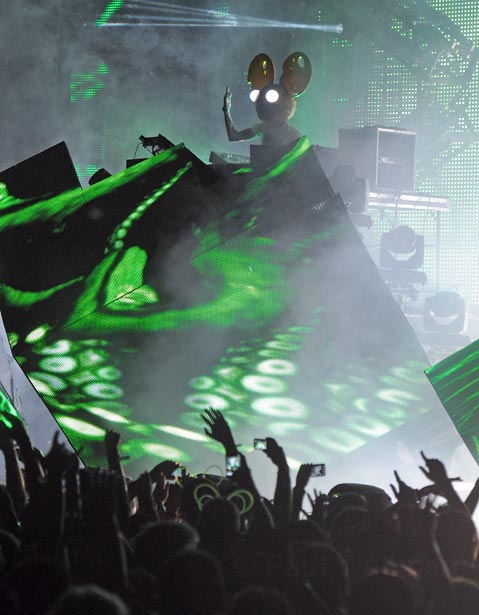 Deadmau5 is Joel Zimmerman, a Canadian deejay and producer who's shot to stardom in the electronic music scene over the last three years, winning multiple awards and headlining for shows across the globe. As he appeared onstage and climbed the tall, three-dimensional cheese cube that housed his music equipment, the crowd spontaneously began clapping and chanting his name. He donned his Deadmau5 headpiece and opened with the song "Bad Selection." The next hour was a mix of favorites, mash-ups, and some new songs that showcased his skills behind the turntables, blending soothing electronic beats with pulse-thumping, bass-centric songs. The light show and stage production centered on several 3-D objects that moved up and down and worked as a canvas for a series of projected images. At one point in the night, Deadmau5's deejay stand appeared to rapidly morph from cheese cube to Rubik's Cube. The tempo of the music was matched by a series of stunning visuals — none used more than once — that included computerized images of smoke, clouds, fire, and writhing octopuses with demon-like faces.
At 9 p.m. sharp, SOFI, another member of the Mau5trap label, joined Deadmau5 onstage for the two songs they have produced together: "SOFI Needs a Ladder" and "One Trick Pony." Although it was a nice change of pace to hear some vocals onstage, the crowd wasn't quite ready for a sing-along. Post-SOFI, Deadmau5 pulled out all the stops and treated the Bowl to some heavy dubstep, blasting eardrums and raising heartbeats with new song "Professional Griefers" and mash-ups of Kaskade and Daft Punk.
As the clock struck 10, the Bowl, subject to residential decibel limits, seemed ready to close Deadmau5 down. Meanwhile, the 3-D cubes played Mario Kart-inspired Deadmau5 graphics, counting down to zero and threatening "game over," but the crowd's chant brought him back. A few songs later, the music stopped for good, and he, surprisingly skinny without his oversized mouse head, called for a mike. "I don't usually take the mike after a show," he said, "but there is something seriously wrong here: Why is there not a single glow stick onstage?" And it was hard to explain to him, over a crowd of nearly 4,000 people, that despite the Bowl's "no glow stick" rule, we really did enjoy the show.