Visual Arts
Keith Puccinelli at SBCC's Atkinson Gallery
First Santa Barbara Solo Show for Keith Puccinelli
It seems impossible that this is Keith Puccinelli's first solo show in Santa Barbara. After all, the man has lived around here since 1973, and his giant drawings of baroquely rendered clowns and clever, neo-surrealist sculptures are among the most unforgettable of signature statements by any artist in the area. Yet this upcoming exhibit, curated by Dane Goodman and scheduled to open Friday, November 4, is a step that Puccinelli has not, until now, taken. While there are still a few surprises to come — especially a striking installation on the deck of the SBCC Atkinson Gallery — for the most part the show will present a summation of Puccinelli's extraordinary and multifaceted oeuvre. It's not a full retrospective, but this three-ring circus of an exhibition promises to give Puccinelli's many fans the opportunity to examine a greater range of his recent output than ever before. It will also make the case that Puccinelli is unquestionably one of the area's — and California's — most important contemporary artists.
When I met with Puccinelli and Goodman at the gallery last week, they were gearing up for the opening, which will run from 5-7 p.m. on Friday, November 4, and Puccinelli's gallery talk, which is scheduled for 4:30 p.m. on Wednesday, November 16. There will be plenty of things to talk about, as I found out in a lively conversation with the two men that lasted a little over an hour. When I asked what the guiding idea was behind the weird world he creates, the artist told me that, "I'm always looking for the same thing — 'Puccinellity.' Sometimes I wonder if something that I'm working on fits with what I've done, but then I realize that it's still going to be me, no matter what."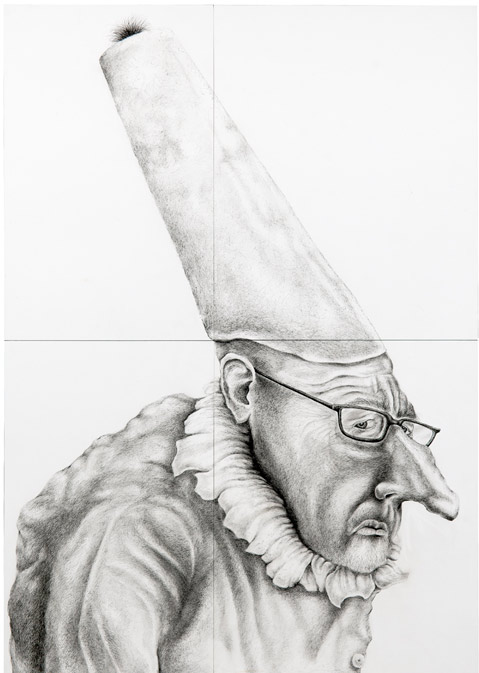 It was at this point that Goodman entered the conversation. The curator and artist has been a close friend and collaborator of Puccinelli's for more than a decade, and he said that "Keith has no fear." Puccinelli came back immediately and replied with "Just absolute panic," to which Goodman returned, "That was actually a name for Keith's work that we toyed with at one point — 'panic painting.'"
In response to a question about the seeming obsession/compulsion of his work, Puccinelli agreed, but with an interesting qualification that put things into a different context, that of mastery. "I feel like I'm not really, really, really good at any of the things I do — drawing, sculpture, or design," he said, "but that especially with my drawing, I just do it so thoroughly and with such persistence and, as you say, obsession, that I end up with something that I can describe as a 'great piece of lousy craftsmanship.'"
While the subject matter of Puccinelli's work, including the marvelous clowns who make his connection to the near-namesake Punchinello's of Tiepolo and the commedia dell'arte explicit, appears at first to be purely comic, there's an undercurrent at work, as well. "What I'm aiming for is something that's funny but also serious. When it works, there is this darkly serious universality," he explained.
Perhaps the most adventurous decision that Puccinelli and Goodman have made for this show involves using the deck outside the Atkinson Gallery for an installation. "We will paint a big bull's-eye on the deck and put a life-size twig car that I made out there that's called 'Car Bomb,'" Puccinelli told me. When I asked him about the materials, he said, "I've had the sensibility of using common materials for a long time." Pausing for a moment to muse on the black humor of "Car Bomb," Puccinelli concluded, "Overall I'm very hopeful about life, and at the same time disgusted at how much we suck as a species." For more on Puccinelli and the show, call 965-0581 x3484 or visit gallery.sbcc.edu.