Food & Drink
Pets with Benefits
Learn How to Raise Chickens from Patricia Foreman's New Book City Chicks
Keeping hens in urban backyards has become quite the trend as more and more American municipalities actually encourage people to raise chickens at home. In the last two years alone, more than 500 towns and cities have changed their laws on keeping chickens. That's according to Patricia Foreman, the author of the new book City Chicks: Keeping Micro-flocks of Laying Hens as Garden Helpers, Compost Makers, Bio-recyclers, and Local Food Suppliers, and she'll be coming to tell Santa Barbara about her ideas twice in the coming weeks.
Not only is a flock of chickens as easy to keep as a dog or a cat, but — unlike the four-legged friends — a flock of chicks will supply your fridge daily with farm-fresh eggs, and if you play it smart, you can utilize their skill sets and put the chickens to work. In her book, Foreman provides insightful information about housing a feathered flock and gives the lowdown on how to utilize their skills as garden helpers.
For more than 20 years, Foreman has explored the wonders of keeping chickens in backyards and currently has 25 chickens living it up at her Virginia property, alongside three dogs and "too many cats." It wasn't until five years ago, however, that Foreman moved the chicken coop up to her house and "really started to understand and appreciate the charm of chickens, their skills, and what they can do for you and your garden," she said. "It's really about putting the chickens to work rather than just keeping them."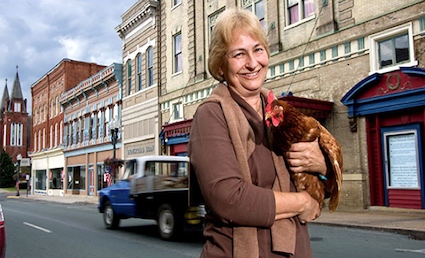 According to Foreman, there are many "warm-feathered" reasons to house a flock of chickens, but "the most economic and politically compelling reason is to employ them to recycle food and yard waste," which could potentially save "big-time taxpayer dollars."
The book describes how to employ chickens as composters of both kitchen leftovers and garden waste. "Chickens will immediately start to scratch through whatever if is given to them," explained Foreman, "and by scratching, they bury your waste and, literally overnight, bacteria and so on will disappear and everything will be turned into topsoil."
If you've come to the decision that raising chickens in your backyard is something that you can comprehend, Foreman walks you through the process of finding "your flock" among the over 7,000 different kinds of chickens. She forces you to ponder such questions as: Why do you want to keep chickens? Is it for the eggs? Is it to employ them as garden helpers? Or maybe you want to exhibit your chickens at poultry shows or train them to do agility contests?
Whether you just want fresh eggs in the morning or a way to renew the topsoil in your garden, Foreman can help you out. You also need to consider the climate the chickens are going to live in because some hens tolerate warmer climate better than others while other breeds of chickens will get frostbite if the weather is too cold.
Like any other pet, chickens have personalities, and they are trainable. About two years ago, Foreman started to bring one of her chickens, Oprah Henfree, to nursing homes and preschools to familiarize people with chickens. "[Chickens] can be clean and entertaining just like other pets," she said. "It goes beyond just a farm animal." When attending the Washington, D.C., Green Festival, Oprah Henfree sat on Foreman's shoulder like a trained parakeet. "People are amazed with the chickens," she said. "Now is the time to change how people view chickens. They're not just dirty animals."
4•1•1
You can meet Foreman at a book-signing and chick talk on November 15 at the Santa Barbara Central Library, Faulkner Gallery, 7-9:30 p.m. (donation $10/$5 students) or join in on her workshop on December 10, 10 a.m.–1 p.m. at the Center for Urban Agriculture at Fairview Gardens (fairviewgardens.org; [805] 967-7369). Cost is $40. Early birds are $30 if paid by November 30. See goodearthpublications.com/.