Sports
Gridiron Showdown
Bishop Diego Heads to CIF After Defeating Rival Carpinteria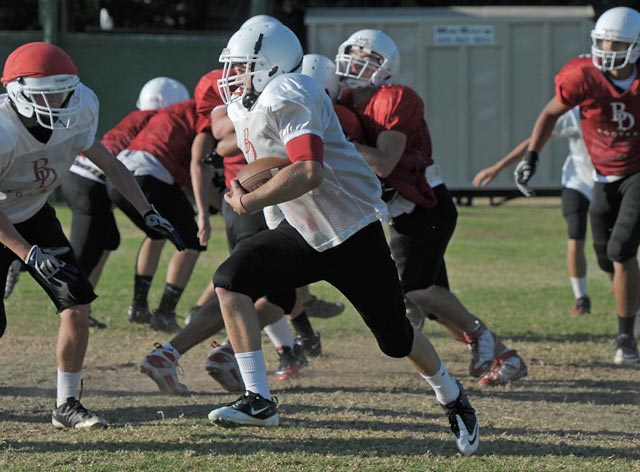 It was the best of times, it was the wettest of times. The community's two winningest prep football teams clashed at La Playa Stadium last Friday night during a steady, drenching rainfall. Not until Bishop Diego's Cardinals were done celebrating their 39-20 victory over Carpinteria did Sam Kwock take notice of the weather.
"I'm freezing," said Kwock, a Bishop running back. He is 5'6" tall and weighs 145 pounds soaking wet — which he was Friday night — and he skittered around the field like a water bug. Carpinteria's defense did a good job containing his end runs and full-speed kickoff returns, but by spreading the Warriors out, Kwock helped pave the way for the power running of 190-pound Brandon Gonzalez.
Gonzalez churned out 236 yards rushing and scored two touchdowns in a performance befitting three generations of stardom at Bishop Diego. His grandfather Massie Chierici was a football standout when the school was known as Santa Barbara Catholic, and his mother, Annette (Chierici) Gonzalez, was a fiery basketball and volleyball player for the Cardinals. She cheered at her sons' football games last fall while fighting advanced colorectal cancer. She died in April.
"Brandon made some great plays; he runs so hard," Kwock said. "And give it to Troy Skinner, too. He had two [pass interceptions]. He's from Carp, so he felt really good playing against his old friends."
The score was tied 20-20 early in the fourth quarter after Carpinteria quarterback Ian Craddock's tough five-yard touchdown run. Gonzalez ripped off a 26-yard gain to spark Bishop's ensuing drive. On a fourth-and-10 play from the Carpinteria 29, quarterback Nolan Tisdale avoided a sack and found Skinner cutting across the field. The receiver secured the pass and raced into the end zone to put the Cardinals ahead for good.
Kwock and Skinner were ball boys in 2007, the last time the Cardinals had defeated Carpinteria. They made it all the way to that year's CIF championship game against Santa Clara and Cierre Wood, now the leading rusher at Notre Dame.
With a 9-1 record — their best ever — and a Frontier League championship, the Cardinals have high hopes entering the CIF East Valley Division playoffs. They will host Brentwood on Friday, November 18, at 7:30 p.m. at La Playa. Carpinteria takes a 7-3 record into the Northwest Division playoffs and a home game against Templeton. The Warriors could benefit from the return of their own mighty mite, 132-pound running back Alex Rodriguez, who missed the last two games because of an injury. The Dos Pueblos Chargers (3-7) qualified for the Western Division playoffs by winning their last three league games, and they will travel to face powerful Arroyo Grande.
LONG AND SHORTS OF IT: The men's race in the third Select Staffing Santa Barbara International Marathon on Saturday morning materialized just as director Rusty Snow hoped it would. A mere eight seconds separated the winner, defending champion Moninda Marube, from a hard-charging Michael Wardian at the finish line. Marube's time of two hours, 22 minutes, and 28 seconds broke the event record by almost 2½ minutes.
The two men ran together most of the way, trading leads until Marube opened up a gap at the 25-mile mark. "I had to," he said. The effort took its toll on the Kenya native, a resident of Grand Prairie, Texas. He slumped into a chair and cooled his feet on ice packs. "He's feeling pretty bad," Wardian observed. "That's good for me. I pushed him hard." Wardian did not have the speed to catch Marube, but if the race had gone any farther, he surely would have outlasted him. The 37-year-old Virginian appeared fresh as a daisy after the race. He was looking forward to his next event, the JFK 50 Mile this weekend in Hagerstown, Maryland. Marube shook his head in disbelief and said, "He will be running 50 miles while I am sleeping."
Wardian did not get much sleep the night before the marathon. He drove from LAX to Santa Barbara on Friday night. "It was raining cats and dogs," he said. After checking into the Canary Hotel, he opened his backpack and was dismayed to discover that he had forgotten his running shorts. "I went to Ralph's to see if they sold shorts," he said. "I went to the Shell market. It's like midnight. I can't believe I'm doing this. I went to the front desk and asked them if they had some scissors. In the worst case, I was going to cut my tights and make some shorts."
An email to Snow solved his problem. The race director came up with a pair of his own shorts, so Wardian was appropriately attired at the early start of the marathon. He was elated that the rainstorm had moved on. "It turned out to be almost ideal conditions," Wardian said. "The course was a lot of everything. You get some neighborhoods, a little bit of bike trail, you get to run along the ocean a little bit, and finishing in the stadium was cool."
The only drawback was that the leading marathoners finished in a throng of slower runners who were among 3,000 spread out in the concurrent half-marathon. Both races converged in the last 11 miles of the course. Suggestion: Start the marathon at 6:30 and the half at 8:00 in the morning. Then the fastest marathon runners would finish ahead of the masses.
Other results: A trio of Santa Barbara and Goleta runners — Laura Turner (3:03:27), Kary O'Brien (3:06:01), and Joy Zemella (3:08:06) — took the top three places in the women's marathon. Christian Hesch of Hollywood won the men's half in 1:06:22, four seconds ahead of Joshua Glaab. Finishing 13th overall in the half marathon was petite Liana Bernard of Oregon, the women's winner in a course record 1:20:41. Santa Barbara's Andrea McLarty, who set the old record of 1:21:06 last year, was second.
SOCCER FEVER: For the 10th consecutive year, UCSB is heading into the NCAA Division 1 men's soccer tournament. Harder Stadium will be the site of the Gauchos' second-round match Sunday, November 20, at 5 p.m., against the winner of the first-round contest between Dartmouth and Providence. Injuries to key players and unlucky setbacks dogged the Gauchos (14-6-1) during the season, but they managed to climb from sixth to second place in the Big West at season's end. The conference bestowed honors to UCSB seniors Luis Silva (midfielder of the year) and Santa Barbara native James Kiffe (defender of the year). During a recent homecoming of the 2006 national championship team, former Gaucho standout Andy Iro said, "I don't remember us moving the ball so fluidly as this team." … SBCC is sending both its men's and women's soccer teams into the state community college playoffs after winning the conference championships and both MVP awards — to sophomores Roberto Santana, a central defender, and striker Jessica Domenichelli, who has scored 27 goals.