Capitol Letters
Political Intelligence
Top Rank Beltway Pundit Will Offer 2012 Election Forecast at UCSB
To David Gergen, the fundamental question of next year's presidential campaign is straightforward and simple:
"Who has the most persuasive answers to get us out of this mess?"
Briskly limning a web of economic and political complexities, Gergen's 13-word summary of the 2012 campaign debate displays the terse but insightful style that makes him one of the nation's most high-profile analysts of public affairs.
One part media star, one part political pro, the 69-year-old ex-adviser to four presidents holds forth on a variety of platforms — a regular gig on CNN, prolific blog posts, and a perch at Harvard's Kennedy School — but stands a step removed from the partisan pie fights and mud-wrestling matches of so much cable commentary.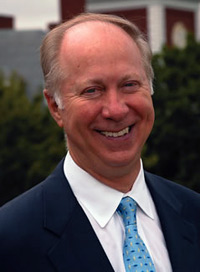 A 24/7-era version of Walter Lippmann, the famed 20th-century political columnist, Gergen often embodies the views of the Washington establishment, and his brand of center-right politics and civility plays an influential role in setting the narratives which shape much mainstream news coverage.
In a telephone interview with The Santa Barbara Independent, he offered his take on the nation's political landscape, one year before President Barack Obama's bid for reelection, previewing the presentation he is scheduled to make December 1 at UCSB.
"The conventional wisdom is that Obama is in real trouble," Gergen said. "I think there's actually a slight tilt toward Obama."
Despite severe unemployment, slow and sputtering economic growth, and fiscal storms in Europe, Gergen said it is far from certain that most voters will endorse Republican arguments that the deficit is the nation's most immediate financial problem or that "more frugal government means more growth."
That said, he is equally certain that should Obama manage to capture a second term, the victory would be far more narrow than his 2008 landslide and that the U.S. is in store for a harsh, bitter, and bruising campaign reflecting the country's polarization:
"We're heading back to 50-50 nation," he said.
In his trademark understated, buttery tone, Gergen was crisp, urbane, and thoughtful in offering answers to a series of questions on politics and policy:
Obama's Reelection: Despite the president's sagging numbers in national polls, Gergen said Obama is "a chip shot away from 270" electoral votes and has "multiple pathways" to build the state-by-state coalition he needs to win. "The biggest threat facing the president is in Europe," he said, noting that the economic storm roiling the euro zone may yet trigger "a devastating double-dip recession."
Republicans: Amid the cacophony of the race for the GOP presidential nomination, Gergen said it remains former Massachusetts Governor Mitt Romney's to lose: "Romney is their strongest candidate … he will run a serious campaign" against Obama. Nearly two months to go before any primary votes are cast, it is still "spring training," he added, forecasting that "Newt Gingrich is coming up" to challenge Romney, a week before new polls confirmed the former speaker of the House is surging.
Independent Candidate: Gergen said that in Washington, there is "increasing talk about a third-party" challenge for president. While potential candidates like New York Mayor Michael Bloomberg or Starbucks CEO Howard Schultz may have the resources to mount an independent effort, the practical logistical requirements, coupled with the difficult challenge of Electoral College calculus, make such a bid unlikely.
Occupy Wall Street: The nationwide populist street protests that began in New York are "a two-edged sword." While "they have succeeded in putting the issue of wealth inequality on the table, [there are] fringe elements giving protesters problems" amid news reports about "hygiene and violence" at some encampments.
The 2011 Elections: The just-completed elections, Gergen said, affirm "an ancient rule of American politics — don't overreach, or you're going to get slapped." He pointed both to organized labor's big Ohio victory in repealing Republican legislation that took away collective bargaining rights for all public employees and to the defeat of a Mississippi initiative sponsored by anti-abortion advocates who sought to define "personhood" from the moment of fertilization as evidence: Whether from the right or left, Gergen said, "You can't go too far to your flank."
4•1•1
David Gergen will speak on The 2012 Elections — Issues and Answers on Thursday, December 1, at 8 p.m. at UCSB's Campbell Hall. For more information, visit artsandlectures.sa.ucsb.edu.