News
Council Names Three New Historic Landmarks
Granada Tower, Cottage Hospital Fig Tree, Ontare Hills Lane Home Added to List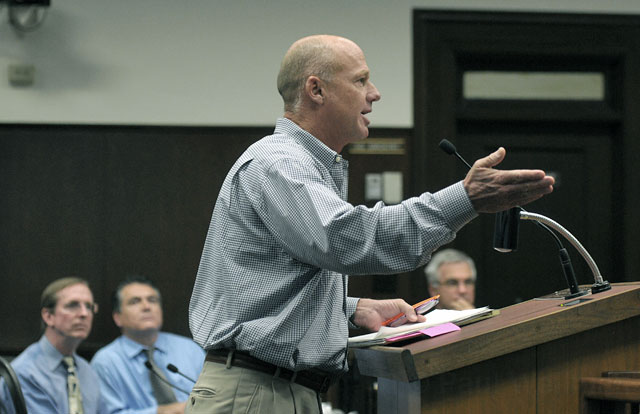 By a wave of the baton, the Santa Barbara City Council decreed the Granada Tower, the Moreton Bay fig tree located by Cottage Hospital, and a Mexican hacienda–style ranch house built in 1939 on Ontare Hills Lane to be historic landmarks, even though the owner of the Ontare Lane home, Theodore Smyth, strenuously objected. Smyth — who noted he was not warned of the impending designation when he bought the property — found an unexpected ally in John Woodward, an ardent preservationist who helped write the city's original historic landmarks ordinance. Woodward testified that he'd lived in the house in question for 20 years and argued there was nothing historical about anyone who'd lived there or anything about it. But city historian John Jacobus, to whom the council gave a rousing retirement send-off immediately afterward, argued the property was a unique after-the-fact replica of a once-common architectural style that's all but disappeared.
Councilmembers Grant House and Bendy White pointed out that the landmark designation was exacted as a concession from the previous owner in exchange for a lot split giving that owner nine separate lots. That, they argued, was worth a lot of money; in exchange, City Hall should get what it was promised. Councilmember Michael Self objected they were engaging in the rhetoric of "class warfare" and voted against the designation on the grounds that Smyth had been unfairly blindsided. Councilmember Dale Francisco, with whom Self frequently votes, was true to his historic preservationist inclinations and supported the designation.
The other two designations were devoid of controversy. The eight-story Granada, built in 1924, qualifies as Santa Barbara's only "skyscraper," and its construction sparked the movement to limit the height of buildings constructed afterward. Likewise, the Moreton Bay fig, planted in 1919, is about all that remains of the original Cottage Hospital.