Visual Arts
Santa Barbotics
Math Professor Tal Avitzur Gives Retro Junk New Life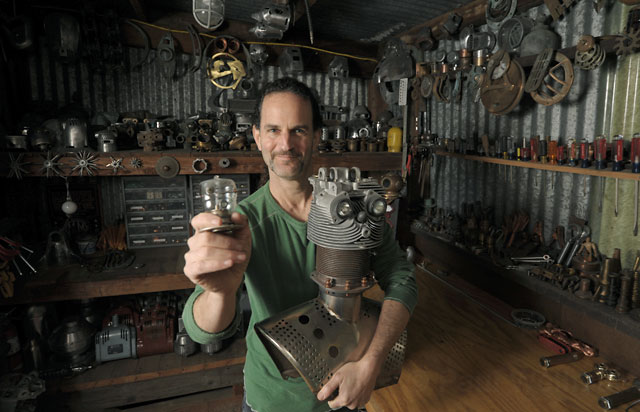 Hoyt, Jigsy, and Primo wouldn't be "alive" today if Tal Avitzur didn't go sifting through a scrap-metal yard for one of his home-improvement projects. Looking for items to embed in a concrete countertop, the Santa Barbara City College math professor was instead pulled with tractor-beam force toward the discarded parts of forgotten machines, their form and style reminding him of one thing: humanoid robots. Steel meat grinders looked like heads, Avitzur said, old bicycle cranks reminded him of arms, Japanese volt meters appeared as bodies, and copper water faucets spoke of legs and feet.
Almost three years later, Avitzur — favoring appliances and tools forged in the '50s and '60s and inspired by sci-fi classics like Forgotten Planet and Lost in Space — has tinkered himself an army of 20 to 30 robots (or Talbots, all with individual names) that stand guard throughout his La Cumbre–area home and workshop. "I like the idea of recycling and giving new life to these beautiful objects that would otherwise go to the smelter," he said. "I mean, look at the shapes — it's like the guys who built this stuff wanted to be rocket scientists."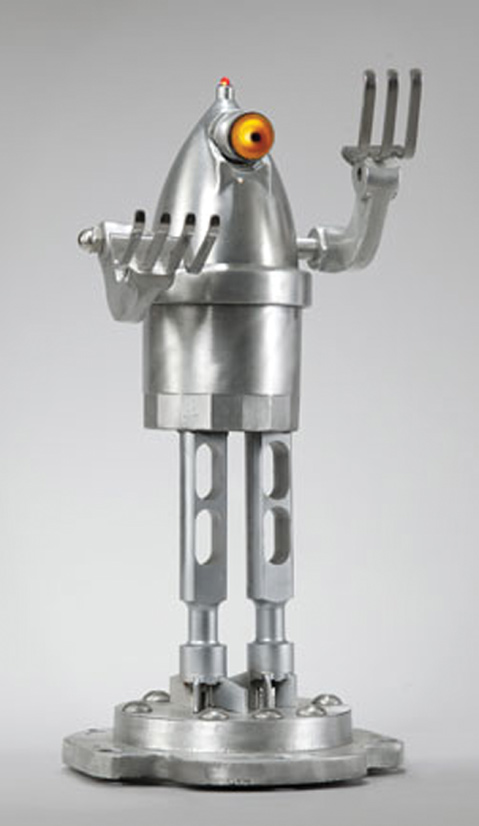 Varying in height from one to four feet, the Talbots are generally cheery and approachable, some with the attitude of Pixar's WALL·E, and others with the look of Star Wars's C-3PO if he were built in the 1800s. The creations, Avitzur is quick to point out, are a conglomeration of talents: He takes care of the vision and the nuts and bolts (literally) but employs the help of collaborators who wire the Talbots with lighting and do the soldering and welding. His girlfriend, Lisa, is always on hand to offer support and a second opinion, and friends often leave items at the doorstep they think Avitzur will find interesting.
The professor, who grew up in Pennsylvania and moved to town 15 years ago, says he counts area artists Irma Cavat and George Rickey as his influences and motivators, pointing also to Berkeley-based robot-maker Nemo Gould. He doesn't, however, consider himself an artist, instead describing his newfound pastime as a "fun and silly thing to do." He hasn't started selling his Talbots yet but is getting ready to offer them for purchase in the near future, possibly showcasing them in an area gallery if things shake out. In the meantime, see his work at talbotics.com.