Capitol Letters
Taxing Times
Brown's New Revenue Plan Will Present Big Choices for Voters in 2012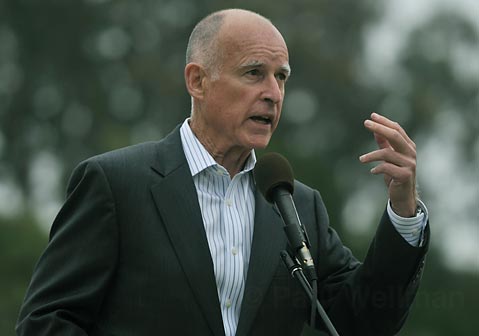 One year into his term, Jerry Brown is less popular than any other governor at a similar point in the last 20 years.
Which makes him the most popular politician in California.
The job performance of the once and current Democratic governor (who technically is completing year one of his third term, counting his tenure in the days when dinosaurs roamed the Earth) is viewed favorably by just 47 percent of Californians, a just-released Field Poll shows, compared to 36 percent who have an unfavorable view.
Not since Pete Wilson in 1991 — when the ex-Republican chief executive, not coincidentally, also faced a massive budget deficit — has a new governor scored such low marks at this stage.
At a time when elected officials are less trusted and more unloved than even, oh say, reporters (just 22 percent of voters approve of the Legislature, for example), Brown's ratings best those of any other major pol, however, and a case can be made from the numbers that people at least credit his effort in dealing with the fiscal mess.
THE TRIGGER THREAT: Lurking in the new survey, however, is another number that bodes more bad news for Brown, one that will be a big factor in shaping what will be a raucous 2012 election season: By more than two to one, voters say it was a lousy idea for the governor and lawmakers to balance the budget in June by using the fiscal sleight-of-hand known in Capitol-speak as "mid-year trigger cuts."
Under this provision, Capitol denizens employed magical thinking, and a heavy sprinkling of fairy dust, to project that summer and fall tax collections would be $4 billion higher than previously estimated; alas, when the countinghouse trolls finished their work, the state fell a mere, um, $3.7 billion short.
Under terms of the budget agreement, this means that the state must now impose a $2-billion new round of cuts, with the burden falling on public schools, higher ed, and — stop me if you've heard this before — the poor, disabled, and elderly. The reductions will be made official next week, with Brown's Department of Finance facing a December 15 deadline to detail how the shortfall will be met.
Have yourself a merry little Christmas.
GUBERNATORIAL GAMBLE: Brown and his Democratic allies have decided that the real-world impact of steady cuts in recent years — among other things, the new "trigger" will mean one less week of school in spring semester for many K-12 schools — is that voters are ready to tax themselves to avoid further cutbacks in education and other services, after three decades of consistent popular opposition to higher taxes.
On Monday, the governor rolled out an initiative for next November's ballot to raise $35 billion in new revenue during the next five years by raising income tax rates during that time on those making more than $250,000 a year; the bulk of the new revenue, however, would come from a half-cent increase in the state sales tax, which the Sacramento Bee calculates would cost an average taxpayer $123 a year.
Unfortunately for Brown, his biggest challenge in gaining approval may not be selling voters on his plan, over the fierce objections of Republicans, but overcoming at least three other tax-hike initiatives aimed at the same ballot.
Sponsored variously by an education advocacy organization, a moderate pro-business group, and a coalition of liberal interests, the collection of sometimes conflicting measures could morph into one big ballot-box black hole amid a cacophony of confusing and complex TV ad claims, leading voters to reject all of them. Adding another crosscurrent to the debate, an alliance of anti-tax groups is pushing its own initiative, this one to clamp a limit on annual state spending.
Says anti-tax activist and cosponsor Joel Fox: "Tax increases will not solve the state's fiscal problem, only make the situation more difficult for the consumers and taxpayers."
Counters Brown: "The stark truth is that without new tax revenues, we will have no other choice but to make deeper and more damaging cuts to schools, universities, public safety, and our courts."
That's why they have horse races.