Film & TV
Silent Film for a Talkie Era
Learning How Michel Hazanavicius Made The Artist
In this year's Oscar race, the film that's amassing consensus as the one to beat is Michel Hazanavicius's The Artist. A valentine to the silent-movie era and a look at how some stars faded during the transition to sound, it's an audacious enterprise that succeeds with flying colors — somehow, it's a silent movie that works for the 21st century. Visually stunning, funny, and heartbreaking, The Artist is definitely one of the best films of 2011, and one that will garner nominations for both Hazanavicius (who was previously better known for the OSS 117 series of French spy parodies) and its leading French actors, Jean Dujardin and Bérénice Bejo, who is also the director's spouse. I recently sat down with Hazanavicius to discuss the film.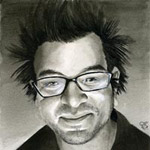 This is quite an audacious undertaking to do a silent film for a modern audience. To decide to do it is a thing, to do it is another thing, and to find the money to do it is another other thing. It was a fantasy for me to do a silent movie for a very, very long time, and I'm pretty sure it is a fantasy for a lot of directors to do a silent movie because it is maybe the purest way to tell a story in a movie. I have been lucky to have two successes in France, and I guess it gave me some confidence to try to do it, and I met a wonderful producer who was stupid enough, I say, to say yes and put his money into this movie.
You could have made this movie a parody or a satire. Instead you attack it with so much emotional commitment. What I love about silent movie is the emotional power, and it doesn't make sense to make a parody today. Mel Brooks did it with Silent Movie, but that is not what I wanted to do. If you want to do a comedy, the problem with a silent format is that you don't have dialogue, so you just have one way to be funny: Use slapstick. For me, I wanted to do something that was specific to the silent movie and that is emotional power. I show things, and people make their own dialogues, their own voices, their own sound, so you are very close to the story because you do the story with your own personality. I wanted to make an entertaining movie but not a spoof.
There is a different way of communicating when making a silent film that is miles apart from a talking picture. Did you have to study all the silent films? Yeah, that is actually something that I love: trying to find the visual things to express feelings or to express conflicts or to express situations, so I really love to do it in any movie. But for this one, it was so specific that I had to find an entire story that I felt I could be able to shoot without words. That was very challenging, and I learned a lot. I had to watch silent movies just to understand what I could do or what I couldn't do. But that was also very freeing because there are a lot of sequences, dream sequences, oneiric sequences, or illustrative sequences to show an internal conflict between Jean Dujardin, the main character, and himself. It's really freeing in a way.
It's ironic that you are a French filmmaker coming to Hollywood to make a Hollywood silent film. First of all, I don't feel French. I mean, I know I'm French, but when I make a movie, this may sound presumptuous, but I see myself as a director, not a French director. And there's another thing: You American people think Hollywood is American, but all over the world, we think that Hollywood belongs to us, as well.
How did it feel to shoot in California studios and re-create the whole Hollywood era? It was very moving. We were in Mary Pickford's house. We were in Charlie Chaplin's office and in his studio. It was like we were in an "I Love Cinema" tour. During the shooting sometimes, going to the Paramount studio or the Warner Brothers studio at 6 in the morning, that was surreal. It was like, "Wow, we are at the Paramount studio, the big gates that you can see on Sunset Boulevard" — that was very moving.
How did you direct actors who are used to having dialogue? I tried to write the script as a novel to make them understand. And not just for the actors, for everyone who was supposed to read the script. They needed to understand that you don't need dialogue to tell a story. Some of them were anxious, and they didn't know if I was going to ask them to reproduce or ape the codes of acting in the '20s. That's exactly what I didn't want to do because that could be parodic. I really wanted them to act very naturally, like they are used to. What I did was shoot the film at 22 frames per second; that gives them a small exaggeration and keeps up with the flavor of the '20s. They move too fast. What I asked them to do was embody the characters and to respect the situation, and that's all. What I really needed was charm, and the actors needed charm. They needed to be charming. I wrote the script with Jean and Bérénice in mind.
4•1•1
Michel Hazanavicius's The Artist opens in Santa Barbara theaters on December 23.