Opinion
Wine That's Banned in 'Bama
Nude Cyclist Label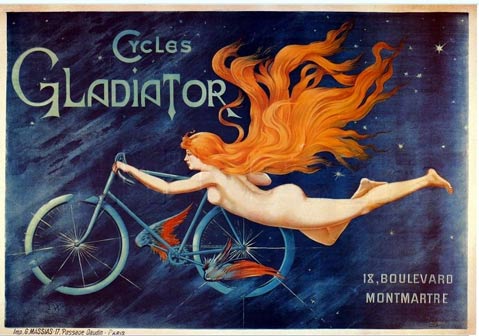 NUDE ON A BIKE: The coffee shop gang got to talking about Alabama's weird ban on a risqué wine label called Cycles Gladiator.
Seems as though the 'Bama liquor authority put the kibosh on the California label depicting a nude woman with long red hair flying through the stars with a bicycle. It's from artist Georges Massias's 1905 art nouveau poster for a French bike maker.
Although the wine is available in the other 49 states, Alabama regulations prohibit labels showing "a person posed in an immoral or sensuous manner." Restaurants can't serve it. The wine, made by Soledad-based Hahn Family Wines, retails for about $10 and has sold about 600,000 cases since 2006.
Cracked one wine buff at the java joint: "If the nymph were in today's Tour de France, she would at least be required to have a helmet!" So far, I haven't been able to find a shop in the area selling the wine. (Maybe it's banned in Santa Barbara.)
To me, she just looks like she's taking a joyous ride.
BANNED IN FRANCE: The coffee shop gang, still slurping java, then got on the subject of how many people buy vino based on how catchy or impressive the labels are.
George recalled that in the 1990s, federal wine police rejected a batch of bottles from France's esteemed Mouton Rothschild of Bordeaux. Seems as though the labels pictured a naked girl of indeterminate age, painted by artist Balthus, and seemed a bit too provocative, even for the broadminded French.
Might, according to some, even incite child abuse. So Baroness de Philippine de Rothschild recalled the shipment. Of the replacements, she said, "We left the label completely blank and it turned into a great amusement for American collectors to get the true labels by smuggling them."
TAXED IN THE U.S.A.: George also recalled being involved with a batch of good old Santa Barbara wine whose Nepenthe label carried the famous phrase "in vino, veritas."
No way, U.S. wine police replied. Sounds like the wine comes from France and there's tax due. Not only was the juice made in California, George reported, but the phrase, which means, "in wine, there is truth," is Latin.
CHOWHOUND COP: It's been some years now since a Santa Barbara police officer I'll call Mr. Badge was known by his buddies in blue as "Chowhound." Any food briefly left untended in the break room was liable to be scarfed up by Chowhound. He was not a great cop and wasn't around long, but his mates loved his offbeat humor, from what I've been told.
He grew up very poor in New York City, and food was always on his mind. The story goes that he and two other officers were eating at a Milpas Street Chinese restaurant when he noticed that a woman at another table got up and left, leaving perfectly good food on the table. He promptly went over, picked up the plate, and was gobbling away when the woman emerged from the ladies' room and was stunned to find Chowhound eating her dinner.
An embarrassed Chowhound had to shell out bucks to buy her a new meal. And keep the peace.
A YOUNGER MAN: Carpinteria actor Bob Lesser has sent an open letter to IMDb, the Internet bible of factual movie lore, protesting that it lists him as nearly five years older than he is — and that the site ignored all his attempts to get it corrected. Lesser, who says he's appeared in 53 movies and TV series, says he's actually only 69. Age is a big deal with actors. They don't like to talk about it. Lesser says he's heard that a woman has sued IMDb for $1 million for publishing her true age: 40.
COMPUTERS FOR KIDS: Believe it or not, many area elementary school students don't have a computer at home, up to half the kids in some classrooms. Folks at nonprofit Computers for Families welcome donations of working machines, shape them up, and distribute them to 28 South Coast schools. The computers must have a Pentium 4 processor, at least a 40-gigabyte hard drive, and 512 megabytes of ram, says Kris Mainland White, co-coordinator.
"We take monitors, power cables, mice, and keyboards in working condition and also take all laptops, PC, or Apple, working or not. They can be dropped off at the loading dock at Santa Barbara County Education Office, 4400 Cathedral Oaks Road."