Announcement
Kids Helping Kids Wins Subway Competition
Organization Named Winner of High School Heroes Contest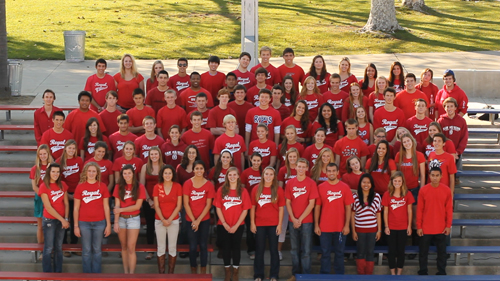 Kids Helping Kids entered the competition in early November after being nominated by a member of the organization, Claire Burdick. The nominees were then reviewed by Subway, and a select number of contestants moved onto the next round of the competition.
The contest's preliminary stages took place on the popular social media site Facebook, where registered users were able to vote once a day for their favorite high school group. The contestants, composed of outstanding student organizations, were grouped into categories according to the size of the high school they attended. Finalists were those groups which had received the most votes in their perspective bracket.
Despite a late entry, Kids Helping Kids was able to enlist to aid of the community and surge in the polls.
"It was truly a grassroots effort in every way," Jamie DeVries said. "I knew that once we got past the preliminary rounds, and Subway had a chance to see what my students could do, they couldn't say no."
Mr. DeVries is the president of Kids Helping Kids. He is also the teacher of San Marcos High School's Advanced Placement Economics Program, in which Kids Helping Kids was developed and now operates.
When Kids Helping Kids became a finalist in the Subway High School Heroes contest, they faced a new challenge: film, edit, and produce a one minute video that portrayed Kids Helping Kids and its mission. This all had to be done in the duration of one week.
"When making the video we had to keep several key things in mind," Nick Carney said. "We wanted to explain what we have done in the past, and how that qualified why we deserved to win the $20,000 Grand Prize and National Recognition. It was difficult to convey so much information in such little time."
Mr. Carney is the Director of Marketing for Kids Helping Kids. He also made contributions to the video sent to Subway, which was the work of students Aaron Dalton and Cole Erickson.
The video was submitted and sent to Subway on November 21, 2011 as Kids Helping Kids eagerly anticipated the verdict. Nearly a month later, they heard back. Claire Burdick, the member of Kids Helping Kids responsible for nominating the organization, was contacted by Subway early Monday, December 19 with the news that Kids Helping Kids had won the $20,000 grand prize from the Subway High School Heroes contest.
With the additional $20,000 under their belt, Kids Helping Kids aims to improve more lives by making a difference in both the local and global community. Kids Helping Kids is also hosting a benefit concert at the Granada Theatre on January 7, 2012 with Platinum-recording, Grammy-nominated Sara Bareilles headlining the event. Singer/songwriter Tyrone Wells will open. Tickets may be purchased at www.granadasb.org.
As with all of the money raised by Kids Helping Kids, one-hundred percent of the funds raised by the Subway High School Heroes contest and the Granada event will go directly to causes that will make a difference in the community.
"We feel truly honored to receive this award," Kelly Shara said. "We are excited to see it put to good use in our community and, ultimately, impact lives."
Ms. Shara is the Chief Executive Officer of Kids Helping Kids.
Over the past ten years, Kids Helping Kids has been able to raise nearly half a million dollars for various causes.
Kids Helping Kids has recently set up a scholarship fund for underprivileged students at San Marcos High School. Money given to the scholarship fund helps cover the costs incurred from standardized educational testing such as Advanced Placement exams, lab and music costs, as well as other various school fees. The Santa Barbara Unity Shoppe has also received the aid of Kids Helping Kids since the founding of Kids Helping Kids in 2002.
To get involved with Kids Helping Kids, visit www.kidshelpingkidssb.org, or contact Chief Executive Officer Kelly Shara at (805) 252-5350 or kelly.shara@kidshelpingkidssb.org.