Film & TV
Roger Durling's Top Flicks
Santa Barbara's Leading Movie Buff Divulges the 10 Best of 2011
Although not a banner year in film, 2011 will be remembered for being a year in which a handful of our greatest American filmmakers since the 1970s — namely, Woody Allen, Terrence Malick, and Martin Scorsese — gave us timeless works. In addition to their notable efforts, here are my thoughts on the 10 best films of the 2011.
1) Drive: On the surface, it looks like an exercise of style over substance, but it's much more than that. Denmark's Nicolas Winding Refn had a cult following with his earlier works Bronson and Valhalla Rising, but with Drive he claims his position as one of the best directors working today. Starring an iconic Ryan Gosling, the movie is pure cinema — chase sequences brilliantly choreographed illustrate the character's metamorphosis. Albert Brooks, Carey Mulligan, and Bryan Cranston are great in supporting roles. Refn channels different film styles and movies (including John Hughes's Sixteen Candles), but he merges them, making them into a single DNA.
2) Hugo: I never thought I would ever cry at a Martin Scorsese film, but I found myself overwhelmed throughout this moving celebration of filmmaking. His most personal film to date — the viewer cannot watch Hugo without understanding that the young boy is Scorsese himself — it is all about understanding the joys of storytelling. Using 3D technology impeccably and organically, Hugo is exuberant — and with a big heart that is usually lacking in children's movies. And the way he weaves the importance of film preservation into the plot is simply brilliant.
3) Midnight in Paris: Woody Allen's latest opens with a gorgeous tribute to the City of Lights reminiscent of his own montage to the Big Apple in Manhattan. What follows is a nimble, charming, and nostalgic film about the city of Paris. Allen uses a time-travel device that in other hands could have been gimmicky — he goes deeper and makes unusual yet hopeful observations about art, and of course life itself.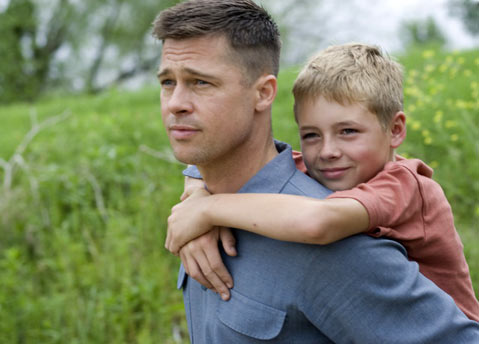 4) Tree of Life: It's rare to walk into a movie at your local plex and understand that you're watching a masterpiece — a film that will be cherished, studied, and bewilder us for years to come. Tree of Life is awe-inspiring, ambitious, demanding, and, yes, pretentious at times. But like great paintings, it challenges us, it inspires us, and it bores us at times. Terence Malick gives us his best work — and gets wondrous performances from Brad Pitt and Jessica Chastain.
5) Bridesmaids: Through raunch and romp, this movie achieves great poignancy. Bridesmaids turns the male-centric gross-out comedy genre on its head and emerges better and richer than its predecessors. It also gives Kirsten Wiig a leading female role for a comedienne that reminds us of Carole Lombard or Diane Keaton. I will never forget the bridal dress-fitting sequence, which is outrageous, vulgar, and hilarious — and Melissa McCarthy is the break-out supporting performer of the year.
6) The Girl with the Dragon Tattoo: Hands down the best title sequence of the year, as David Fincher almost tops his startling one for Se7en. It's a James Bond sequence on acid where the two main characters merge into darkness. It only sets the mood for this tense, unsettling, cold, unflinching, and cruel world based on Stieg Larsson's literary blockbuster. This is a leaner, meaner version than the original foreign adaptation, and Roony Mara's commitment to the role of Lisbeth Salander is awe-inspiring. This is the best female role of the year — she's a victim and avenging angel all wrapped up in one.
7) Melancholia: Some will find this movie exasperating. And, yes, it is — true works of art work that way. Lars von Trier, one of the most controversial figures in today's cinema, is uncompromising. Yet there's such beauty in his dissertation on depression — how it can tear a family apart and how it can feel to the person who's suffering it. The auteur shows us the end of the world, and it's truly euphoric to watch. Kirsten Dunst gives us her most fully realized performance.
8) The Artist: A crowd-pleasing valentine to cinema. A silent film about the advent of the talkies. It's a film lover's banquet — absolutely delicious and beautifully crafted by Michel Hazanavicius, who's obviously passionately in love with film. In channeling Douglas Fairbanks Jr., Jean Dujardin is phenomenal. This is a clever film and a total delight.
9) A Separation: Directed by Asghar Farhadi, this is a complex, painful, and fascinating drama set in Iran in which a woman leaves her husband and causes explosive results that expose a network of personal, religious, and political bureaucracies and complicated relationships involving sex and class. Farhadi's visual composition is stunning. Clearly influenced by Western filmmaking, A Separation will undoubtedly become a dinner-table conversation staple when it reaches our movie houses.
10) Moneyball: The most intelligent sports movie I've ever seen. Director Bennett Miller adapts a book that seemed impossible to put on film into a detailed but entertaining dissertation of what the true meaning of success and personal triumph truly is. Brad Pitt delivers his best performance to date.