Sports
Running Down a Dream
Former UCSB Track Star Heads to the U.S. Olympic Marathon Trials
It's crunch time on the road to London. Two women approach the finish line of the 2012 U.S. Olympic Marathon Trials. They will make the team. A small pack is contending for the third and last spot. Who will have the guts to prevail over that painful final mile? If Stephanie Rothstein is among them, put your money on her. Her mind and her heart will push her body forward.
"Stephanie is not freakishly talented," said Pete Dolan, who coached Rothstein in cross-country and track at UCSB, "but she has a winning attitude. I coach men and women, and it may not be politically correct to say this, but she thinks more like a guy than a lot of guys. She gets after it."
Rothstein now competes for McMillan Elite, a professional running team based in Flagstaff, Arizona. "She's very determined," said Greg McMillan, the team's director and coach. "Most people would quit with the adversity she's faced. The fact she hasn't says a lot about why she's a stellar athlete."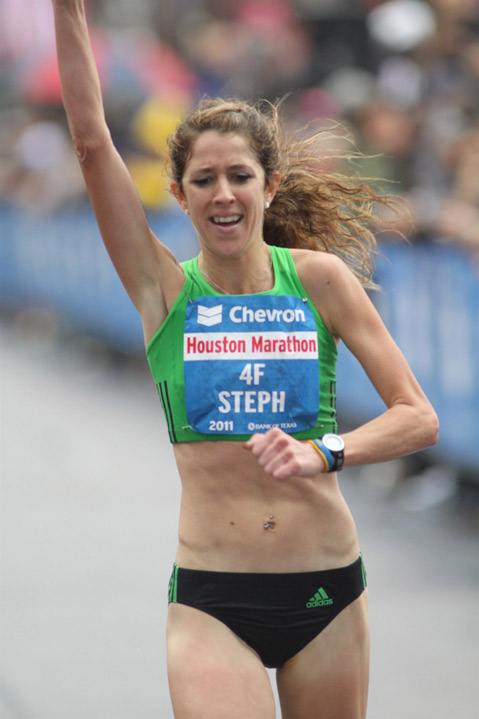 The Olympic Marathon Trials will take place Saturday, January 14, in Houston. There are almost 200 entries in the women's race, and Rothstein is the sixth-fastest qualifier. She ran the 2011 Chevron Houston Marathon in two hours, 29 minutes, and 35 seconds almost a year ago.
A back injury forced Rothstein to shut down last summer, but she has since recovered and put in several months of solid training. She has pronounced herself ready to take on the 26.2-mile challenge Saturday. It may take 2:25 or better to make the U.S. team. "I'm trying to contain my excitement," Rothstein said by phone a few days ago. "There are going to be a bunch of decisions I make in the race. I'll run the first part with my head, and the last part with my heart."
During much of her running career, Rothstein's health was compromised. She suffered from iron deficiency, and the underlying cause was unknown. "I felt hungover all the time," she recalled. "I had headaches and nausea. I was irritable." In spite of all that, she broke long-distance records at UCSB and won several Big West championships. After graduating in 2007, she moved to the running hotbed of Eugene, Oregon, and qualified for the 2008 Olympic Track & Field Trials, finishing 12th in the women's 10,000 meters.
It was not until 2009 that, through a series of experimental diets, Rothstein found out that she has celiac disease, a condition brought on by gluten intolerance. "It changed my life," she said. "I took out gluten and dairy products, and I immediately felt better. It was bittersweet at the same time. I'll never eat croissants and pizza again." The revelation awoke the entrepreneur in Rothstein. With fellow runner Lauren Fleshman, she cofounded Picky Bars, a gluten-free energy snack.
With her new lease on health, Rothstein moved to Flagstaff. "We recruited her when she first graduated from UCSB," McMillan said. "When she chose to go to Eugene, we said the door would remain open. Fortunately, for both of us, it's worked out." McMillan's team has six men and women qualified for the Olympic Marathon Trials. "They're all fit and happy," he said. The race will not be a last-chance deal for Rothstein. "Distance runners peak in their thirties," McMillan said. "Stephanie can look not only at 2012 but at 2016 and 2020."
Rothstein's 28th birthday is January 14 — yes, the day she will try to qualify for London. She can't help but consider that a good omen. She has had fortune slap her and smile on her. Her father, James Rothstein, died of cancer when she was a senior in high school. He had encouraged her in athletics and told her, "You're going to break five minutes in the mile." She did so at the Arizona state championships a few months after his death. A downturn in her father's business during his illness had left Stephanie's mother, Joan Rothstein, with meager financial resources. When Stephanie was on the verge of dropping out of UCSB because she couldn't afford out-of-state tuition, an anonymous donor stepped forward and paid for the rest of her college education.
"Somebody gave me a second chance," Rothstein said. "I'll never forget that. I intend to pay it forward."
REUNIONS: Rothstein says she will attend a reunion of the 2006 women's cross-country team at UCSB on January 21. The Gauchos finished ninth in the NCAA team championships. "Stephanie was their leader," Dolan said. … Another UCSB reunion on January 27-28 will bring back a number of baseball players, including a pair of former Gaucho infielders who were on opposing sides in the 2011 World Series — Skip Schumaker of the St. Louis Cardinals and Michael Young of the Texas Rangers. There will be a dinner at Earl Warren Showgrounds and a golf tournament at the Glen Annie Golf Club to raise funds for both the UCSB and Santa Barbara Foresters baseball teams.