Angry Poodle
Besos de los Perros
Carpinteria's Conundrum: Joe Won't Go
PICKLED TINK: I had high hopes it might be the second coming of Godzilla versus Mothra. In one corner, there was Billy Connell, Carpinteria's famed Hot Dog Man, a one-time boxer and army veteran who has repeatedly hurled himself — head first — into the brick wall of California's tax bureaucracy on behalf of push-cart vendors who once served in the military. In the other was Joe Armendariz, the sneeringly contemptuous Carpinteria City Councilmember, whose ability to consume death-defying quantities of alcohol has criminally befogged his judgment. But by the time the cops were called and the shouting was over, it had been more like a painfully messy family intervention only masquerading as a City Council meeting. Only nobody got saved.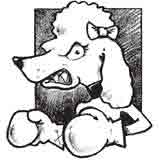 To a bizarre degree, Santa Barbara's major controversies have been fueled by high-profile drunken-driving cases. The unholy meltdown of the News-Press was initially precipitated six years ago when its poisoned-pen editorial-page editor, Travis Armstrong, was popped for a deuce while driving the wrong way down a one-way street, an astonishingly apt metaphor for everything that's befallen that paper since. And who can forget the oceans of ink the News-Press gave Peter Lance this past year to detail the extent to which he'd been unfairly persecuted by the SBPD for driving under the influence? Whatever legit point Lance may have had got lost in the din of his megalomania. But regardless, his articles inflicted serious damage to the Police Department's reputation. Most recently, Armendariz — Santa Barbara's leading proponent of au contrarian conservatism — drove his car off Highway 101, down a ditch, and into a tree by Padaro Lane. When the medics got there, his blood-alcohol level was 0.18, more than twice the legal limit. It was the second time in five years Armendariz rolled a car while skunked out of his mind.
In Carpinteria, the closest thing to Mayberry Santa Barbara's got, such antics don't play well. Joe's council colleagues clearly want him to step down, for their sake and for his. But unlike the City of Santa Barbara, Carpinteria has no clause in its charter that allows councilmembers to be impeached for crimes of "moral turpitude." Joe is holding on to the bitter end. He's getting help, he said. He's admitted his mistakes. He doesn't need to quit. It would take someone showing up at the council meetings with "a loaded gun," he said during an impromptu press conference at Monday night's meeting, to get him to resign. It figures. Joe has repeatedly demonstrated his willingness to place the rest of us at grave risk because he feels entitled to drink and drive. With his "loaded gun" remark, he indicated a similar willingness to put his council colleagues in harm's way — however hypothetically — because he refuses to step down. A number of people showed up to "do the right thing," mostly for the sake of his own recovery. Most were genuinely sweet and kind. By contrast, The Hot Dog Man was hell-bent on scorched-earth. It wasn't character assassination he had in mind, but annihilation. He accused Joe of so abusing his dog that the Humane Society had to take him away. He gave the council a couple of alarming-looking photographs of the dog, named Maggie, to prove his point. He lambasted Joe for texting a woman photographs of himself shirtless while rearranging the junk in his trunk. Joe said nothing in response, but clearly he knew the attack was coming. His son, Joe Jr., showed up to defend his father. To the extent Maggie was mistreated, the son said, it was the fault of his mother. (Joe Sr. and his wife are divorced.) And if his father texted racy photos, the son said, it was to someone with whom his father had "a close personal relationship." Shortly afterward, Joe Jr. grabbed the photos the Hot Dog Man gave the council and split. Hot Dog Man put up a hew and cry, demanding action. Councilmember Kathleen Reddington expressed concern about the public's safety and demanded police protection. Joe, who had said nothing on the dais, exited the council chambers to be interviewed by a Kardashianesque TV reporter with very pointy shoes. Somehow, along the way, the dog photos were retrieved.
Among the many hats Joe wears is that of chairman of the board for Zona Seca — which means a place to "dry out" in Spanish. Zona Seca provides court-mandated rehab counseling for first-time DUI offenders. This being Joe's second rollover, he'll no longer be eligible for Zona Seca's counseling. I get that alcoholism is a disease and relapse happens; if you shake my family tree, empty bottles will come raining down. But driving while drunk is not a disease; it's a crime. When it comes to drunken-driving deaths, the United States is Number One. Our legal limit is much higher than other countries', even those where drinking is the national pastime. Here, someone is killed by a drunken driver every 30 minutes. Here, drunken drivers will kill four times as many people as were wiped out on 9/11 every year, and twice the number of troops killed during almost a decade of fighting in Iraq. In Norway, first-time drunken drivers are sentenced to three weeks hard labor; multiple offenders lose their licenses forever. In Japan, the maximum penalty is three years with hard labor. In Saudi Arabia, offenders are taken out and publicly whipped. If it was up to me, repeat offenders would have their ankles broken and be made to crawl. Joe's lucky. He's looking at a year behind bars, but he'll probably get an ankle bracelet instead. In the meantime, the worst the Carpinteria council can do is strip him of his committee assignments, vote to censure him, and formally ask him to resign. My bet is they'll do all three two weeks from now. When that happens, I'll hoist a beer, maybe three. But I'll do what Joe should have: call a cab.