Columns
Fundraising Is Like Housework
Never Done
It's really a drag that I hate fundraising so much, because it seems like that's all I do these days. And there's no way not to do it, if you care about a cause, but it sure would be nice if there were a way to do that didn't involve repeatedly doing the same things over and over again. Sometimes I feel like Bill Murray's character in Groundhog Day: just tired to death of it all.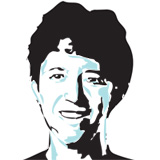 Grant writing isn't too bad. You don't have to ask for anything face-to-face – it's all on paper (or online, these days). You can craft your message carefully (word by word, with endless revisions, if you're me). And, you're asking an institution the purpose of which is to give away money. There's no sense of guilt, of bothering or imposing, or invading someone's eleemosynary privacy. (My dad told me many years ago that "eleemosynary" is one of his favorite words – but I've never seen anyone but Dickens use it. So this one's for you, Dad.)
The fact is, though, that the bulk of a nonprofit's funding should come from individual donors – indeed, foundations don't want to fund you if seem to be too dependent on big grants. The more individual donors you have, the more evidence, too, that you have wide support in your community. So, that means the hard, repetitive, endless work of getting money one person at a time.
A couple of years ago, I attended a surprisingly delightful seminar on how to ask people for money. Of course, everyone in the room entered with a sense of dread. By the end of the day, most of us had a completely different take on the work of the "ask." The key point was this: When you ask people to make a contribution (assuming you are targeting people with known interest in your cause), you are giving them an opportunity to support something they believe in. In fact, money may be the only thing they have to give, if they are too busy to get involved in other ways.
So I'm totally down now with asking people for money for causes they care about. I see my own giving as a chance to help – why shouldn't I give others the same sense of satisfaction at having been helpful? I'm even willing to take a call list and reach out to strangers – if I know they are pre-identified as supporters. But when it comes to cold calling, no way. I follow the Golden Rule of Fundraising: Do not contact others as you would not wish to be contacted.
Now I just need a strategy for learning not to hate that other time-tested method of hustling money: the fundraiser. I like to go to fundraisers. It's a nice way to socialize with like-minded friends while supporting a cause. But my God I hate planning and putting them on! The tedious work of trying to get free, or even just cheap, locations, supplies, food, advertising, and auction items . . . aggghhh! I keep thinking, "How many times has this restaurant been asked to donate food to a nonprofit? Do they even care about this cause? How many times do I call and leave a message for the manager before I take silence as a "no" and move on?
We're in the midst of planning C.A.R.E.4 Paws' "FurEver Valentines Friendraiser," scheduled for Feb. 11, 6-9 p.m., at Oreana Winery. (Yes, yes, this is a shameless plug – please come and help us make money so I can fundraise a little less, okay?!?!) Every day, when I think about the food donation requests I have to make, the volunteers I have to supervise, the tables and chairs I have to rent, etcetera, etcetera, I think, "Do I really have to do this again?"
My hope – the hope of someone really too old to use social media effectively – is that soon there will be a virtual means for these things, where all you have to do is put up a Facebook page, or send out a tweet or whatever, and the money will come pouring in – no need to have to rewalk the same steps each year (more than once a year, if you volunteer for multiple organizations, like I do). Surely technology can replace all this tedious, repetitive labor with some miraculous in-the-cloud solution.
Then again, they said the Roomba would put an end to the drudgery of vacuuming – and we all know how that turned out.