Arts & Entertainment
On the Road Again, with Hoss
Longtime Roadie Mark "Hoss" Ammans Shares His Stories in Where the Action Was
Everyone knows someone who has great stories, and we all have our individual stockpile of entertaining anecdotes to draw upon at a party or on a first date. But Santa Barbara resident Mark "Hoss" Amans's stories are different. Any one of his stories, if it were one of your stories, would almost certainly be your best — the most outlandish, the most interesting, the most intriguing, the one that you kept in your back pocket, confident in its ability to elicit raised eyebrows and "oh my gods."
Hoss has compiled some of those stories in his new book Where the Action Was, which draws mostly upon his days as a roadie for rock 'n' roll bands from the 1960s. "My book is 1963 on, during the revolution of rock and roll," said Hoss recently. "I was in a very unusual space and time, and I was on the inside looking out, and that's a rare situation."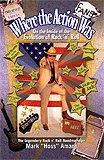 Where the Action Was doesn't contain much analysis or reflection, and there's no explicitly stated quest for meaning or thematic drive about the stories and how they typified that time and place in history. Instead, it's pretty personal, but through all of the anecdotes, a bigger story does get told: Hoss and his friends may have shed their youth long ago, but their legacy looms large. They were the generation of entertainers who blazed trails, from industry, in sculpting how record and entertainment companies promote artists, to culture, in creating a new type of fan base and relaying the shifting values through their songwriting. Altogether, Hoss and the characters in his book helped define the phenomenon we now know as "rock stardom."
"Rock and roll was different back then," explained Hoss, and it doesn't take long when talking to him or reading his book to appreciate just how rare his situation was. "We were filming all of the time. And when we weren't filming, we were in the recording studio. And when we weren't in the studio, then we were on tour. In 1966 we did 311 one-nighters. I mean, my god, nobody does that! Nobody!"
Hoss talks about how fans would rush the stage, and how he had to protect the bands from the lunacy. Some were so fanatical about Paul Revere and the Raiders (with whom Hoss did most of his touring) that they'd scream and literally jump from balconies in order to get closer to the pop-rockers, who were famous for their recurring spot on Dick Clark's television program "Where The Action Is," which aired daily on ABC.
"I got to be so popular as a road manager that I had fans after my ass, too," Hoss laughed. "It was ridiculous. And now you still have screamers, but they don't try to rip you apart the way they used to."
Contemplating the way things used to be is pretty inevitable when reading Where the Action Was. Hoss knows well how modern performers often only listen to themselves when performing, and how the sound of the show as a whole is dictated by an engineer, compared to having the musicians personally work out the sound by themselves night-in and night-out.
As a road manager in his day, Hoss handled instruments and equipment, protected bands from the ravenous and pubescent mobs, set up their recording studios, and was hired to teach bands how to perform on stage. The bands bought their own guitars on tour at music stores — Hoss mentioned how unusual it was seeing Pete Townsend of The Who buy 14 guitars at the beginning of a tour. Every bit of the "business" of being a rock star was something that was felt and fostered by the artists themselves. Quite literally, they lived and breathed rock and roll.
"Justin Beaver [sic] needs someone like me," said Hoss. "He needs someone to look after his ass — a pro. Someone who's been there, who's seen it all."
Spend a few minutes with Hoss, or just read the book, and you'll have to admit: He's probably right.
4•1•1
Pick up a copy of Where the Action Was by Mark "Hoss" Amans on Amazon, iTunes, or other online booksellers. Like the book on Facebook here or learn more here.