Film & TV
Winning with Beginners
Modern Master Christopher Plummer Stars in Mike Mills's Santa Barbara Story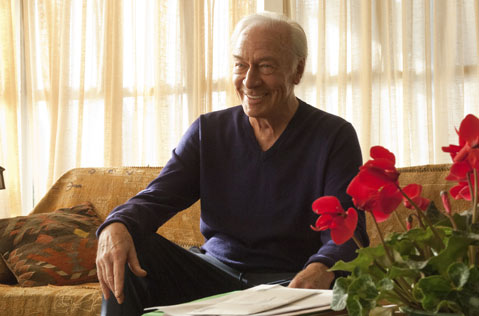 Christopher Plummer was so dead set on respecting the process of making Beginners that he refused to prepare for it.
"In the first place, I couldn't do an impression of him, because I never met Paul Mills. I never even saw a picture of him," said the Canadian-born actor, who just last week won a Golden Globe, will doubtless be Oscar-nominated, and will certainly be celebrated here next week when the Santa Barbara International Film Festival (SBIFF) bestows him with its Modern Master lifetime achievement award. The accolades come from his performance as a fictionalized version of Santa Barbara's former art museum director in the film made by S.B.-raised filmmaker/artist Mike Mills, Paul's son. "But in another way, I never had to," explained Plummer. "Mike let me go where I wanted with it. And I just used what was in the script. It was all there. You know, usually when you are on a set there are rewrites and other changes. But this was very different. We filmed exactly the script that I saw when I first decided to do the film."
Though critics across the nation were divided, Beginners clearly resonated here, if only with a deep sense of justice done. Mills made Beginners not only as follow-up to his youth cult-fave Thumbsucker, but as an emotionally rich if slightly askew eulogy to his father, who ran the Santa Barbara Museum of Art from 1970 to 1982, influencing everything from flags in the harbor to the Summer Solstice parade, until he was bumped out by a stodgy board of directors. When Mike's mother died, Paul — then proprietor of the whimsical State Street emporium Go Fly a Kite — came out of the closet just months before discovering he had cancer. Mike Mills's script — written as a way to deal with his grief — fictionalized names and places, but caught the spirit just as Plummer caught the complexities of the man with grace to spare. (Acquainted with Paul Mills, I got goose bumps watching the trailer.)
"I'm immensely impressed with Mike," said Plummer, the 83-year-old actor perhaps best known for playing Baron von Trapp in The Sound of Music. "He's such a civilized young man, and there was not a touch of self-pity in this portrait. The character is so touching and brave, and I was so grateful to play someone that meets his death in the brave way he does."
Plummer's long overdue for Academy Award-sanctification by his peers, and the Internet howls with opinions as to whether this neglect is due to an allegedly checkered past. But the truth of the matter is that Plummer, an intense acting presence, worked a less-than-spectacular vein of film roles, preferring the brainy over the controversial. Born in the same decade as Marlon Brando and Laurence Harvey, survivor Plummer played numerous historical roles, and more classical than contemporary: Aristotle, Tolstoy, F. Lee Bailey, Mike Wallace, and Alfred Stieglitz, and even when he did Shakespeare, it was Caesar and Lear.
"I love digging in and doing research; all of it has been fascinating," explained Plummer, underscoring the difference of his approach to Paul. "I've always had a great deal of fluidity, too, to move between stage and screen, though stage is where you get to play all the great roles. Stage, screen, and television — it's never been monotonous. And even better, at times I've been able to put together my own properties. Say I want to play Lear — I can find a producer and put together a show. That's really the best."
In fact, between award ceremonies, he's already engaged thusly, putting together a one-man show centered around his life as a reader of books. "It's a very autobiographical kind of work, but it brings you in touch with all this great language, beginning with the things I read as a child and moving forward though the decades," said Plummer.
He's also excited for his visit to Santa Barbara. "It will be lovely," he said. "Although I've always said that these lifetime achievement things happen and then you're supposed to drop dead. I don't believe I will obey that sort of expectation. I'll go to the tribute, but then I plan to live on."