Film & TV
Man on a Ledge
Sam Worthington, Elizabeth Banks, and Jamie Bell star in a film written by Pablo Fenjves and directed by Asger Leth.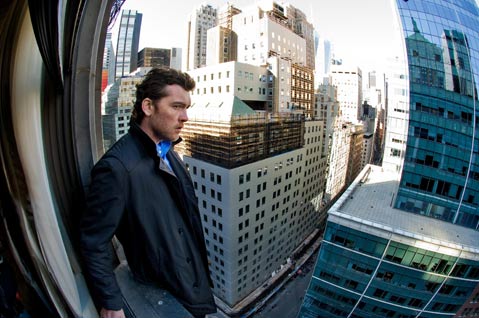 When Rififi, the film Man on a Ledge tries so hard to emulate, debuted in 1955, it was promptly banned in numerous countries. This was in part because director Jules Dassin had run afoul of the House Un-American Activities Committee, but also because the central "heist" scene was so explicit, so ingeniously conceived, it was considered by police in many countries to be a handbook for crime. I don't know how many suave, doomed crooks profited from seeing Rififi in the intervening years, but the film sure turned out to be a textbook for thieving screenwriters with just enough film school knowledge to misunderstand its riveting appeal. Many good heist movies, from Kubrick's The Killing to Woody Allen's Small Time Crooks owe it a debt, but Man on a Ledge should not be confused with one of those films. This version is just a clumsy crime.
Ledge tells the story of Nick (Sam Worthington), a cop in jail for the next 25 years. When we learn that his father has died and he'll attend the funeral, and remember scenes we've already seen in the saturation preview ads splashed everywhere, it comes as no surprise that Nick soon shuffles off the bonds of incarceration and ends up there on the Roosevelt Hotel with cute officer Mercer (Elizabeth Banks).
Its best part is the improbable heist, mostly because there is funny chemistry between Nick's brother Joey (Jamie Bell) and girlfriend Angie (Genesis Rodriguez), who risk life and jail time for reasons the movie fails to explain. The acting isn't bad either; in fact, the cast manages to sell a number of dumb ideas. Instead, Ledge gets stupidly complicated with cops betraying cops, the great Ed Harris spouting evil-developer clichés, and a building jump that, if there was a fair judge of evil influences film makes on impressionable citizenry, probably should have been banned. By the time it happens, though, you'll be ready to make the jump, too.