Film & TV
Shailene Woodley's Breakout Year
The Descendants Star Named One of SBIFF's 2012 Virtuosos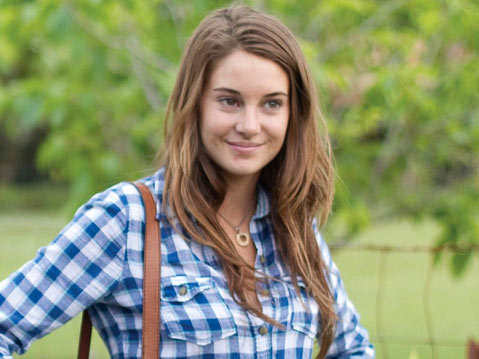 Though the youngest of this year's SBIFF Virtuosos, The Descendants' Shailene Woodley is one of 2012's most buzzed-about breakout stars. At 20, Woodley is currently standing in the eye of the award season storm for her portrayal of Alexandra King, the rebellious and curiously wise-beyond-her-years daughter of George Clooney's tragedy-stricken land baron. As Alex, Woodley embodies the dual role of troubled teen and protective mother figure to her younger sister (Amara Miller) and father.
We recently caught up with Woodley to discuss The Descendants, teen angst, and her current and very booked party schedule.
What was your upbringing like and when did you get into acting?
I'd say it was a very normal, lucky, amazing childhood. We moved to Simi when I was seven and before that I lived in Palmdale. I got into acting because I was taking local theater classes and an agent called me mom and said 'I'm interested in Shay' and my mom was like, 'Who are you? What's an agent?' We kind of learned from there.
My mom is a middle school counselor in the Conejo School District and my dad is a school principle and they didn't really know anything about the industry. So my mom asked me if I wanted to do it, and at five years old you want to everything, so I said yes and it kind of stuck.
I had three rules growing up; I had to stay the person I knew I was, have fun, and do good in school. And as long as I continued to accomplish those three things I could continue to act.
Do you feel like they prepared you for the whirlwind that's been this past year?
I kind of think it's like everything in life; there's no way to really prepare for a new experience because you don't know what it's going to be like. With The Secret Life [of and American Teenager] I'm really fortunate because it's a huge ensemble cast and we all help each other out and we're all there for each other and we all offer each other emotional support.
For The Descendants, God, I'm the luckiest person in the entire world. I had Searchlight, who is the most family-oriented, loving studio in Hollywood, and then I had Alexander Payne, George Clooney, Judy Greer, Matthew Lillard, Beau Bridges — all of these people who took me under their wing and graciously and kindly showed me the ropes.
I'm just so lucky to be experiencing all this for the first time with who have been through this before and are very respectful and graceful in their manners towards the industry and towards these events.
I know that you got your hands on The Descendants script before George or Alexander were attached to the project. What was your first reaction to the story?
I really responded to the humanness of the script and just how real it was and how messy it was. I loved that my character started off kind of as an angsty teenager and at the end she's still kind of an angsty teenager, but she's a more evolved one and her consciousness is raised a bar higher. I thought it was kind of beautiful to explore that aspect of a child who's going through a vulnerability stage for the first time in her life.
What struck me the most about the story was the way you guys were able to be the protagonist despite the fact that your victim couldn't really defend herself. Was it difficult to direct those emotions on an actor who couldn't really act back?
I'm really, really, really lucky to have worked on this film because the screenplay was so brilliantly written. It really was all in the script, and it was all Alexander giving the freedom as actors to just be. His whole thing is that he doesn't want [his actors] to act, which is such a joy and such a gift, to be able to be human and be yourself.
For me as an actress, I never had — a lot of people say that when they have to cry they think about their mom dying or something crazy happening to them. For me it's more about really surrendering myself to the moment and knowing the words, knowing the lines, and letting the lines affect me. It is such an emotional movie, and in those really emotional scenes made me cry actually. I didn't feel like I had to act to cry, or act to find emotions; they were just naturally evoked because of the words, because of the dialogue and the scenario.
One the flip side of that, what's it like being an 18-year-old sharing lines with George Clooney?
I'm so grateful to know George because he has made me a better human being and inspired me to continue to grow as a human being every single day. As an artist, he's so professional and so passionate and so grateful to be on that set — he's just as grateful to be there as I am, or as the craft service guy is — and he goes out of his way to make you comfortable too. Truly, George Clooney deserves everything he has and more.
A lot of people ask me if I was nervous to work with him, and there were a little bit of nerves at first, but it quickly went away as soon as I got to know him. It's like being an intern at an office that you really want to work at. It's exciting to learn from people you admire.
Had you been to Hawaii before going out there for the film?
I had never been there and I'm in love. I would love to move there one day and have little naked babies running around. I love it to the depth of my soul. I love the ocean, I love the hiking trails, I love the abundance of nature, and I love the local indigenous Hawaiian people's core values. They value family, they value their ancestors, they value lineage, and they value the earth. I respect that to the highest levels. I just love it there so much.
Did you guys have some time to hang out before you started filming?
Yeah. George, Nick Krausse, and I arrived three weeks prior to filming and it was mainly because Alexander is very keen on authenticity and he wanted us to appear to be locals. [Our characters] are obvious Haoles — we're not Hawaiian and we don't have the traditional quote-unquote look of a Hawaiian, but we have Hawaiian blood, so he thought it was very important for us to feel he vibe of the islands and experience the taste and the culture. It definitely helped; we went to high schools, we went to malls just to kind of get the feel of what it was like to be Hawaiian.
And you guys were on which islands?
We were on Oahu for three months and Kauai for a month.
Did you prefer one over the other?
Oahu is where all of my friends are — I made so many friends while I was there, so that's where I go to hang out. There's the friend with the sailboat and the friend that knows the hiking trails and the friend that's a spear fisher. Oahu's definitely the couch surfing, hanging-out-with-friends kind of place.
Kauai I only have three friends on the island and it's a quiet, comfortable atmosphere that I visit when I just want to lay low.
How would you compare yourself to Alex?
I feel like at the core we're very similar; we're both very independent, very orientated. I think I handle my independence with much more grace and much more politeness than she does, but when you strip away all of the stories and all of the experiences, I think we're very similar at her core.
How's award season going? You guys are definitely in the thick of it.
I'm so excited. It's so funny. I feel like we're going to a different event every night, and it's the same exact people, we just have different curtains and different tables to sit at. I'm just looking forward to seeing my friend Judy Greer at all these things.
I imagine she's hilarious.
She's amazing. I want to be Judy Greer when I grow up. [Laughs]
SBIFF will honor Shailene Woodley and Andy Serkis along with Demián Bichir, Rooney Mara, Melissa McCarthy, and Patton Oswalt as Cinema Virtuosos on Friday, February 3, at the Arlington Theatre.