Film & TV
Stacy Peralta Talks Bones Brigade: An Autobiography
Director Discusses His New Documentary on the Greatest Skateboarding Team Ever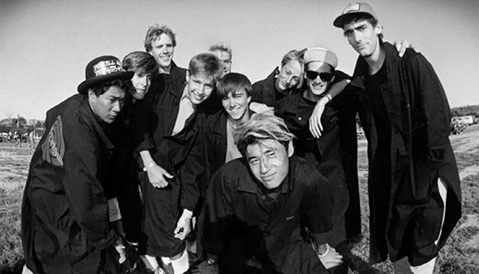 This Thursday night, at the Arlington Theatre, one of the most influential times in the history of skateboarding will be laid bare on the big screen. Bones Brigade: An Autobiography is the latest, and perhaps greatest, film from award-winning documentary filmmaker and skateboard legend Stacy Peralta.
Re-inventing a formula that he employed for his seminal Dogtown & Z Boys film a few years back, Peralta once again plays the roll of filmmaker and occasional subject in this movie about the early days of the Bones Brigade, the greatest skate team that was ever assembled. Coming off a premier at Sundance earlier this month, Peralta talked with The Independent earlier this week about his new movie and what to expect at Thursday's event.
So Sundance was your first big public unveiling of the film. How was it?
It was unbelievable, man. We had six screenings and five of them were full house standing ovations. We really didn't expect that.
And Utah isn't necessarily a spot you would think might respond so positively to a skateboarding film.
Yeah, I can't tell you how many people came up to me and said, "Look, I didn't know what this film was, I just got a ticket to it and I just went to it and I was totally surprised." You know, that is always the most gratifying.
What do you think is the reason for this universal appeal?
The film is really a coming of age story that just happens to take place in the world of skateboarding. It is about these six very young kids — like 13 and 14 years old — who were put on a team and who weren't considered very good but who, together, would become an absolute force of change for the sport. There is a lot of laughs in the film and there is actually quite a bit of emotion, so there were a lot of teary-eyed people. I didn't expect that. We were all very gratified by that….
It really transcends skateboarding and becomes a story about this group of six guys who weren't the cool kids. They weren't the hipsters. Some might say they were borderline nerds and, for many of them, it was a real struggle to attain the position they eventually attained and we deal with that in the film.
Over the years, the Bones Brigade has include literally dozens of skateboarders. Who are the core six in this film?
Tony Hawk, Rodney Mullen, Steve Caballero, Lance Mountain, Tommy Guerrero, and Mike McGill….Those six guys are the ones who absolutely rose to the top. If you look at their accomplishments, that group of guys invented almost every single revolutionary maneuver out of the '80s, from the flat land nollie to the McTwist and everything in between.
For my money, those are the guys that essentially helped create what it means to be a "professional skateboarder."
Yeah, they were the first guys to actually make it work. My generation got a taste of it but a career would last only like three years. Those guys were professional skateboarders successfully for the entire 1980s and went on to the '90s and really are still doing it today.
Tell me a little bit about how this project got started? I've heard you didn't really want to do it at first.
[Laughs.] Yeah, in 2002, Tony Hawk and these guys asked me if I would meet them at a restaurant at LAX. Everybody flew in and we met at that kind of spaceship restaurant that is in the middle of the airport and they said, "Look, we really like what you did with Dogtown but we think we have a legacy that, if not equal, might be even more important than Dogtown and would you consider making a film?"
At the time, I just didn't want to do it. I just didn't want to play that dual roll again of subject and filmmaker. I knew it had the potential to be a good story, but I just didn't feel that I should be the one doing it. But over the years they kept after me and kept after me and so, about a year-and-a-half ago, Lance Mountain called me and said, "Look, we really really want to do this and there is something you should know: We are older now than you and Tony Alva were when you made Dogtown."
At that point I just said alright, I'm going to bite the bullet.
What was your hesitation?
It is a really hard role to play [being both a subject of the film and the film's director] and it is something I wasn't ever very comfortable doing. Also, Bones Brigade is way more personal than Dogtown. But my wife had this great idea. She said, "Look, you are very concerned about people not understanding why you would do this so why don't you just put under the title that it is an autobiography and that way, if people have issues with you doing this again, they can at least be told right at the start." We are laying it right out there, so the film became Bones Brigade, An Autobiography. If you have issues, turn it off right now.
Having lived this movie the first time around, was there anything that surprised you or caught you off guard while making it?
Well, the biggest surprise, to be honest with you, when I signed on for the film, my goal for the film, I thought it would just be a small film. I thought I would edit the film myself, just do it very small time, direct to DVD, no film festivals or anything like that. But when I started shooting it, the guys brought so much to the picture and they started sharing the struggles they went through to achieve what they achieved in the '80s and the difficulties and what was going on inside of them. After the first day, I realized, "Oh my god, I've got something here that I wasn't expecting at all."
Are all the boys turning up for the premiere on Thursday at the Arlington?
Everyone of them except Tony Hawk; he has a contractual obligation in Australia that he just couldn't get out of. But yeah, the guys are so excited about it. They are just jacked up about it. They had a great, great time at Sundance and they kept asking me, "Is Santa Barbara going to happen? Is it going to happen?" And now it is and they are just so jacked up….Also, guys like Christian Hosoi, Duane Peters, Steve Olson, and a number of other famous skaters, whether they appear in the film or not, are coming to the screening because they want to be a part of it….It's going to be crazy.
Bones Bridage: An Autobiography screens on Thursday, February 2, 8 p.m. at the Arlington Theatre.