Arts & Entertainment
Winchester Rebels Bring New Record to Life at SOhO
S.B. Rockers Headline Benefit Concert for Boys & Girls Club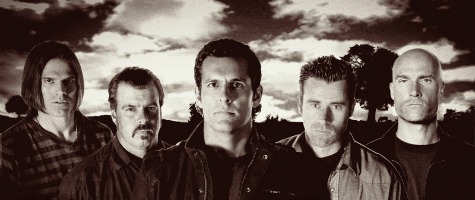 In an age of lo-fi, 8-bit, synth-driven indie rock, sometimes the most refreshing sound is that of a good old fashioned electric guitar. While today's folk seems pulled from the '60s and '70s, and modern-day dance music feels ripped from the '80s, Santa Barbara's Winchester Rebels is drawing inspiration from some of the more recent hard rock greats. On their recently released debut, the band pays proper homage to '90s legend like Stone Temple Pilots, Pearl Jam, and Guns 'N' Roses, while still maintaining a strong foothold in today's rock 'n' roll arena.
This Thursday, February 16, Winchester Rebels play a show at SOhO in support of their new album, Three Sheets to the Wind. Proceeds from the event will be donated to the Boys & Girls Club of Santa Barbara.
Below, lead singer Nick Hunt and guitarist Nick Fitzgerald answer our email questions about the record, the band, and the S.B. music scene.
How would you describe the Winchester Rebels' sound?
Nick Hunt: Heavy, melodic, hard, catchy, fun, rock music with something for everybody.
Nick Fitzgerald: Take '90s hard rock, throw it in a pick up truck, find an old dirt road,, and get sideways!
As a band, who do you guys look to or cite as influences?
NH: As a singer, I'm influenced by Jim Morrison, Robert Plant, Ozzy Osbourne, Eddie Vedder, Chris Cornell, Layne Staley, Glen Danzig, and a bunch of others.
NF: I personally am influenced by Soundgarden, Stone Temple Pilots, Alice in Chains, and classic rock in its entirety.
Personally, who are your rock 'n' roll heroes?
NH: I'm a huge Alice in Chains fan, but lately I've been listening to a lot of Kings of Leon.
NF: Slash, Axle Rose, Kurt Cobain, Jim Morrison, and the late Dime Bag Daryl of Pantera.
What was the record that made you fall in love with music?
NH: Maybe Pink Floyd's Dark Side of the Moon. It's hard to say because I listened to so many different kinds of music back in the day. But I remember just listening to that album over and over and really sinking into it.
NF: Appetite for Destruction. Need I say anymore?
At what point did you decide you wanted to pursue music, rather than just enjoy it as a listener?
NH: I guess when I realized that I had a pretty decent voice as a kid. I was shy when I was younger, but when I was singing I felt very confident, so I guess that's where the obsession began.
NF: Probably my first show ever. I really enjoyed all the attention from the girls.
Can you talk a bit about the debut record? Where and when did you guys record it? How did you settle on calling it Three Sheets to the Wind?
NH: It was a long time coming — about two years in the making. It's a blend of everything we do as a band. We recorded most of the songs in L.A. at our friend [and Mad Caddies drummer] Todd Rosenberg's home studio in Hollywood. He was a very valuable resource, being that he has a good ear for things and he was very in tune with what we were trying to accomplish with our sound as a band. The last three songs we recorded with Angus Cook at Orange Whip Studios in Goleta, which was also awesome. I liked the saying "three sheets to the wind" because it means getting loose, like the sails on a ship flapping in the wind, making the boat shutter and sway. Hopefully our music will make you want to get loose when you listen to it.
On that note, what's the wildest show you've played?
NH: Probably our friend's house party, where we played in this little living room and just packed the place full of people [who were] just rocking out and getting crazy. There were people wrestling and falling into speakers and knocking over drinks; it was a good time for all. The Viper Room in Los Angeles was pretty insane as well.
NF: We rocked a house party on the Mesa for three hours for a wild bunch of college kids. Bottles of whiskey and smoke in the air allowed us to play our set three times unnoticed.
You and your bandmates have all spent a chunk of time gigging in S.B. What's your take on the local music scene?
NH: Honestly, I think S.B. could be a lot better — it's got great potential! We have places like Velvet Jones, SOhO, and a few others that are actually live music venues that local bands and the occasional big name act play. Then you have the extreme with the S.B. Bowl, which only caters to big-name acts. I wish there were bigger venues to play in town other then the Bowl. That way, when big name acts come through, it would give local bands a chance to play with them and gain more fans. We've done some acoustic shows at Peabody's and The Brewhouse in order to play places that we couldn't really do with the full band, and we've gotten some really good feedback.
NF: Santa Barbara has lots of great venues, but not a lot of promoters bringing in bigger names to play with local talent. I'd say we need more promoters like New Noise to give bands like ourselves the opportunity to play with those big acts that come to S.B.
What are the pros and cons of being a Santa Barbara band?
NH: Pros: Santa Barbara is one of the most beautiful places to live in the world. Cons: It's a bubble. It's a limited market. It's hard to get your sound heard by the masses. But then again, we don't want to be another L.A. band, so were probably not moving there anytime soon.
NF: Given S.B.'s size, it's easier to gain popularity in a smaller town. Hollywood [makes for] fake acts who kiss promoters asses to get better gigs. The cons are that S.B. is flooded with clubs that only support deejays — it's like the '70s disco wave that killed rock.
In regards to the upcoming show at SOhO, how did the collaboration with the Boys & Girls Club come about?
NH: We wanted to give back to the community, and what better way to do that then to give back to the kids? With all the technology of cell phones, video games, and the Internet, I feel like kids need to get out and do more things. The Boys & Girls Club is a great outlet for kids to be active and learn how to live a healthy lifestyle.
NF: We wanted to start the year off by doing something positive for the Santa Barbara community. We plan to tour a lot these next two years and want to be known as a strong local act that loves our community and what it did for us growing up.
What can folks expect from the live show?
NH: A heavy, rocking set that will get you moving or staring.
NF: Ringing ears and probably a hangover.
Currently, what's on your record player/ipod/car stereo?
NH: Kings of Leon Come Around Sundown.
NF: Alice in Chains, Kings of Leon, Lynyrd Skynyrd.
Top three albums you can't live without?
NH: Alice in Chains' Facelift, Red Hot Chili Peppers' Blood Sugar Sex Magik, Stone Temple Pilots' Core.
NF: Guns N' Roses' Appetite for Destruction, Facelift by Alice in Chains, White Pony by The Deftones.
Describe your dream tour.
NH: We would love to open for any big name rock band out there. Maybe STP? We aren't picky.
NF: A sold-out stadium world tour with Muse!!
4•1•1:
Winchester Rebels play SOhO (1221 State St.) on Thursday, February 16 at 8 p.m. with A Broken Opera and Seven Year War. For tickets and info, call 962-7776 or visit sohosb.com. For more on the band, visit them on Facebook.