News
'Ford Pinto' of Helicopters?
Known Design Flaws May Have Contributed to Crash that Killed Mike DeGruy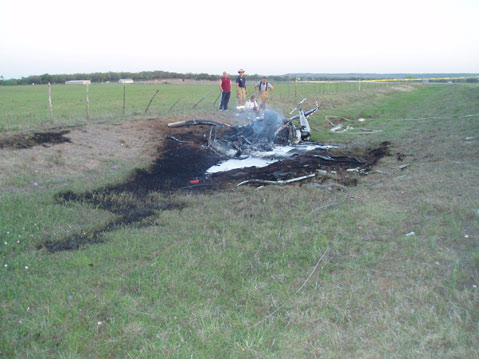 Though the official investigation won't be complete for months, there are early indications that the helicopter crash that killed Santa Barbara filmmaker Mike DeGruy and his colleague Andrew Wight in Australia on February 4 may be just the latest in a line of accidents involving the Robinson Helicopter Company's R44 model, one of the most popular aircraft in the world. According to attorneys in Dallas, Los Angeles, and the Bay Area who have been engaged in lawsuits about previous crashes against the Torrance-based manufacturer, eyewitness reports and photographs of the DeGruy crash scene suggest that the eight-year-old chopper experienced a "survivable" drop to the ground from less than 10 meters but then erupted into a fatal fire. That fire, believe the attorneys, was likely due to a faulty fuel system design in R44s built before December 2010, which they say was also the cause of four deaths in Texas in 2006, four more in Washington state the next year, two badly burned survivors of a Mammoth Lakes crash in 2010, and possibly countless others worldwide both before and since those cases.
"The R44 is the Ford Pinto of aviation because the helicopter will burst into flames after an otherwise survivable crash due to the design of the fuel system," said attorney and helicopter pilot Ladd Sanger of the Dallas-Austin firm Slack & Davis, which represented the three dead victims and one badly burned survivor of the 2006 Texas crash. "This is one of the saddest things I've seen in 16 years of doing aviation work. The risk of harm is so great and the solution is so apparent. It's tragic that it isn't mandatory."
Both Robinson and the Federal Aviation Administration dispute claims that the R44s are unsafe to fly, although the company did issue two "service bulletins" following the 2006 case: the first said that pilots and passengers should wear protective fireproof clothing when flying the R44s and the second, issued nearly five years later in December 2010, offered a retrofit for pre-2010 versions that added safety bladders to the fuel tanks, a technology that's been used in other aircraft for decades. According to Robinson's public relations rep Loretta Conley, the company considered those bulletins — which were sent to all owners, dealers, and service centers on record and recommended to be implemented as soon as possible — to be mandatory, although owners had to pick up the tab of $6,800 and 40 estimated man-hours. Conley said that 400 kits had been issued since the December 2010 bulletin, which means there are hundreds of other R44s out there that have yet to be fixed.
The FAA, meanwhile, has investigated the R44 but not found any reason to issue any official warning or recall. "Had we found a safety issue, we would have mandated a fix," explained FAA spokesperson Ian Gregor, who said that the original fuel tank design meets the original certification regulations and that Robinson has actually "gone beyond what FAA regulations require by putting the recommended fuel bladders in all their newly manufactured helicopters."
That doesn't surprise San Mateo-based attorney Mike Danko, who says that the R44 is probably the most controversial aircraft of the past 30 or so years. "The FAA is itself in a conflict of interest situation," said Danko, because it's charged with simultaneously regulating and promoting aviation. "It doesn't like to restrict what a manufacturer does."
Because the FAA is "notoriously slow" in dealing with safety issues, L.A. attorney Ron Goldman has taken to calling them the "Tombstone Agency," because they need a certain threshold of dead bodies to act. "Nobody's saying that anybody can build a guaranteed fail proof machine that will never crash or never injure anybody," said Goldman, who has a trial against Robinson on this exact fuel system issue starting on March 5,. "We're talking about taking reasonable steps both in your engineering and in the way that you build these machines to protect against anticipated hazards. When you start counting crashes and you see things going bad, you've got to have a program that analyzes what's going on and makes some effort to fix it."
But that's what the FAA does, according to Gregor. "The FAA operates the world's safest aviation system and continuously strives to make the system even safer," he said, explaining that the agency has adjusted from relying on past accidents to identifying "precursors" of future problems based on the steady input of pilots, air traffic controllers, aircraft manufacturers, and others. "We aggressively take action when we identify a potentially unsafe condition."
Though they readily admit that their firms stand to make money off cases such as DeGruy's, all three attorneys assured that their current goal is getting the word out, which is what they've promised to do for their clients. "My objective is bringing this to everyone's attention," said Sanger, "to hopefully raise awareness of the problems with the old fuel system, and to encourage owners and operators of this helicopter to get the fix….Lives are going to be saved by that."