Sports
Waiting for the Pitch
UCSB's Baseball Team Has High Hopes for Their Season
A new era began at UCSB last weekend in the tradition of springtime baseball. There was a current of optimism pulsing through Caesar Uyesaka Stadium, an expectation that the Gaucho baseball team will make progress in coming weeks as sure as the sun will ascend higher in the sky. The scoreboard might not have reflected what new coach Andrew Checketts hoped for in his debut — nationally ranked Oregon State took three of four games from the Gauchos — but there was plenty of promise in the boys in blue.
• Pitching: UCSB's four starters — seniors Matt Vedo and Kevin Gelinas and freshmen Andrew Vasquez and Austin Pettibone — compiled a 3.10 earned-run average in 20 1/3 innings of work. Vedo (four innings), Gelinas (five), and Vasquez (six) each registered eight strikeouts.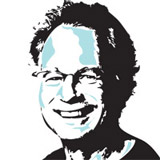 • Hitting: Leadoff man Brett Vertigan banged an opposite-filed single in his first at-bat as a Gaucho, and he wound up hitting 0.500 (7-14) in the series. Veteran third baseman Ryan Palermo hit 0.467, including a home run with two outs in the bottom of the ninth that sent the second game of Saturday's double-header into extra innings as darkness fell. The game was resumed Sunday, and the Gauchos won 13-12 in the 11th on Vertigan's RBI single.
Oregon State won Friday's series opener, 7-3, scoring all its runs after Gaucho throwing errors, and pulled out a 3-2 victory the next day. The Gauchos posted their first win, 13-12, in a game that spanned 11 innings and two days. The Beavers held off the Gauchos 8-6 in Sunday's finale.
"We're good," declared Vertigan, before taking his position in centerfield for the first time. "We've got a lot of speed, we play solid defense, and our starting pitchers are going to shut people down." He rooms with Gelinas, a 6′5″, 240-pound lefthander. "He's three times my size," said Vertigan. "I'm not going to mess with him."
Gelinas, hampered by injuries, made only four brief appearances last year. Vertigan sat out the entire college season after having a hernia fixed. He joined the Santa Barbara Foresters in the summer and became their leadoff hitter. He homered in his first at-bat and played flawlessly in the outfield as the Foresters won the National Baseball Congress championship in Wichita, Kansas.
"The summer was my season last year," said Vertigan, a 0.421 hitter (with eight triples) in 2010 at Saddleback College. "I'm really looking forward to this spring."
Checketts is counting on Vertigan to be a consistent sparkplug. "He's a special player," said the coach, who intends to utilize the Gauchos' speed. Expect to see them bunting and running. That's not among trends in the major leagues as promulgated by the book Moneyball. "The book talked about not giving up outs, not bunting, not stealing bases," Checketts said. "In college baseball, I don't know if that's really the way to go."
Checketts, a former Oregon assistant, has a reputation for developing strong pitching staffs. It was really the pitching that made the Oakland A's of Moneyball a winning club. As the boss of the Gauchos on and off the field, Checketts combines the roles of Brad Pitt (as Billy Beane) and Philip Seymour Hoffman (as Art Howe) in the film version of Moneyball.
When that was mentioned to him, Checketts said, "My wife wishes I was Brad Pitt."
JOHNSON & JOHNSON: Emilie Johnson, a four-year starter for the Gaucho women's basketball team, will play her final scheduled home games tonight (Thu., Feb. 23) and Saturday afternoon. The 5′6″ guard from Loomis, California, is so beloved by UCSB's longtime fans that they have been stuffing the online ballot box for the Lowe's Senior CLASS Award. Johnson has raked in 21.6 percent of the nation's votes, holding off Purdue's Brittany Rayburn (20.5 percent) and eight other finalists. CLASS is an acronym for Celebrating Loyalty and Achievement for Staying in School, and the fans — whose voting counts one-third toward determining the winner — are convinced that Em-J fits the bill. Her perseverance on the court is matched by her popularity in the community as the face of the Gaucho women.
After Em-J's home finale against Long Beach State Saturday, February 25, at 2 p.m., the Gaucho men will take the floor at 8 p.m. against Cal Poly, kicking off a three-game homestand that will mark Orlando Johnson's final bow at the Thunderdome. O.J. is almost certain to graduate as UCSB's all-time career scoring leader, something he is accomplishing in three years. The 6′5″ senior has led the Gauchos to two consecutive NCAA postseason appearances, and he has been heating up for another run at the Big West Tournament championship. O.J. averaged 23.5 points on 70-percent shooting in road victories over UC Irvine and Utah State last week. The Gauchos will close out the regular season on March 1, against Pacific and March 3, against UC Davis. The conference tournament will be March 8-10 at the Anaheim Honda Center.