Theater
Nazi Hunter — Simon Wiesenthal at the Rubicon Theatre
Tom Dugan Plays Famed Sleuth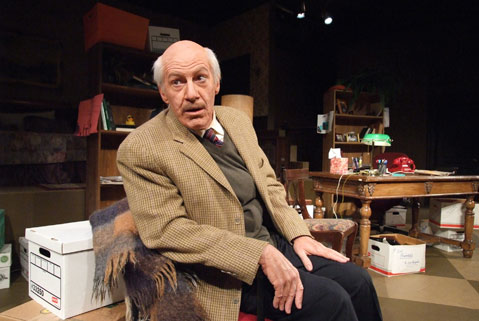 What are the keys to tracking down fugitive war criminals? "Persistence, publicity, and paperwork," asserts Simon Wiesenthal, who should know. Over 58 years, the concentration camp survivor helped find and bring to justice 1,100 Germans who committed atrocities during World War II. Not surprisingly, he has interesting stories to tell, and Tom Dugan tells them well in his one-man show Nazi Hunter — Simon Wiesenthal.
Following a lengthy run in Los Angeles, writer/performer Dugan and director Jenny Sullivan have moved their show to Ventura's Rubicon Theatre, where it continues through March 11. Dugan plays Wiesenthal as an old man who is reluctantly retiring from his relentless hunt; the audience is one last group of students he agrees to speak to on his final day in the office. He embraces the opportunity to describe the lessons he has learned during his lifelong pursuit of justice.
Dugan preempts criticism by having Wiesenthal warn us that his lecture is sort of a "greatest hits, abridged." That it is. Harrowing tales of how he survived the war (while almost all his relatives did not) are followed by a surprisingly sketchy account of his work searching for former members of the S.S. Between anecdotes, he places a few phone calls in an attempt to locate one last monster, a torture expert who has taken refuge in Syria. That reference, coupled with Wiesenthal's warnings that we not must look the other way when atrocities are committed, makes the show chillingly timely.
Dugan easily holds the stage and comfortably connects with the audience. While his script is conventionally structured and somewhat predictable, it manages to convey Wiesenthal's deep humanity. And it has an interesting subtext: shame, and the lengths we will go to in order to avoid feeling it. Wiesenthal links the rise of German anti-Semitism to the psychological need to deflect this painful emotion. But, intriguingly, the play suggests that he, too, is driven by the desire to avoid shame. Why did he survive? What will he say to those who didn't, when and if they meet in another world? Such nagging questions can fuel a courageous quest.