Dance
UCSB's Dance Department Prepares Grads for Work
Students Take to the HSSB Performance Studio March 8 and 9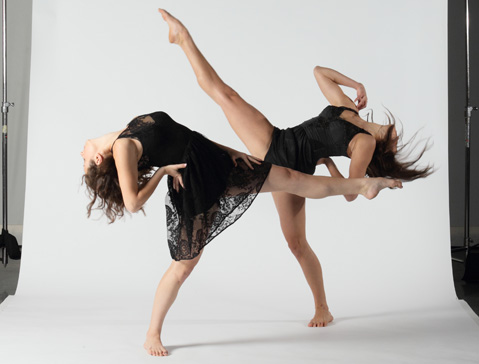 Most undergraduates make it to the end of four years without ever finding out what it's like to work in their chosen field. But the faculty members of UCSB's dance department are determined to give their students a taste of the professional world before graduation. Tonight and tomorrow, the UCSB Dance Company — made up of a select group of the department's undergrads — will present an evening-length program. This year's repertory is a mixture of new student choreography, works by emerging dance artists, and classics from the canon of American modern dance. Taken as a whole, it represents the many levels on which these young students are preparing for creative careers.
UCSB's dance program has long been one of the most respected in the UC system, and in recent years, it has seen an influx of new young faculty members and exciting projects, including an unprecedented NEA grant that brought New York choreographer Jennifer Muller to campus for a series of residencies and master classes in 2011. For undergrads working to earn their BFAs in dance, this has meant exposure to choreographers and company managers, rehearsal directors and composers, designers, academics, and critics. In other words, these students are getting much more than daily technique classes.
As Delila Moseley, director of the UCSB Dance Company, puts it, "The purpose of our program is to turn out choreographic artists who can go out into the world and make their voices heard." Moseley has been at the helm of the company for more than two decades and has been instrumental in developing the annual touring program — this year they plan to take the repertory to Italy and New York. Its just one of the many ways Moseley works to give her students a taste of the working life of a dance artist. And she's in a position to know what it takes.
In the 1970s, Moseley danced for the Alvin Ailey Repertory Ensemble (the second company of the Alvin Ailey American Dance Theater), and she remembers the challenges of life as a dancer in New York. In order to give students the base they need to succeed, she's put together a particularly varied repertory this year and chosen top student choreographers from within the department to set work on their peers. She has invited professor emeritus Alice Condodina to teach a section of "Psalm," José Limón's classic work from 1967, and she's brought three young New York-based choreographers to campus for intensive residencies, during which they created new work, taught classes, and spoke about launching their careers in dance. These three are Nicholas Bruder, who created a highly gestural work to the music of Vivaldi; S.B. native Austin McCormick, who trained at Juilliard and NYU before founding his own company; and Sumi Clements, a graduate of the UCSB dance department who now codirects Summation Dance Company and whom Moseley sees as a great role model for students because she knows how to market her work and seek donations.
"The education I received while at UCSB continues to follow me, even after six years of living in New York City and running my own dance company," noted Clements. "I feel like I was sent off with a strong sense of self and a box full of tools."
4•1•1
The UCSB Dance Company will perform Thursday-Friday, March 8-9, at 8 p.m. at the UCSB's HSSB Performance Studio. For tickets, call (805) 893-3022 or visit theaterdance.ucsb.edu.