Arts & Entertainment
Up Close with Memoryhouse
Ontario Duo Moves from Collaboration to Fully Realized Band with Debut Album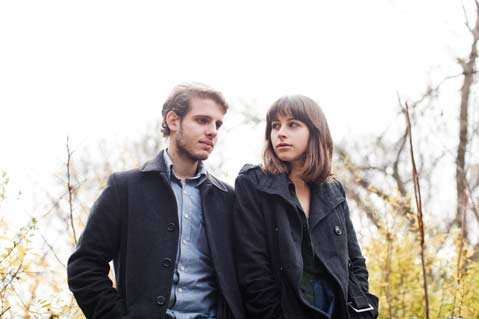 Some would describe Memoryhouse's story as a wonderfully happy accident. When composer Evan Abeele met photog Denise Nouvion at a concert, the pair became fast friends. Not long after, that friendship took the form of a shared art collaboration, which mixed Nouvion's images and films with Abeele's instrumental compositions. "I think we both had very similar tastes in visual art and music," said Abeele recently via phone. "We started casually working together, but we didn't quite know what we wanted to achieve."
Like all art does, the pair's vision morphed with time, evolving from an experimental multimedia project to something more akin to a bona fide band. Helped along by Nouvion's ethereal voice and wide-eyed lyricism, Memoryhouse's home recordings quickly caught the ear of Seattle label Sub Pop, and before long the pair was signing a recording deal and hitting the road in support of their homespun EP.
"I was playing a cover of 'These Days' by Jackson Browne one day, and Denise just started singing it," Abeele recalled wistfully. "She sang it so freely, and it was just incredible; that was when the light bulb in my head went off."
Nowadays, Memoryhouse's light-bulb moments seem to be happening with much more frequency. Last month the band released The Slideshow Effect, their first proper full-length and most fully realized recording to date. The songs were written and reworked during the pair's last two years on the road, giving them an opportunity to evolve and grow, much like Memoryhouse itself. The result is a 10-track collection that capitalizes on the contrast between Abeele's gentle orchestrations and Nouvion's immediate vocals and continues the pair's ongoing quest to find common ground between the visual and the aural. "We really wanted to find an organic core with the album," explained Abeele, "to achieve something that felt more personal and more immediate."
With Nouvion's sparkling vocals at the forefront of almost every song on Slideshow, that sense of intimacy is felt first and foremost, and makes for a fitting description of Memoryhouse's current sound. It also nicely represents what can come out of an art that, as Abeele puts it, is "ever evolving." Memoryhouse plays SOhO Restaurant & Music Club (1221 State St.) on Thursday, March 15, at 8 p.m. with Sister Crayon. Call (805) 962-7776 or visit clubmercy.com for tickets and info.