Dance
Feets of Fancy
Champion Irish Dancers Learn Their Craft at Claddagh School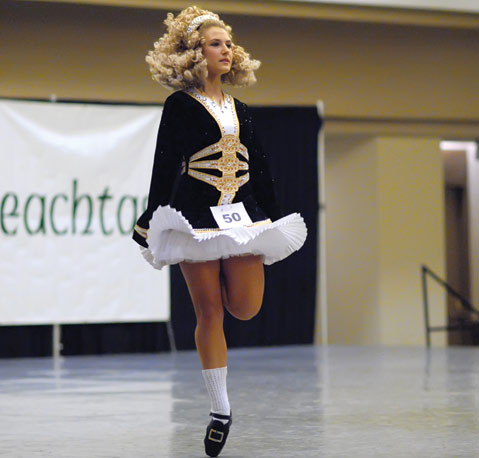 The sound of hard soles on a wooden stage rings out in the theater. Rat-a-tat-tippy-tap-tap they sing as the dancers' feet fly through intricate, rapid-fire movements. It's astounding to watch; the quickness and precision of the steps are breathtaking. The dance is being performed by members of the Claddagh Dance Company, a Santa Barbara/Ventura school that has produced a number of world champions in the sport. Tonight the troupe is the guest of the Chieftains, the legendary traditional Irish music group whose current tour brought them to the Granada Theatre last month.
The Claddagh Dance Company was started in 1985 by Galway transplant Máire O'Connell, who came to the area in 1978, long before Riverdance and the Celtic Tiger caused a worldwide fascination with all things Irish. Since Claddagh's beginning, O'Connell has trained numerous champions, including Maggie Darlington, a two-time All-Ireland Champion and winner of the 2007 World Irish Dancing Championships, who now dances with Riverdance.
In addition to Darlington, who started dancing with Claddagh school when she was 3-years-old, O'Connell has seen several pupils rise to the rank of champion performers, an achievement that is no easy feat. "I've been doing this for 27 years," O'Connell said, "and we have produced four All-Ireland Champions."
Goleta resident Mia Leonelli is another of the school's upcoming stars. Leonelli joined the Claddagh Dancy Company at 6-years-old and has been practicing more than 20 hours a week for the past 11 years. And the dedication has paid off — Leonelli became an Open Champion by 12 and is now, at age 17, a contender for this year's World Irish Dancing Championships, which takes place in Belfast, Ireland, March 31-April 8.
"Dancing with the feet is one thing, dancing with the heart is another," wrote an unknown author. To watch the Claddagh Dance Company performers is to witness both the skill and heart of Irish dance united.
4•1•1
The Claddagh Dance Company currently offers classes in seven locations, including Santa Barbara. For more information, call 672-0167 or visit claddaghdance.com.