Arts & Entertainment
The Quiet Man Fiddles
Russ Doherty Chronicles His Musical Journey Through Ireland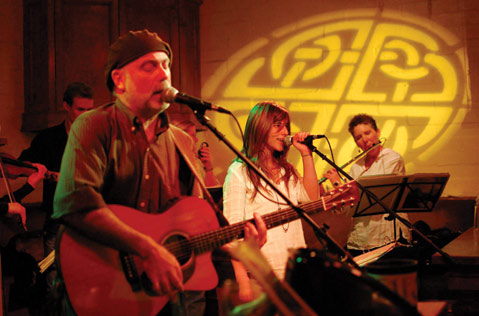 "This music is The Future of the Irish Culture," writes Russ Doherty in The Quiet Man Fiddles. Doherty is the guitarist for the Santa Barbara Irish traditional band Dannsair; in his book, he chronicles his visits to Ireland, where he learns, performs, and is inspired by the traditional music that flows out of the country. In Donegal, Doherty and his daughter Siobhan, a fluter and singer, join in pub sessions and experience that area's style of playing, which is "one of the recognized dialects in traditional music, flamboyant yet flowing, with long phrasing and gentle decorations." The following is an excerpt from chapter 10, "Horse Dancing the Fjords."
The Central Bar, conveniently placed at the corner of Main and not-so-Main, is a very small pub. It's been pointed out to us as "the place to play" this evening. … When we arrive only a couple of musicians are playing: the owner Peter McNelis, on accordion, his daughter Maureen, on fiddle, and a guitar player whose name we didn't get. …
We have to get permission first, so I ask, "Hi, we're visiting from Santa Barbara, California. We were told visiting musicians could join the session here?" My eyebrows raise in the universal question mark.
"You can of course." The dad/owner has spoken. …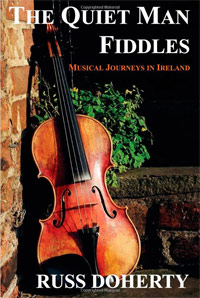 As we start the song a couple come in with a bang. The woman has a knit cap pulled down over her dark hair, a red quilted vest and hiking boots. She certainly doesn't look like she was going out for an evening of fun and music. We are trying to project both grace and professionalism while the woman sits down right next to me, adjusts her stool and clothing, says a few words to the hubby, then pulls out her knitting and starts clicking away on what look to be baby booties. I'm convinced no one is paying the least bit attention to us. After one time through the whole song, the fiddler joins in, playing as beautifully, as lyrically, as Siobhan. The hush settles in over the audience as the violin gives us more volume and thickness. What is it about this song that touches everyone? The fiddler has incredible tone to go along with her big smile and is matching Siobhan note for note.
When we finish the audience goes bonkers: whistles, cat-calls, lots of "Good on ya's." …
Without saying a word, the dad tears into a reel we have, once again, never heard. Siobhan sets her flute in her lap while I try to read the guitar chords from the guy sitting across from me. …
I try another few chords and realize I'm starting to be able to read the DADGAD fingerings and translate them into regular tuning. Then the wildness of Donegal music takes over. The reel becomes a driving force, leaping and plunging, a pulsating rhythm that is relentless. It keeps turning back on itself, sending reminders of the melody to anyone who is listening, but with slightly different memories on each go-round. A sharp melodic line is smoothed out one time, broken into shards at another pass. The jousting of one instrument against the next. The wild hills and weather flows of this afternoon's horseback ride are reflected in the chameleon-like morphing of the tune. It hits me that I'm part of this craziness, something is finally clicking, like a tumbler just fell into place in the lock that was holding my understanding hostage. As the pride creeps back into my brain and I drag my emotions out of the spheres the song ends. Life is good.
4•1•1
Dannsair plays Thursdays, 6:30-8:30 p.m. at Dargan's (18 E. Ortega St.) and Sundays, 6:30-8:30 p.m., at the James Joyce (513 State St.). For more information about the band or the book The Quiet Man Fiddles, call (805) 962-2338, email RussellDoherty@cox.net, or visit dannsair.com.