Briefs
Endangered Species-Themed Condoms to Be Distributed
Earth Day Campaign Raises Awareness of Human Overpopulation's Impact on Wildlife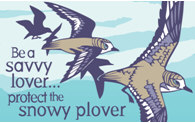 The Center for Biological Diversity will promote protecting animals — and humans — by giving away 100,000 endangered species condoms on Earth Day. The condom packages are a collaborative effort of both the Center and artist Roger Peet.
Each package will depict one of six species particularly affected by human overpopulation, including the western snowy plover, a small bird common to the shores of Santa Barbara. The Fish and Wildlife Service considers Santa Barbara's waterfront to be a critical habitat for the migratory shore bird, which appeared on the federal endangered species list in 1993.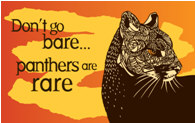 The packages will also feature the Florida panther, the dwarf seahorse, the hellbender salamander, the leatherback turtle, and of course, the infamously imperiled polar bear.
Amy Harwood, the Center's Human Overpopulation organizer, said that the condoms would serve as outreach tools for people to raise awareness of humans' impact on plants and animals.
"The more people we crowd onto our planet, the fewer resources there are for already-endangered species like panthers, sea turtles and snowy plovers," wrote Harwood in a statement. "If we're going to deal with why plants and animals are going extinct at a staggering rate, we have to make human overpopulation part of the conversation."
Harwood believes that these condoms will be the "conversation-starters," as they are "incredibly effective in making the connection between overpopulation and animal extinction."
Volunteers will be handing out the condoms in all 50 states at Earth Day events on April 22. The mass distribution of the contraceptives is part of the Center for Biological Diversity's "7 Billion and Counting" campaign, which identifies human overpopulation as the main cause of environmental ruin.