Announcement
Hospice of Santa Barbara Honors its Volunteers During National Volunteer Appreciation Week
April 15-21 is National Volunteer Appreciation Week. In honor of this, Hospice of Santa Barbara thanked its many volunteers at a recent volunteer recognition party.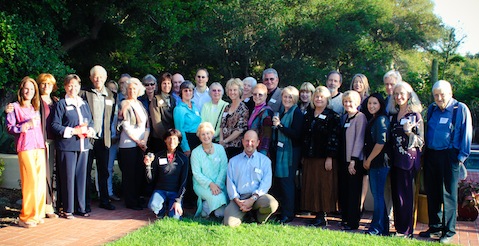 Hospice of Santa Barbara provides volunteer opportunities in the areas of office administration, patient care, and mentorship. Volunteers who work closely with patients are required to complete a comprehensive six week training program and receive ongoing education. To date, Hospice of Santa Barbara has trained nearly 300 volunteers and currently receives the help of nearly 130 volunteers.
"Each one of our volunteers is a compassionate, wise and loving individual," said Dana VanderMey, RN, Program Manager of Volunteer Services for Hospice of Santa Barbara. "We are so very grateful for their service to the children and adults we serve who are facing a life-threatening illness or grieving the death of a loved one."
For more than 35 years, National Volunteer Appreciation Week has celebrated the hard work and dedication of the volunteers who so generously provide their services to worthy causes. This holiday was established in 1974 to urge Americans to give their time and effort to enriching communities and aiding those in need, and since then the amount of people who volunteer has gone up by more than 60 percent.
Hospice of Santa Barbara "volunteers" its free professional counseling and care management services to more than 500 children and adults every month who are experiencing the impact of a life-threatening illness, or grieving the death of a loved one. For more information about Hospice of Santa Barbara, including volunteer opportunities, call (805) 563-8820 or visit www.hospiceofsantabarbara.org.