Arts & Entertainment
KCSB Celebrates 50 Years on the Air
Five Decades of Hosts, Techs, Programmers Reunite at UCSB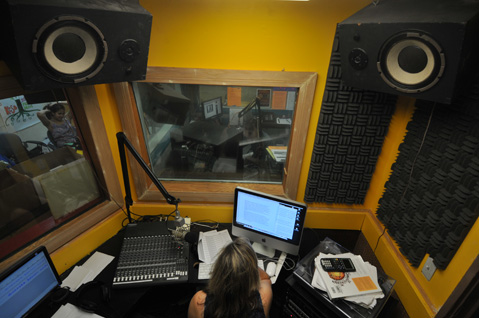 To the outside world, the staff of UCSB's extremely eclectic radio station seems a tad obsessed with memorializing their 50th anniversary. On the inside, however, the whole motley crew is far more focused on the future. Last week, gathered in one of their quarterly über-meetings for retraining and selecting a new general manager, about 100 staff, disc jockeys, news people, engineers, programmers, and names we know but rarely see — like Dick (Culture of Protest) Flacks and Pat (The Black Nag) Cardenas — ordered some pizza and made the vote. In front stood Michael Kenney, a third-year student and KCSB's current music director, who was running unopposed in his bid for GM, though he still needed to garner staff approval. His pitch, delivered in a confident, knowing tone, extolled the virtues of moving past all this year's salubrious congratulation. "We don't have a 50 year anniversary very often," he quipped. But turning the collective eye inward, he insisted, was what was needed to succeed at "providing a 24/7 event 365 days a year." Still, the crux of Kenney's speech was neither technical prowess nor even future media-mogul ambitiousness. "I love being at this place and always have," he said. "It gave me a place to belong, with people who were accepting. It gave me a loving community." He also promised to burnish KCSB's public image. "This isn't just a student station," said Kenney, who moments later won the staff vote — unanimously.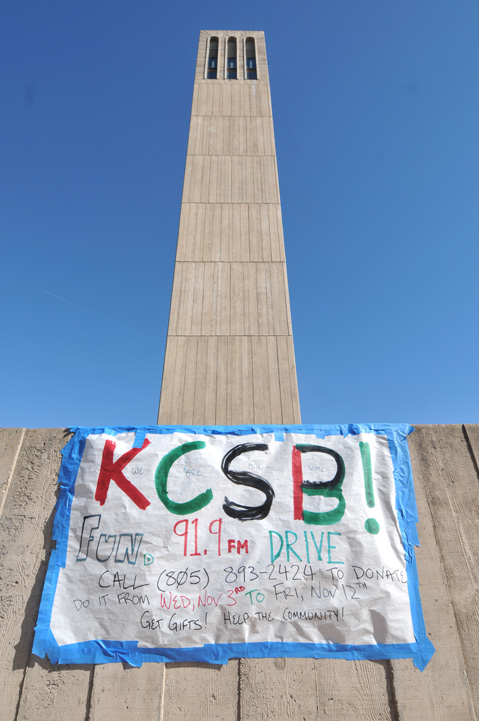 It's a telling moment because KCSB, of all the surviving media in this town, best preserves that dewy-eyed ideal of advancing alternative media that characterized the 1970s. (Think Marshall McLuhan meets the New Frontier.) "KCSB's more than just radio," said Ted Coe, on-air personality as well as the station's staff development coordinator, chatting outside his creatively cluttered office directly beneath Storke Tower. "We're multimedia — doing radio, Internet, movies, concerts. It's the future of all media I think," said Coe, who has helped extend the station's reach through a film series, forums, on-air historical programming, and an ambitious two-day reunion of station alumni on the weekend of April 27, which will bring together five decades of former jocks, programmers, and techs.
"It was the first UC station and back when it started, when FM first became ascendant," explained Elizabeth Robinson, associate director for media and, in effect, KCSB's resident head honcho. The idea first arose when a gaggle of UCSB electrical engineering students realized they could do it. The station moved around for a bit, finally settling in the semi-underground bunker it inhabits beneath Storke Tower, next door to the Daily Nexus's offices. It also evolved from a classical-only station to pop, rock, and folk, with an emphasis on news and public-service programming. KCSB combined education and underground music as easily as beatniks mixed bongos with poetry.
News dominates most staff narratives about KCSB — most notably, the station's coverage of the Isla Vista riots. It broadcast William Kunstler's Harder Stadium speech but drew draconian censorship from the Santa Barbara Sheriff's Department, Robinson and Coe believe, because newscasters were offering cop-avoidance sympathy to protesters. Robinson is equally proud of KCSB's coverage of the Diablo Canyon nuclear reactor protests in the 1980s, as well as the station's early coverage of the HIV/AIDS outbreak, furnished by longtime KCSB contributor Corey Dubin.
Not all of its controversies pointed left, though. The infamous Vox of Fox, Sean Hannity, loaned the station a negative cause célèbre. "It was the heyday of the shock jocks," explained Robinson, "and the students thought they might want to have one." Hannity, an untutored outspoken housepainter (and not a UCSB student) came aboard, initially adding some zazz, which quickly declined to blockheaded levels of homophobic discourse. Accordingly, other staffers wanted him removed. He fought back, though, and the court case was painful. In the meantime, other talents flourished, including noted commentator Jim Rome, who got his start at KCSB. Edie Lambert, Monica Lopez, and Harvey Levin also debuted under Storke Tower. But it wasn't just the jocks who thrived: Tom Ball met Kenny Sultan playing live on Greg Drust's beloved radio show. And bands, bards, and hip-hop talent too numerous to mention graced the airwaves live in studio.
Having a reunion for a radio station might seem slippery work. More ephemeral than newsprint, radio waves impact us in odd moments — often while driving. Coe is proud of his regular show, replaying history from taped archives. Robinson, the cohost of the long-running Third World News Review, agrees that radio joys are transient, but she applauds the efforts. "What we're trying to do is capture what is unique about us," she said of this weekend's reunion.
And that might not be music, news, or public education. Consider State Assemblymember Das Williams, a one-time KCSB jockey raised by father Malcolm Gault-Williams, who helped create the station's identity, on air and off. "It's public awareness," said Coe. "That's what we maintain. Radio is community. When I go to a party and I meet somebody and they say, 'Oh, hey, I listen to your show all the time,' that's what's great about it all."
4•1•1
For information about KCSB 91.9 FM, including this weekend's 50th anniversary reunion, call (805) 893-3757 or visit kcsb.org.