Columns
Town and Gown Together
If Only
With all the expertise and brain power available at UCSB, you would think the nearby area would be a mecca for learning, thought, and environmentalism. That, however, is not Isla Vista's claim to fame.
As the weather gets warmer, the parties heat up. Students set up kegs on their front lawns, and everybody gets ready to celebrate. The emphasis in the community is not on making the world a better place or solving environmental issues; there is not a lot of thinking going on at all.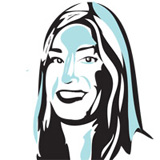 But maybe there should be a little more of that. There was a recent TEDx talk at UCSB that brought together a group of some of the best and most creative thinkers in our communities to talk about their areas of expertise.
Victor Rios, UCSB sociology professor, talked about how to help teens overcome adversity. Ken Hiltner, English professor, discussed the future of books as everything goes digital. And Walter Kohn, Nobel Prize winning professor of physics, who does research on renewable energy, macular degeneration, and much more, shared his ideas. These are just a few of the speakers this event had to offer.
With these types of forward thinkers in such close proximity to Isla Vista, you would think that great things would occur, but there seems to be in invisible wall between UCSB and I.V., where most of the university's students live.
There's no time like the present to figure out a way to better use the resources at UCSB, particularly the knowledge base, to tackle some of the issues that plague I.V. Trash, parking, noise, and crime are constant problems.
In fact, Seetha Raghupathy, an urban planner and a former designer-in-residence at UCSB, focused on the unique challenges found in I.V. She and Kim Yasuda, professor of spatial studies in the Art Department, talked about the place of the university in a shrinking world.
Raghupathy identified a key issue: I.V. is an unincorporated area governed by a variety of entities. For example, if you want to request that a tree be removed along the trails near the beach, you might have to contact the Isla Vista Recreation and Park District (IVRPD), Santa Barbara County, and UCSB before you figure out which one is responsible. The issue of responsibility causes problems in I.V. over and over again. There are public policy experts at UCSB who might be able to provide guidance on ways to improve the main challenges I.V. faces by creating collaborative efforts.
In addition, I.V. could become a laboratory for renewable energy enterprises and environmental husbandry. Perhaps professors in the Environmental Studies Department could conduct an experiment to see how a community's views on trash could be changed. Since garbage cans are routinely knocked over and no one bothers to pick the refuse up, the wetlands are constantly polluted with I.V. trash.
Even though I.V. is a transient population, regular contact with academics interested in improving the area would create a feeling of responsibility. If students felt that they were part of something progressive, they might treat their community with more respect. Students arriving in I.V. might look around and appreciate the beauty of the area and feel lucky to get the chance to make a difference.