Theater
Greg Fitzsimmons Brings Laughs to Plaza Playhouse Theatre
Writer and Comic Takes His A.D.D.-Friendly Show on the Road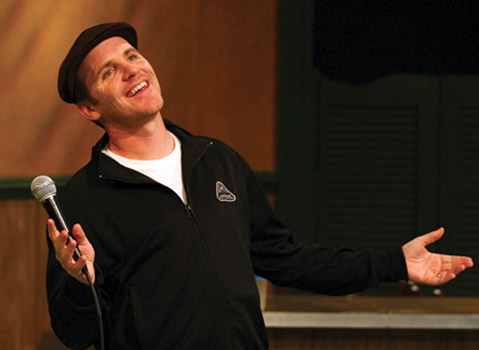 Do you have difficulty concentrating? Is your attention span getting in the way of true laughter? Put away those prescription drugs: Greg Fitzsimmons may be all the medicine you need. The comic-cum-writer will be stopping by the Plaza Playhouse Theatre in Carpinteria this Friday for a night of his self-described ADD-friendly standup, which has been lauded by entertainment high-ups from Conan O'Brien and David Letterman to Jay Leno and Howard Stern. The show is part of a string of gigs booked by the native New Yorker in anticipation of a one-hour special that he will record in July, and though he is no stranger to the stage, he has his misgivings about the big date: "I've never done the same set twice in my life, which is why I'm a little bit daunted by this one hour special," Fitzsimmons imparted over the phone. "So I need to study for the test, basically, and get myself to stop just playing games with the audience."
What kind of games, you ask? "I play 'Guess the Asian' where I walk in and guess the ethnicity of the Asian people in the crowd… I'm about 93% on that one and about 98% on 'Guess the Bra Size.' It's a gift; some people paint, some people are architects, I guess Asian women's ethnicities." But Fitzsimmons's talents extend beyond his preternatural ability to toy with his audience. After first discovering his funny bone at an open mic night in college, he got into television writing with the help of Louis C.K., a like-minded comic with whom he developed a friendship when they were coming up in the Boston scene. Since then, Fitzsimmons has lent his pen to such television shows as C.K.'s Lucky Louie, Bill Maher's Politically Incorrect, The Man Show, Cedric the Entertainer Presents, and The Ellen DeGeneres Show, for which he won four Daytime Emmys for writing and producing. He is also a frequent panelist on Chelsea Lately and VH1's Best Week Ever, and in 2011 he published Dear Mrs. Fitzsimmons, an epistolary book that tells the story of his Irish-American upbringing through a series of disciplinary letters, incident reports, and newspaper clippings.
Lately, Fitzsimmons has been exploring the digital realm as a means to streamline his thought process. Each week he produces two podcasts for his Fitzdog Radio series, hosts his own talk show on Howard Stern's satellite radio channel, and fiddles relentlessly with Twitter in between, all while playing weekly gigs at venues around the country. Perhaps unsurprisingly, Fitzsimmons describes his standup act like one of his many Tweets: "[It's] bursts of 45-second focus, followed by daydreaming and self-delusion."
Though he may be quick to downplay his own incisive wit, Fitzsimmons is never one to shy away from experimentation, and his performance at the Plaza Playhouse will be no exception. Originally called the Alcazar, the old theater has changed names numerous times since it was established in 1928, most recently at the turn of the decade when it was renamed under new private ownership. Now the venue is making a concerted effort to return to its status as centerpiece of Carpinteria's arts scene, and Fitzsimmons is down for the cause. "I hope it turns into the kind of room where once a month, or however often, we can start doing comedy shows up there. The key is coming out and supporting it and letting it turn into something that's a good community event that we can do regularly." If anyone can bait an audience into coming back for more, it is surely this man, so if you find your thoughts wandering on Friday, follow them out to the Plaza Playhouse Theater for a satisfying night of comedy.
4•1•1
Greg Fitzsimmons performs stand-up at the Plaza Playhouse Theater (4916 Carpinteria Ave.) on Friday, May 25 at 8 p.m. Call 684-6380 or visit plazatheatercarpinteria.com.