Sports
Honors Bestowed
Santa Barbara Athletes Awarded for Achievements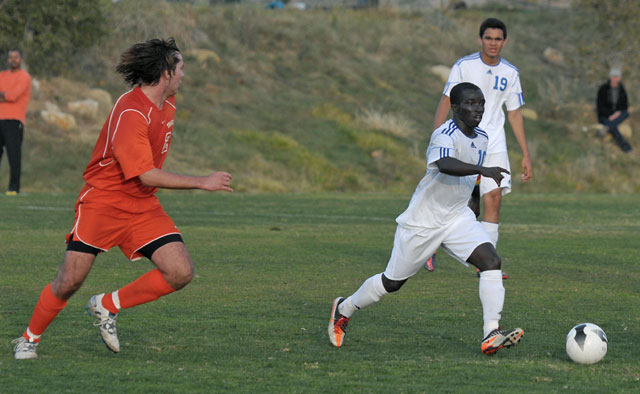 'Tis the season to be serious. It's the time of year when awards, honors, and diplomas pile up like presents under a Christmas tree, representing the achievements of the recipients and also the challenges facing them in the future.
Cate School's Ema Boateng received the supreme honor among this community's sports figures. He was named the 2011-12 Gatorade National Boys Soccer Player of the Year. Boateng was in a science class when former national team star Alexi Lalas walked in and presented him with the trophy that proclaimed him the best of 400,000 boys playing prep soccer.
It's a good thing Boateng did not skip class that day — not that he ever has. A junior at Cate — only the second non-senior to receive the Gatorade soccer award in 27 years — he has been doing extra academic work to fulfill NCAA and UC requirements so that he can enter UCSB as a freshman this fall and play for the Gauchos.
David Mochel, coach of Cate's two-time CIF champion soccer teams, said the national award has not inflated Boateng's head. The native of Ghana has made the most of the opportunities that have come his way in Carpinteria. "He's pleased, but he's the usual Ema," Mochel said. "He's a hunker-down and look-ahead kind of guy. He wants to be an impact player at UCSB."
There will be more honors to achieve at the university. Among the most distinguished are the Golden Eagle Awards, which are given to the Gaucho athletes who achieve the highest grade-point averages (GPA) in each sport. For three straight years, Machael David has won the Golden Eagle for men's soccer. His story never fails to astound. When he came to America at age 17, he had no money, no family, and no command of English — just a dream to play soccer here. "Now he speaks four languages," UCSB coach Tim Vom Steeg said at this month's banquet, "and you hear all four at once when he gets excited." David, a sociology major, said his vision has become clear during his college years. Pondering the dismal fate of a friend he left behind in Nigeria, David announced, "My goal isn't soccer anymore. It's to get my degree and go back to help my country."
Peter Jordano, who began sponsoring the Golden Eagles 25 years ago, presented rings to two Gaucho basketball players who had the highest GPAs of all the athletes — Kirsten Tilleman, a graduate student in environmental studies; and Kyle Boswell, a sophomore majoring in mechanical engineering. They both stood out on the court, too. Tilleman was the women's MVP of the Big West Tournament, and Boswell a three-point sharpshooter.
There was more emphasis on the total student-athlete last week at the 45th annual Santa Barbara Athletic Round Table Hall of Fame Banquet. Nine teams from Dos Pueblos, San Marcos, and Santa Barbara high schools were CIF academic champions in 2011-12. Many of the students, like Boateng (who received the Round Table's athlete of the year award), are heading off to prestigious colleges.
Among all the worthy honorees, one person received a standing ovation — Kirsten Moore, the College Coach of the Year. Moore coached the Westmont women's basketball team to its greatest season, a 31-4 record, and an appearance in the NAIA Elite Eight. On May 9, just weeks after that high, she received a devastating setback. Her husband and biggest fan, Westmont professor Alex Moore, died of complications from surgery. Four hundred banquet attendees stood and poured their hearts out to the coach as she stepped up to receive her award.
Three days later in the rotunda at Fess Parker's DoubleTree Resort — the same facility that hosted the Round Table banquet — another heart-wrenching event took place. The family, teachers, coaches, and friends of Samantha "Sam" Wopat remembered the brilliant student and volleyball player, who was a Stanford sophomore when she died on March 25. Several eloquent speakers alluded to the mystery of human life in all its beauty, its frailties, and its complexities.
Sam Wopat, who was a poet as much as an athlete, pondered such things, according to Stanford professor Andrew Todhunter. "She sought answers to questions of self, meaning, and existence." As spectacular as she could be in her endeavors, her Dos Pueblos coach Dwayne Hauschild reminded the audience that she was one of them. "There are no superheroes," he said.
Sam's twin sister, Carly, quoted a song by Bon Iver, "And all at once I knew I was not magnificent." Without her sister physically beside her, she said, "All I can do is stand up, take a deep breath, and rebuild."
It was noted that Sam's Hawaiian middle name, Alohilani, means "guiding light from heaven." Kathy Wopat said her daughter once tried skydiving and was "so fearless falling to the earth." Now, she said, "She fell away from earth to the heavens."