Film & TV
S.B. Screenwriter Pens Mexican Historical Epic
Michael Love Talks About the Process and Implications of For Greater Glory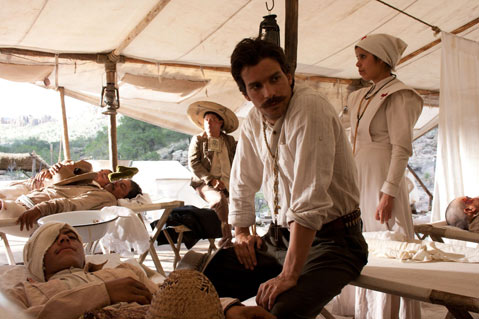 As our friends at the Santa Barbara International Film Festival like to put it, "It starts with the script." But sometimes, it can go in unexpected directions after said script is finished. Not that S.B. screenwriter Michael Love is complaining. "Hey, the movie got made. Nowadays that's a big deal," said Love. What was strange was the way it got made. Love adapted the script For Greater Glory, about Mexico's almost-unknown La Cristiada, or Cristero War, from a book that Mexican film producers presented to him. As usual, after a first draft, the producers gave him rewrite notes, which he duly accomplished.
"I delivered the script, and then all communications ceased," he explained. "Then suddenly I saw a notice about it in the paper. What do you know, Andy Garcia is in it and Peter O'Toole is in it, too? Wow."
Love (not the Beach Boy) makes scripts that sell in Mexico partly because he lived there until he was 17. His father, an American businessman who moved the family around, still lives in Mexico City. It was Love's real home.
"The funny thing is I used to hitchhike all over Mexico," said Love. "And nothing ever seemed weird. What seemed weird was coming here. The first time I went into a supermarket and saw the outrageous array of cereal — that was hard to deal with," he laughed.
Love's Mexican upbringing was conducive to a life in the movies, too. He came up at the same time as a number of future luminaries like Alfonso Cuarón and Guillermo del Toro, as well as Luis Mandoki, who directed Love's first big script success, Gaby: A True Story, the 1987 movie starring Liv Ullmann. He came to Santa Barbara partly because his sister lived at Sunburst Farm (which he remembers as a blissful Arcadian world at the time) but also, of course, to snuggle closer to Hollywood to find work. Since moving here, Love has written a number of scripts made and unmade and directed the documentary Much Ado About W: Art Wars of Santa Barbara, an investigation of the quarrel McDonald's restaurant had with a controversial State Street art installation in the early 2000s. Though it's a bit removed from The Biz up on Highway 154, where Love lives, this is how he prefers it. "I think it's very important to write in a beautiful place," he said.
The script assignment For Greater Glory came to him after he wrote a Mexican film titled La leyenda del tesoro, and Love was intrigued by the prospect of writing about a Mexican uprising from the early 1900s that virtually no one remembers.
"I grew up and went to school in Mexico, and I never heard of it," he said. A response to radical secularization of the country after Mexico's revolution, the Cristero War killed thousands, including priests, women, and children. It also contains a history rich in hypocritical ironies that stretch from Mexico City to the Vatican, and took a self-interested U.S. government's interventions to end. It was perfect grist for a writer's mill — action and complex motivations. Still, the filmmakers couldn't avoid certain agendas. Conservative Catholic organization Knights of Columbus "coughed up" 10 percent of the $12-million budget, as Love put it.
Thus far, reviews have not been all favorable, which Love acknowledges openly. Yet he is pleased with the film, especially the wealth of acting talent it drew. It's doing well in audience surveys, and theaters report big houses that include Mexican-American families. It's a beginning point for a once closed conversation. "I'm happy about that. That's what you do it for," said Love.