Cover Story
SBCC Parolee Class Wins Award
Transition Course Helps Ex-Cons Get Through College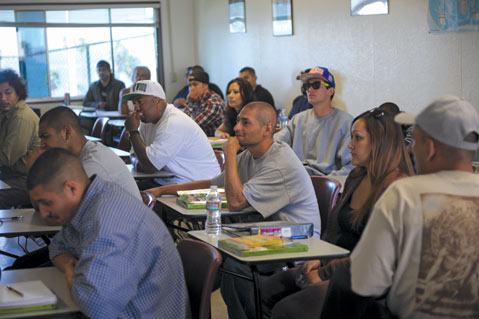 The math is simple. To keep one person in a California prison for a year, it costs on average $50,000. On the other hand, to educate a California student for a year at a community college, it only costs $5,000. It doesn't take a Warren Buffet to quickly realize that it is less expensive for California to educate its citizens rather than imprison them. As Christina Kelly, an ex-con studying to be a social worker, told me, "We're a cheap date compared to being incarcerated."
Prisons are so overcrowded that the state Supreme Court has ordered nonviolent offenders to be housed in county jails, and county jails, such as the one in Santa Barbara, are already overflowing. According to the most recent figures, there were 162,821 people in state prisons and 104,782 parolees in California. More than half of those prison admissions were a result of parole violations. And the latest statistics indicate that 65 percent of California's parolees return to prison within three years.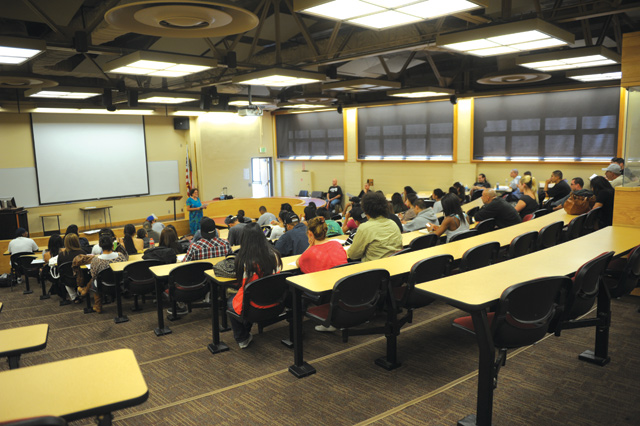 For the past four years, SBCC has been conducting one small class with the goal of breaking that cycle. It's called Transitions, and it enrolls about 25 parolees for a six-week course with two primary objectives. The first is to teach students basic skills: how to operate a computer, how to manage time, how to take notes, how to study for an exam. The second is to make them feel like they belong in an academic environment. With an 85-percent persistence rate ​— ​meaning that 85 percent of those who finish the class go on to enroll at SBCC ​— ​many consider it to be a successful program. And, in fact, Transitions alumni are just beginning to get their associate degrees from the college. In the meantime, the statewide community college system (CCC) has recognized this innovative program and, in a few days, will present it with the John W. Rice Diversity and Equity Award, named after the former CCC trustee and father of former secretary of state Condoleezza Rice.
Transitions students meet in a two-hour class Monday-Thursday with field trips on Fridays to places like the UCSB ropes course, Homeboy Industries in L.A., and the S.B. Museum of Art. On the first day of class, the instructor, Noel Gómez, explains to the students that it's hard enough for people with advanced degrees to find a job in this economy, let alone someone with a criminal record. So it is his goal to start them on a path that will lead to a trade or profession. Of course, the class is not an unmitigated success story ​— ​Lanie Tyrone Richardson, who took the course three years ago, was recently charged with second-degree murder for a disastrous and allegedly alcohol-fueled car-surfing stunt. However, for those students who buy into the program, the results are undeniable. And as Transitions alum and current peer advisor (a sort of teacher's aide) Larry Davison told me, "Everybody expects us to fail. If one life has changed, this class has succeeded." Certainly more than one life has changed, and these are some of the faces behind that success:
The Founder
When I first arranged to meet two-striker Martin Leyva at a State Street coffee shop, he had told me to look for a short guy with tattoos on his head. Indeed, two eagles in profile are inked over each of his temples, and across his neck, among other tattoos, is written in Arabic "unforgiven bastard." Needless to say, it wasn't hard to find him patiently waiting for me, reading a scholarly book on racial profiling.
Leyva founded Transitions as a support group when he was released from a three-year robbery sentence in 2008. Born and raised in Santa Barbara and a drug user since youth who learned to shoot up from his uncle, he enrolled at SBCC immediately after leaving prison. Incidentally, one catalyst for helping him decide to stay clean and out of trouble was the death of Luis Angel Linares, a 15-year-old killed on State Street in 2007. Leyva read about it in an article his mother sent to him shortly before his release. In Santa Barbara, the shocking murder rekindled the city authorities' concern about gangs, which has led to ramped-up law enforcement, but for Leyva, it motivated him to change his life.
"I loved learning," he said while discussing his first semester in college, "but one of my biggest problems was my inability to connect with people." Although rich with ideas, he would seldom raise his hand in class and didn't want to ask for help. When he began to notice faces that he had seen in his parole office walking around campus, he suggested to Marsha Wright, the director of Extended Opportunity Programs and Services (EOPS), that he start a support group for parolees. Out of that informal group grew the summer Transitions class. "If she had said no, I probably would have dropped the idea," said Leyva, "but all I heard was yes."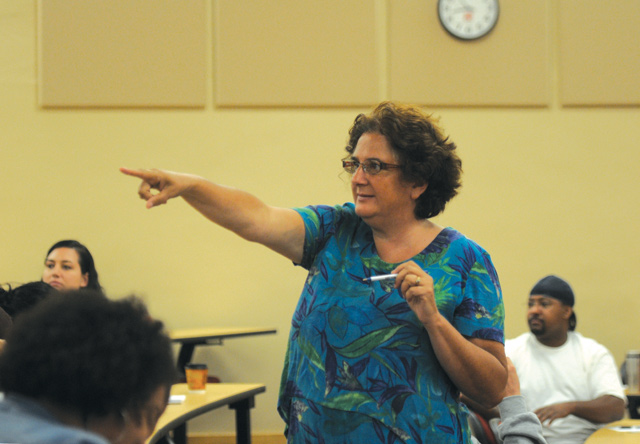 Wright runs EOPS like an extended family, offering support to students who have never before been encouraged to achieve scholastically. For many students who come through EOPS, being on a college campus may well be like waking up in France. Wright discovered that when she told students she expected them to have report cards she would want to hang on her refrigerator, she had to explain to them what that meant. Having the added resources of EOPS ​— ​including counseling, tutoring, advising, and a computer lab ​— ​and classes like Transitions that familiarize students with those resources ​— ​makes all the difference.
It certainly did for Leyva, who graduated from SBCC and is studying for a BA at Antioch University and working as a counselor at the Daniel Bryant Youth and Family Center. He has decided to pursue a career in convict criminology, a subdiscipline in the field of criminology formed by ex-cons who have gone on to earn doctorates. These scholars bring to life the statistics generated by social scientists who have no experience in the criminal world. Leyva has already copublished an article in an academic journal, Western Criminology Review, in which he explains, "The literature on corrections often fails to convey the total degradation and abuse one feels while incarcerated. This is perhaps because few criminologists have set foot in a prison."
One of Leyva's central arguments is that the "correctional system" duplicated the dehumanization he faced at the hands of an abusive stepfather as a young child. "Prisons are not the solution to crime, but rather they are a crime," Leyva wrote in the article that graphically depicts his treatment at the hands of guards. "Transitions isn't a program to me," he said. "It's a social-justice movement that addresses recidivism, prison, poverty, addiction. It's a movement that instills self-worth and -esteem and validates an individual and brings the humanness out of the person who knows what living in a struggle is all about."
The Teacher
Noel Gómez tells his Transitions students that he wants them to be "supreme beings." Now in his fourth year as the course's instructor, Gómez graduated from UCSB in 2005 before completing a master's degree in education at Harvard. He went there to study art education but quickly became engrossed in learning about the "schools-to-prison pipeline," in which children from certain socioeconomic and racial backgrounds, instead of being motivated by their teachers, are continually punished by them and prepared for a life of incarceration.
When Gómez took over the Transitions course three years ago at age 25, he was the youngest instructor at SBCC. Much of his success at connecting to parolees is attributed to his autobiography, which is burnished as smooth as a river stone. He grew up poor with a single mother in the Boyle Heights neighborhood of Los Angeles populated by 150 gangs, all of which Gómez somehow avoided joining. He attributes the turning point in his life to an experience that sounds like it came out of a vision quest. When he was in high school, he went to shoot hoops in a park near his house one day. Because there had been a gang shooting earlier, the park was empty save for himself and a mysterious man who had just been released from prison. The ex-con told the boy his key out of the 'hood would be an education, a message Gómez took to heart.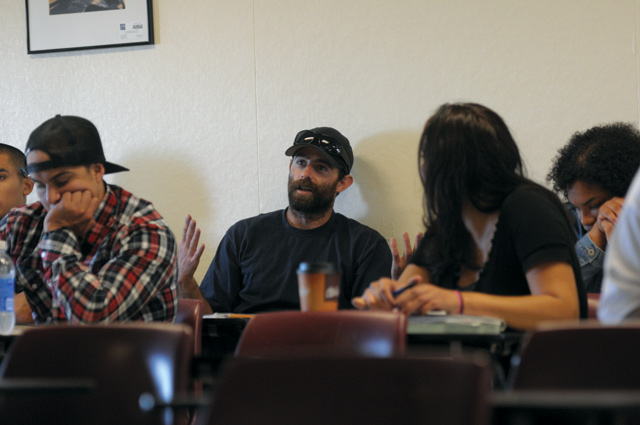 That Gómez shares a similar upbringing to many of his students may initially buy him their attention. But not all of his students are young Latino males. Christine Kelly, the first Transitions alum to graduate SBCC, is a 50-year-old white woman who used to sing in the local hair band First Strike. She said, "Noel can be a homie, and he can be an instructor." And though she is correct, I think the description that godfather of Latin rap Mellow Man Ace ​— ​who comes up from L.A. every summer to speak to the Transitions class ​— ​told me recently sums up his character: "Noel is caring, is humble, is magnetic, and yet is reserved. He is a person who goes about what he does not expecting applause, and that's to be commended. He does it because he loves it, and you can tell he has genuine passion for what he does." After watching Gómez teach, I agree.
Saul Serrano, the coordinator of the South Coast Task Force on Youth Gangs, called Gómez a "quiet leader." In the classroom, he sets firm expectations but speaks to his students with colloquial language, comes across as extremely unassuming, and makes his students feel welcome. One of his current students who wants to become an auto mechanic said during a recent class discussion about personality types that he didn't even know why he was participating so much. "At work, I never talk to anyone. They all probably think I'm an asshole."
In the setting of the Transitions class, though, everybody knows their peers have encountered similar challenges, and it helps them to open up in a way they may not in another classroom. They also feel that Gómez is truly their cheerleader. As he explained, "When you put someone in an environment where there's a lot of positivity, the chances of backsliding are slim."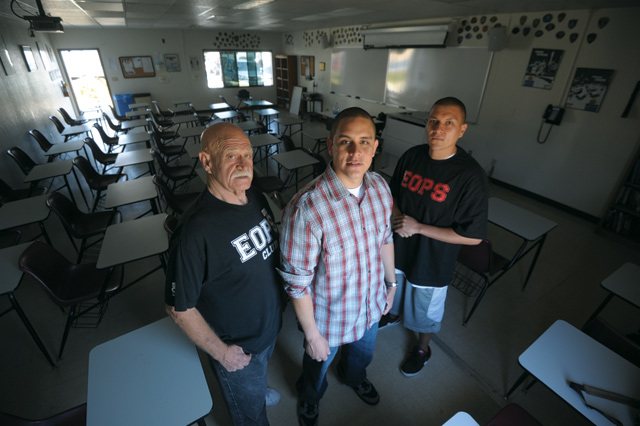 The Elder Statesman
Larry Davison, 64, understands the pride that keeps ex-cons from accepting support. A peer advisor, he told the Transitions students on the first day of class this year that he'd stolen more computers than he'd used when he enrolled in the course himself.
Davison's life of crime began early. In kindergarten, when he was talking too much, his teacher put tape over his mouth, and he reacted by punching her in the face. When he was 13 and living in South Philly, he was jumped by three guys and, in self-defense, stabbed two of them, one — who later died — 17 times. By that time, he had already started drinking and using drugs. He went to juvie for the deed, and when he was 16, his parents ​— ​including a gangster father ​— ​lit out for L.A. to keep their kid from going back to reform school.
An outsized character who is so expressive that the bulbous furrows in his brow jump off his forehead in cartoon-like fashion, Davison unsurprisingly said his favorite drug was "cocaine by the mountains." And he openly admits that the thrill he gets from succeeding at SBCC, where he is enrolled in the Alcohol and Drug Counseling Program, replaces his chemical dependency. Even greater is the "pump" he gets from helping fellow students. He likes to retell the story of a young woman who came to him for counseling at the EOPS office. She was 18 and had just found out she was pregnant. It still baffles Davison that she would choose to confide in him, but, he said, before she left the counseling session in better spirits, he made her raise her right hand and swear to be the best mother and student she could be. "Did she make a mistake?" Davison asked me before answering his own question. "Probably. But I've made mistakes, too."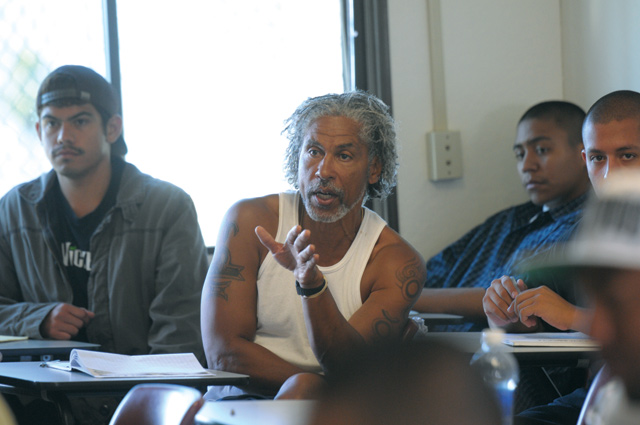 Davison wrote an eloquent testimonial in support of the Transitions application for the Rice award. But he offered a much more succinct praise of the class when he spoke to me: "The Transitions class saved my ass." At his age, he doesn't expect to ever make a lot of money. But when he finishes the Drug and Alcohol Counseling Program, he said, he hopes he might be able to save somebody else's ass.
The Acolyte
The last time Elson Tapia's photo graced the pages of The Santa Barbara Independent, it was in the form of a mug shot. Swept up in the joint local/federal law-enforcement action code-named Operation Gator Roll, which resulted in nearly 60 arrests, Tapia avoided federal charges but was convicted of earlier selling cocaine and spent about three years in jail and prison.
As he explains it, if he had grown up around investment bankers, he would have probably excelled at banking. But where he grew up, "slinging" (selling drugs) was a much more popular profession, and he succeeded at it. By age 25, Tapia was rolling large ​— ​literally, at 300 pounds ​— ​and spending lavishly. He said he had started selling drugs because he had wanted to help his parents, who worked so hard, but they refused any help from him except the occasional bag of groceries.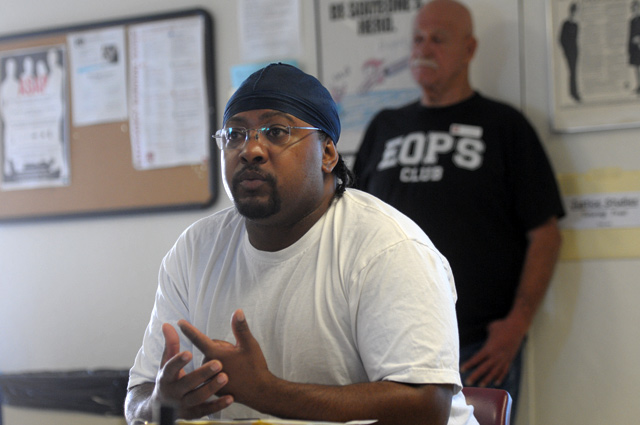 Tapia, now 110 pounds lighter, is living a much more modest lifestyle, attending Santa Barbara City College, and working as a peer advisor at the EOPS office. Even when he's off the clock, Tapia spends all his time at EOPS. Despite a torn knee ligament last spring, he sneaked off from bed rest to come to the office to speak to a group of boys from Los Prietos Boys Camp for juvenile offenders. And on July 9, he will be part of the delegation going to Sacramento to accept the Rice award.
Despite his recent success, it's been a struggle for Tapia. The biggest hurdle was his pride. There's no room for vulnerability on the street, and definitely none in prison. Before he was locked up, Tapia actually enrolled at SBCC a few times but never stuck with it. Like other Transitions students, Tapia did not want to ask for help. He didn't want any tutors. He didn't feel like he fit in. And, he candidly admits, he didn't know how to conduct a friendship. When people are nice to you on the street, it's usually because they have an angle. Parolees entering college for the first time are not always used to letting down their guard or to having the experience of someone wanting to know them just because they enjoy their company.
However, Annette Cordero, a member of the English Skills faculty (and Santa Barbara school board trustee) who has twice been his teacher, said, "In class, he very courageously shares his background to the benefit of the other students." She also explained that when she has students with histories like Tapia's, they all want to change but not all of them understand how much work it takes. He does. For instance, she said, when he came to her to discuss his thesis statement on an essay, he had spent the previous night studying up on what makes a good argument.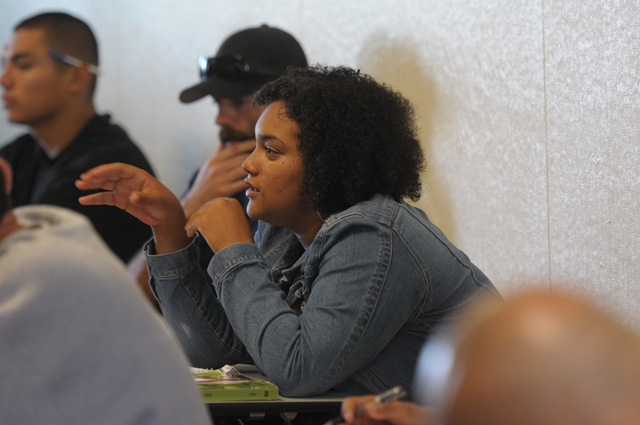 When I spoke to Tapia, his thirst for education was convincing. And his excitement about the opportunities afforded him at City College is infectious. When he finished his last class with Cordero, she gave him a book of short stories by Jimmy Santiago Baca, the ex-con poet and fiction writer. "I just want to read one line at a time," Tapia said. "I want to soak it all in." He is planning to write a guidebook for parolees returning to school and, with his friend Mauricio Isaac ​— ​also a Transitions alum ​— ​is raising funds to study abroad in Italy next spring. "I felt like I was waiting and waiting until somebody showed me the way."