Arts & Entertainment
DIY of the Week: Make Smith Belt-Making Workshop
S.B. Leathersmith Opens His Workspace to the Masses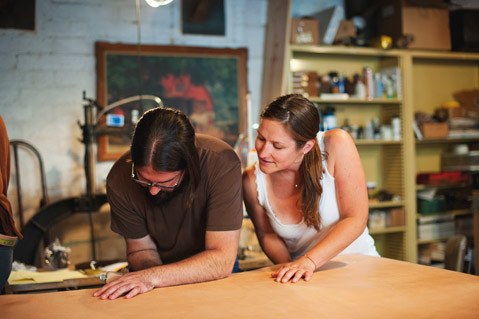 Tucked neatly behind Elsie's Tavern and shrouded by two of downtown's more posh apartment complexes stands the unsuspecting bungalow that houses Make Smith. Owned and operated by S.B. leathersmith Steven Soria, the workspace-cum-storefront is mostly unmarked, save three small logo-adorned prayer flags that hang above the threshold. Step inside the bungalow's sliding door, though, and you'll find a space that is bustling with activity, indicative of a craftsperson at work.
In the months since he left his space at Goleta's Cannon Studios, Soria has been working to make the new Make Smith his full-time production shop and design space, housing everything from workbenches and cutting tables to one stunning and swoon-worthy antique sewing machine. Among all the tools, though, the space feels oddly like home, complete with faux fireplace, vintage artwork, and an invitingly low-lit atmosphere.
During the week, Soria spends his hours designing and creating custom leather pieces and running Make Smith's modest storefront, which boasts everything from wallets and key chains to belts, purses, and moccasins. In recent months Soria's also transformed his new space into a classroom of sorts, offering workshops for all (ages 18 or older, of course) who want to try their hand at belt making.
This week marks the second round of Make Smith workshops (they run through Satruday), with more slated for next month, August 15-18. The small, five-person class runs approximately three hours, from 6:30-9:30 p.m., and for $50, attendees will measure, cut, dye, and detail their own leather belt, which is ready to wear before they're even out the door. "I've always thought it was fun to work side by side with people and share ideas," explained Soria of the concept. "It's fun to share a set of skills with someone to see what they come up with."
During the workshop I attended, we learned how (and where) to cut a hide, how to trim, shave, and clean a piece of leather, and — for the adventurous — how to mess with leather dyes. We also got to go home with something that we made from scratch — and they all looked pretty damn professional, thank you very much.
To learn more about future workshops, or to check out Make Smith's product list, call 699-6296 or visit makesmith.com/journal.