Arts & Entertainment
Chris Robinson Gets Back to Basics with New Band
The Chris Robinson Brotherhood Returns to Santa Barbara on July 20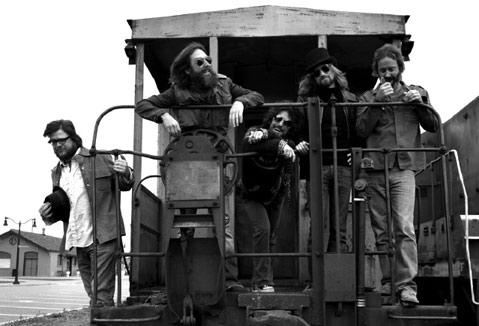 Last year, following the end of a 20-year run with seminal psych-rock act the Black Crowes, frontman Chris Robinson set out to start something new. Together with Crowes keyboardist Adam MacDougall, guitarist (and Ventura dweller) Neal Casal, bassist Mark Dutton, and drummer George Sluppick, he took to the road, furiously gigging up and down the West Coast in an attempt to find his groove. And groove he did. Under the name the Chris Robinson Brotherhood, the fivesome trekked through California, stopping in Santa Barbara multiple times as part of a two-month-long residency at SOhO Restaurant & Music Club.
"I think, out of all those Southern California shows that we did during the residencies, we really grew leaps and bounds during every Santa Barbara show," Robinson recalled via phone from Aspen, Colorado. "They just turned into these massive house parties."
Rather than jumping straight into the studio, Robinson took the residencies as a necessary means to an end. The band spent a full year road-testing their otherwordly mix of psych, blues, and folk. It wasn't until a four-night stint at San Francisco's Great American Music Hall last December that they finally decided to give the whole recording thing a go.
"There's the conventional wisdom, of which I have none, where you get a record deal, you get a publicist, you get a campaign, and you do the tour, but none of that adds up to things like nuance and subtlety and dynamic," Robinson explained. "Musicians playing together, it's a conversation, and ideally I want our conversation to be really intriguing and interesting and beautiful."
Last month, the band released their first album, a sprawling seven-song collection titled Big Moon Ritual. Recorded in L.A.'s Sunset Sound studio alongside producer Thom Monahan, the record is a testament to the Brotherhood's live sets, filled with expansive, organic progressions, intricate and expressive musicianship, and Robinson's unmistakably soulful croon.
"We've all been playing music for a long time; I think there's something like 90 years of playing music between all of us, which is insane," laughed Robinson. "The way we're going about things and what we want to do, we feel it has to be a really pure essence of music. That's where you get the most out of it."
In many ways, the band feels like a logical post-Crowes evolution for Robinson, rife with groovy melodies, harmonized breakdowns, and guitar solos that are equally complex and enveloping. But logistically it's a whole new bag, free of tour buses and roadies and thousand-person venues.
"As a musician, I gladly set up my own gear," Robinson laughed when asked about the transition. "As proud as I am of the Black Crowes and as nice as it is to be in a band that generates that kind of money and allows you to stay in the nicest places, I find it to be very easy, and I find this to be just as easy, if not more so. That's because we're all truly into it; we're all on the same page. We're here because it's something we're proud to be the architects of, and we want to see where it can take us."
As for the future, there's plenty on the horizon. This Friday, the Chris Robinson Brotherhood returns to Santa Barbara for a show at the Lobero in support of Big Moon Ritual. And later this year the band will release Big Moon's companion piece, The Magic Door. Ask Robinson and he'll tell you that, at 45, he feels like it's just the beginning: "I feel like it's just getting interesting now … I'd like to think that, at the end of the day, you can look at the things that I made as a young person and the things I'll continue to make as I get older and they'll be consistently interesting and soulful things, and if you like them they'll be a part of your dimension, as well."
4•1•1
The Chris Robinson Brotherhood plays the Lobero Theatre (33 E. Canon Perdido St.) on Friday, July 20, at 8 p.m. Call (805) 963-0761 or visit clubmercy.com for tickets and info.