Film & TV
Diary of a Wimpy Kid: Dog Days
Zachary Gordon, Steve Zahn, and Robert Capron star in a film written by Gabe Sachs, Maya Forbes, and Wallace Wolodarsky, based on the books by Jeff Kinney, and directed by David Bowers.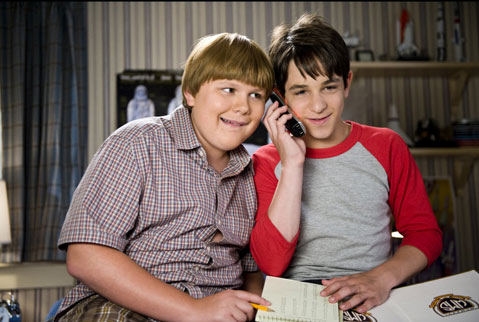 In the third and latest edition of the Diary of a Wimpy Kid screen adaptations, from Jeff Kinney's young-adult graphic novels, things head down the middle, in more than one way. For starters, there is the series' refreshing demographic aim, in a happy medium between younger-kid-culture flicks and the more raucous comic sneer of the high school/collegiate comedy genre. In terms of the story's context and its primary target audience, this is the between-world of middle school.
On a not-as-happy note, the freshness of vision has seemingly worn down a bit, easing into what threatens to be a middling mediocrity. The subtitle "dog days" refers to the Heffley family's new shaggy dog and the yawning sprawl of summer, after the dream of a simple, fun-filled vacation becomes a more complex equation. But it could also unintentionally refer to a slack moment in the life of a movie serial. All is not lost, though, and there is fun to be had here.
In this tale of not-so-idle summertime antics, our tender, just-left-of-innocent protagonists work out their ideas of fun, duty, mischief, and general life in the suburban wilds and end up living larger than their older high school siblings. Our hero, Greg Heffley (played by Zachary Gordon, who also narrates in his bemused observer's voice, triggering memories of TV's The Wonder Years), leads us through the ritual of "school's out" celebration and then the follies of life during summer, including dread over the school year to come.
Various and sometimes parallel subplots keep the story roughly in order. Greg is keen on the sweet blonde classmate Holly Hills, whose less-than-sweet high school sister is sought out by Greg's brother Rodrick, he of brother-torturing and brother-exploiting qualities and leader of the band Löded Diper. A sweet-16 party gone wild, and south, is just one of the scenes in a film about the empowerment and pitfalls of our "wimpy kid" hero.
For this filmic franchise, the third time may not ultimately be the charm, but it does offer up a cool two-ish-hour getaway in the late summertime movieplex, a family-friendly escape from the prospect of "playing outdoors" or whatever your reality-avoidance mechanism dictates.